---
MLB World Series News and Previews
---
2017 NL West Team Previews and Predictions
Los Angeles Dodgers (-250)
Win total O/U: 94.0
Even with their pitching roster having been ravaged by injuries, the Dodgers still secured their fourth-consecutive NL West title last year and are once again pegged as true World Series contenders.
Los Angeles only got 21 starts out of three-time Cy Young Award-winner Clayton Kershaw last season, and yet the team still finished atop the division and made it all the way to the NLCS. For all the talk surrounding Kershaw's greatness, the Dodgers' relievers really should get a ton of credit just the same; their bullpen ranked first in ERA last season, and the team as a whole still racked up the most strikeouts in the majors mostly thanks to a supporting cast led by closer Kenley Jansen.
Look for 2016's NL Rookie of the Year, Corey Seager, to also improve immensely and give his team a huge boost in the team's already stacked hitting up. With hardly a weak link to be found, Los Angeles is well-equipped to make another strong run at the World Series title; granted that health be in its favor this time around.
Writer's Prediction: The Dodgers bag their fifth-straight NL West title, but fall a couple of wins short from their 94-win regular-season projection.
San Francisco Giants (+225)
Win total O/U: 87.5
With the even-year streak finally at an end, many would be reluctant to side with the Giants this 2017. Nevertheless, this team is still brimming with championship experience and fantastic pitching.
San Francisco addressed its biggest hole in the roster by signing closer Mark Melancon during the offseason, so it now appears that they have the right pieces to stay toe-to-toe with the Dodgers in the pitching department. On the other hand, there are still some doubts as for whether or not their often-unreliable run production will be enough for a title push. The Giants failed to win a single game last season wherein they were trailing in the ninth inning, and their lack of young, powerful bats may come back to them once more.
You really can't doubt the amount of proven talent in San Francisco's roster. If we're talking about the playoffs, this team is always in the mix of the conversation. Then again, the team may have to take the dreaded Wild Card route again to make the postseason given how the Dodgers have that real balance between youth and veteran skill sets that the boys from the Bay Area could use.
Writer's Prediction: The Giants finish as the division's runners-up yet again, but they do go over 87.5 with a win shy of the 90-win barrier.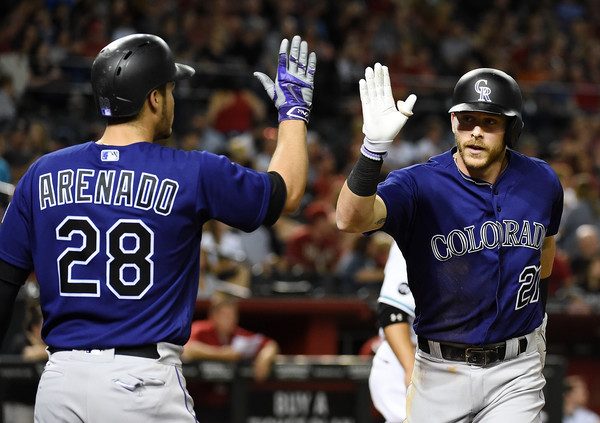 Colorado Rockies (+800)
Win total O/U: 80.5
Perhaps the only team outside of the Los Angeles and San Francisco that have a true shot of winning the division, Colorado will definitely be fun to watch this year.
Contrary to the Giants, the Rockies benefit from their hitter-friendly home field as a key ingredient to their success. In turn, we've seen the likes of Nolan Arenado, Carlos Gonzalez and, more recently Trevor Story, burst into the scene with their hot bats. Pitching will never be a strong point for this team given how the dimensions and altitude in Coors Field are, but this team certainly has enough power on offense to threaten the NL West's two front-runners.
With that in mind, the Rockies' next big step towards true playoff contention is to win more consistently against those two division rivals, as they went just a combined 16-22 against the Giants and Dodgers last season. If they could take the lion's share of those matchups, they might very well take the entire NL West by surprise when all is said and done.
Writer's Prediction: The Rockies finish third in the division again, win over 80.5 games, and stay in the thick of a postseason berth until the end of the season before coming up short.
Arizona Diamondbacks (+1,800)
Win total O/U: 78.5
Arizona's win-now plan in 2016 didn't work out as planned, and it's quite unfair to pin it all on marquee free-agent signing, Zach Greinke. Although Greinke averaged just six innings of work last season because of subpar results, the team just didn't have a solid starting rotation to work with in general. As a matter of fact, the Diamondbacks' starters had the worst ERA in the National League, collectively.
Having five-tool player Paul Goldschmidt carrying the offense is a nice perk, but Arizona's upstanding franchise player doesn't have enough support on offense outside of A.J. Pollock and Jake Lamb, either. Pollock, another in-house product, had his campaign cut short last year with a broken elbow and can't seem to get healthy when his team needs him.
The D-backs need more than just starting pitching to fix their woes, and not making a huge splash in free agency during the offseason seems to be saying that they'd rather rebuild the right way beginning this season. We can't really blame them for taking this route, especially after having just been badly burnt by the Greinke deal.
Writer's Prediction: The Diamondbacks fail to improve from last season and finish well below their projection of 78.5 wins.
San Diego Padres (+6,600)
Win total O/U: 65.5
Now's not a good time to be a fan in San Diego, with the Chargers moving to Los Angeles and the Padres still mired in mediocrity.
It's been over a decade since the Padres last won a division title and it might take a few more years for them to figure out a roster that actually works. They've finished third or worse in the NL West for the past six seasons, and they've ended up with eight losing records in their last nine campaigns as well.
Having 34-year-old starting pitcher Jered Weaver as your best pickup from the offseason should be a telling sign that San Diego is not in it to win it this season. And outside of first baseman Wil Myers (who's had his fair share of injury problems, mind you), there's really nothing exciting about this ball club, let alone be considered as a dark horse of sorts out in the West.
Writer's Prediction: The Padres remain in the basement of the division after winning less than 70 games, but they do exceed the expected 65.5 win total laid upon them.
Create a betting account now to start placing stakes on MLB futures before the much-awaited regular season goes into full swing!

1,660 total views, 1 views today
Comments
comments