---
The first two weeks of the 2017 NFL season are already over. We've seen blowouts, upsets, down-to-the-wire ballgames and several top-notch individual performances from the usual and some surprising names. What can we expect in Week 3 this time? Read on below as we break down our complete NFL Week 3 picks below. And while you're at it, don't miss out on our preview of the Sunday Night Football game between Oakland and Washington.
---
NFL News and Previews
---
2017 NFL Week 3 Picks and Predictions
Thursday, September 21
Los Angeles Rams (-140) vs. San Francisco 49ers (+120) – 8:25 PM ET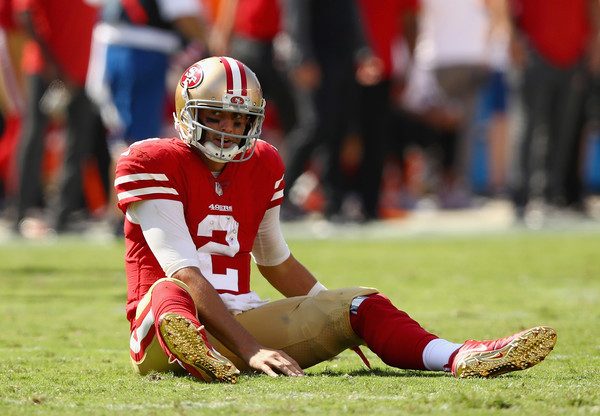 San Francisco's losing woes show no sign of abating as the Niners absorbed their second consecutive setback with a gut-wrenching 12-9 loss to the Seattle Seahawks on Sunday. It was another disappointing defeat for the Niners who are the only NFC West team that's still winless this campaign. It's back to the drawing board for head coach Kyle Shanahan and the rest of the 49ers who will next face the Los Angeles Rams.
For the Niners to snap their losing skid this coming Thursday, they will need to get a much better performance from Brian Hoyer. He completed just 15 of 27 passes for 99 yards and an interception in the loss to Seattle. Things are bound to get tougher, though, for Hoyer against a Rams secondary that's allowing just 153.0 yards per game through the air this season, third-fewest in the NFL. The Niners have fared extremely well against the Rams of late, winning each of their last three meetings.
Writer's Prediction: The Niners (+2.5) eke out a 20-17 win.
Sunday, September 24
Baltimore Ravens (-195) vs. Jacksonville Jaguars (+165) – 9:30 AM ET
The Baltimore Ravens head abroad for their first-ever game in London as they lock horns with the Jacksonville Jaguars. Momentum is with Baltimore in this matchup with the Ravens winning nine of the last 12 games in this series. The Ravens will have to face the Jags, though, without six-time Pro Bowl guard Marshal Yanda who's done for the season after fracturing his left ankle in Baltimore's 24-10 win over Cleveland.
That being said, the Ravens will still be overwhelming favorites against a Jacksonville side that lost, 37-16, to Tennessee on Sunday. Blake Bortles struggled mightily in that contest, completing 11-of-25 passes for 89 yards with zero touchdowns and two interceptions. It won't get any easier for Bortles against a Baltimore defense that forced five turnovers in their win against the Browns.
Writer's Prediction: Baltimore (-4) wins, 23-14.
Denver Broncos (-160) vs. Buffalo Bills (+140) – 1:00 PM ET
The Denver Broncos will look to extend their winning streak to three games when they face the Buffalo Bills this coming weekend. The Broncos' confidence is at an all-time high after they hacked out a commanding 42-17 win over the Dallas Cowboys on Sunday. Key to Denver's excellent start has been the outstanding play of Trevor Siemian. He threw a career-high four touchdown passes in the win against the Cowboys.
Siemian will look to punish a Buffalo defense that allowed a total of 255 yards in its recent loss to Carolina. What's troubling the Bills, nowadays, though is their abysmal offense. They scored just one field goal in Sunday's 9-3 loss to the Panthers. The Bills are averaging just 12 points this season, 22nd in the NFL. One guy who needs to step up for Buffalo against Denver is LeSean Mccoy. He rushed for just nine yards on 12 carries in the loss to Carolina.
Writer's Prediction: Denver (-3) wins and covers.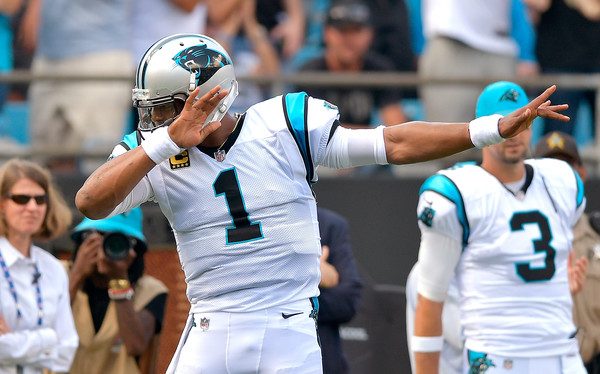 New Orleans Saints (+200) vs. Carolina Panthers (-240) – 1:00 PM ET
The Carolina Panthers preserved their unbeaten record with a gritty 9-3 victory over the Buffalo Bills on Sunday. The Panthers' defense took center stage once again, limiting the Bills to just 176 yards and 10 first downs. The Panthers have not allowed a touchdown in two games after beating the San Francisco 49ers, 23-3, in Week 1. They have conceded a measly six points in their first two outings.
Carolina will look to make it three wins in a row when they take on the reeling New Orleans Saints this coming Sunday. The Panthers will fancy their chances of doing just that as they have fared extremely well against their division rivals of late. They have won four of their last five meetings with New Orleans at Bank of America Stadium. The Saints are languishing at the bottom of the NFC South standings after absorbing a humiliating 36-20 defeat to New England on Sunday.
Writer's Prediction: The Panthers (-5.5) win and cover.
Pittsburgh Steelers (-320) vs. Chicago Bears (+260) – 1:00 PM ET
Things are going from bad to worse for the Chicago Bears who crashed to their second consecutive defeat with a humiliating 29-7 loss to Tampa Bay on Sunday. Mike Glennon had a horrible day against the Bucs, recording three first-half turnovers, one of which was returned for a pick-six. With the pressure mounting on the Bears, calls are now growing for head coach John Fox to make the QB switch to much-heralded rookie Mitch Trubisky.
As it stands, Glennon is still Fox's starter for Sunday's game against Pittsburgh. That's quite a frightening thought for the Bears faithful as the Steelers are playing some excellent defense at the moment. They limited the Vikings to just nine points and 237 total yards on Sunday. The Steelers rode that solid D to improve to 10-1 in home openers under head coach Mike Tomlin.
Writer's Prediction: The Steelers (-7.5) cover the spread against the Bears.
Atlanta Falcons (-155) vs. Detroit Lions (+135) – 1:00 PM ET
Two unbeaten teams will collide this coming Sunday as the Lions host the Falcons at Ford Field. Matthew Stafford has been exceptional for Detroit to start the season, throwing six touchdown passes to tie Denver's Trevor Siemian for the league lead. Detroit's defense has been rock-solid as well, limiting opponents to just 33 points in their first two outings. That D will be tested, though, by an Atlanta attack that's averaging 28.5 points per game this season. The Falcons have already defeated two NFC North rivals, squeaking past the Chicago Bears (23-17) and the Green Bay Packers (34-23).
Writer's Prediction: Detroit (+3) edges past Atlanta, 27-24.
Cleveland Browns (-1.5) vs. Indianapolis Colts (+1.5) – 1:00 PM ET
Something's gotta give. The Cleveland Browns and the Indianapolis Colts will put their respective losing streaks on the line when they square off at Lucas Oil Stadium this coming Sunday. One of the key matchups to watch in this game is the showdown between quarterbacks DeShone Kizer and Jacoby Brissett.
For the Browns to emerge victorious in this game, they will need Kizer to improve on his highly-erratic play. The rookie has already thrown four interceptions over his first two games, highest in the NFL. Brissett, on the other hand, will need to improve on his passing accuracy for the Colts to snap their two-game losing skid this coming weekend. He completed just 20 of 37 passes for 216 yards and an interception in Sunday's 16-13 loss to Arizona. Brissett, who's filling in for the injured Andrew Luck, managed a quarterback rating of just 27.7.
Writer's Prediction: The Colts (+1.5) edge past the Browns, 20-17.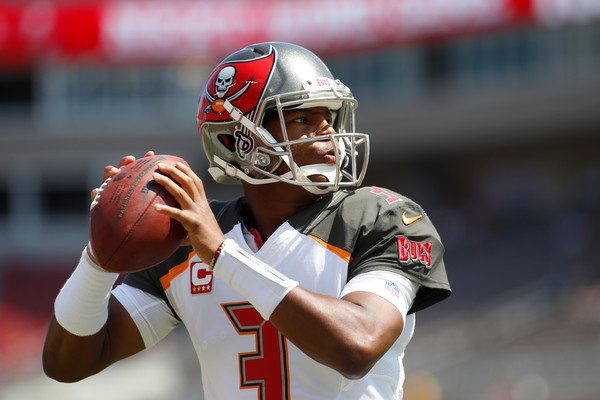 Tampa Bay Buccaneers (+105) vs. Minnesota Vikings (-125) – 1:00 PM ET
The Tampa Bay Buccaneers opened their 2017 NFL season in devastating fashion, thrashing the hapless Chicago Bears, 29-7, on Sunday. Jameis Winston starred for the Bucs in that clash, completing 18-of-30 passes for 204 yards and a touchdown with no interception. Tampa Bay's D also stood tall in Sunday's victory, forcing four turnovers in the first half to spark the rout.
The Bucs will look to make it back-to-back wins when they square off with the Minnesota Vikings this coming Sunday. The Bucs are 6-1 SU and ATS in their last seven meetings with the Vikings. Sam Bradford's still a game-time call for Minnesota in that Week 3 clash after injuring his knee in the season-opener against the Saints. The Vikings sorely missed their starting QB in Sunday's 26-9 loss to Pittsburgh, generating just 237 yards of total offense in that defeat.
Writer's Prediction: Tampa Bay (+1.5) prevails, 27-20.
Houston Texans (+14) vs. New England Patriots (-14) – 1:00 PM ET
Who can bet against the Patriots after their amazing offensive display Sunday afternoon? Tom Brady had a performance for the ages against the Saints, throwing three first-quarter touchdowns in New England's 36-20 victory over New Orleans. Rob Gronkowski also excelled for the Pats in that contest, catching six passes for 116 yards and a touchdown. He's a major doubt, however, for the Week 3 game against Houston after suffering a groin injury against New Orleans.
The reigning Super Bowl champs are 8-1 against the Texans, including a 34-16 playoff win last season. Regardless of that fact, the Pats can expect a tough challenge against a Houston side that possess one of the league's best defenses this season. The Texans are seventh in the NFL in total defense, allowing just 287.5 yards per game this campaign. Anchoring that Houston D is superstar J.J. Watt. He recorded six tackles, knocked down one pass and hit Andy Dalton once in Houston's 13-9 victory over Cincinnati on Thursday.
Writer's Prediction: The Patriots (-14) beat the Texans by double-digits.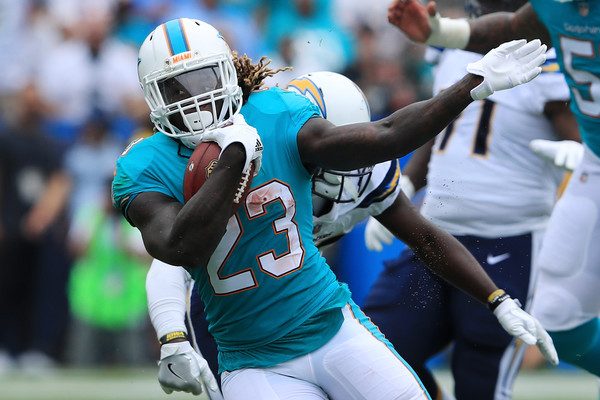 Miami Dolphins (-250) vs. New York Jets (+210) – 1:00 PM ET
Don't look now but the Miami Dolphins are on top of the AFC East division after recording an enthralling 19-17 comeback victory over the Los Angeles Chargers on Sunday. Jay Cutler passed for 230 yards and Jay Ajayi ran for 122 in Miami's delayed season opener. The Dolphins, as you may remember, spent the past nine days in sunny California after leaving South Florida early to avoid Hurricane Irma.
They can create further separation from the chasing pack when they face the struggling New York Jets this coming Sunday. The Dolphins swept their season series last year. That will be the case against this year if they don't fix their abysmal defense. They are dead-last in the NFL in scoring defense, allowing a whopping 33 points per game this season. The Jets have allowed 14 plays of 20-plus yards and a preposterous 29 plays of 10-plus yards through the first two weeks. That will be trouble against a Miami side who registered 336 total yards on Sunday. 
Writer's Prediction: The Dolphins (-6) ease past the Jets, 27-17.
New York Giants (+225) vs. Philadelphia Eagles (-265) – 1:00 PM ET
Here we go again. The Giants have started the 2017 campaign with two defeats, the fourth time that has happened in the past five NFL seasons. They have found the going difficult on the offensive end, registering just 13 points in their first two outings. They will look to turn things around against the Eagles who will be making their home debut this coming Sunday. Philadelphia finished 6-2 at Lincoln Financial Field last season and could improve to 2-0 in the NFC East with a victory against New York.
Writer's Prediction: Philadelphia (-6.5) cruises to a 27-17 win.
Seattle Seahawks (+120) vs. Tennessee Titans (-140) – 4:05 PM ET
All is right in Tennessee once again after the Titans recorded a jaw-dropping 37-16 win over the Jacksonville Jaguars at EverBank Field on Sunday. It was a huge bounce-back win for the Titans, who suffered a humiliating 26-16 loss to Oakland last weekend. Derrick Henry starred for the Titans in this victory, rushing for a career-high 92 yards and a touchdown on 14 carries.
The Titans will look to keep the momentum going when they lock horns with the Seattle Seahawks this coming weekend. The Seahawks narrowly escaped the Niners' upset bid on Sunday, registering a heart-stopping 12-9 victory at CenturyLink Field. Seattle's offense is still a major source of concern for head coach Pete Carroll with the Seahawks averaging just 268.5 total yards this season. Russell Wilson will look to get things going against a Tennessee side that's 22nd in the NFL in total defense this campaign. The Seahawks are 6-1 in their last seven games against the Titans.
Writer's Prediction: The Titans (-3) edge past the Seahawks, 23-20.
Cincinnati Bengals (+305) vs. Green Bay Packers (-365) – 4:25 PM ET
What in the world is happening to Cincinnati? The Bengals stumbled to their second consecutive defeat with a gut-wrenching 13-9 loss to the Houston Texans. The Bengals' offense struggled mightily once again as they failed to get in the end zone for the second game running. Cincinnati's the first team since the 1939 Eagles to open a season with two home games and fail to score a touchdown.
Heads have started to roll in Cincy with offensive coordinator Ken Zampese getting the axe on Friday. Andy Dalton may be the next to go if he doesn't get his act together. He has 394 yards, no touchdowns, and four interceptions over the Bengals' first two games. It won't get any easier for him, however, against the Packers who are unbeaten in their last five home games. Green Bay's eager to bounce back from its blowout loss to Atlanta in Week 2.
Writer's Prediction: The Packers (-9) pile more misery on the Bengals with an easy 10-point win.
Kansas City Chiefs (-170) vs. Los Angeles Chargers (+150) – 4:25 PM ET
There's just no stopping Kansas City right now. The Chiefs recorded their second consecutive victory with a thrilling 27-20 win over Philadelphia on Sunday. Key to the Chiefs' strong start has been the excellent play of Kareem Hunt. The rookie running back has piled up 430 yards from scrimmage and scored five touchdowns in his first two games.
Hunt and co. will look to sustain the momentum of that huge win when they face the Los Angeles Chargers this coming Sunday. The Chiefs have fared extremely well against the Chargers of late, winning each of their last six meetings. The Chargers are going the opposite direction, losing each of their opening two matches. Younghoe Koo was the culprit once again in LA's latest defeat, missing another 44-yarder in the Chargers' 19-17 loss to the Miami Dolphins.
Writer's Prediction: The Chargers (+3.5) stun the Chiefs, 24-21.
Oakland Raiders (-155) vs. Washington Redskins (+135) – 8:30 PM ET
Oakland's hot start continued on Sunday with a resounding 45-20 victory over the New York Jets. It was an emphatic win by the Raiders who scored over 40 points for the first time since 2010. Providing the impetus for the Raiders' solid start is their dynamic duo of Derek Carr and Michael Crabtree. They combined for three touchdown passes in the win against the Jets.
They will be licking their chops at the prospect of facing a Washington secondary that's surrendering 269.0 yards per game through the air this season, seventh-worst in the NFL. The Redskins are coming off a 27-20 victory over the LA Rams on Sunday. Kirk Cousins was more efficient in that contest compared to the season-opening loss against Philadelphia (three turnovers), completing 18 of 27 passes for 179 yards and one touchdown, with no picks.
Writer's Prediction: Oakland (-3) escapes with a 27-23 win.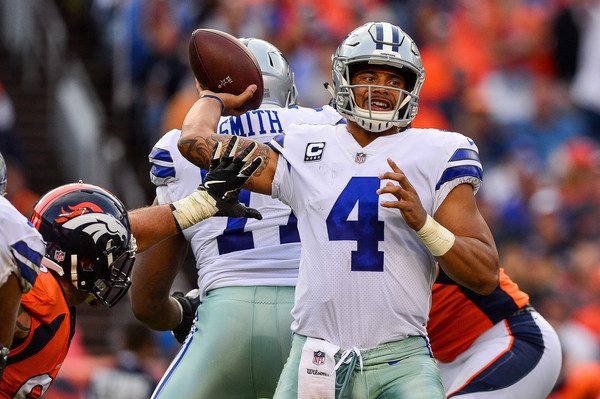 Monday, September 25
Dallas Cowboys (-165) vs. Arizona Cardinals (+145) – 8:30 PM ET
The Arizona Cardinals finally barged into the win column with a thrilling 16-13 victory over the Indianapolis Colts on Sunday. It was a stunning comeback by the Cards who never led until the final play. Arizona will look to make it back-to-back victories when the Cardinals host the Dallas Cowboys this coming Monday.
The Cards will fancy their chances of doing just that as they have fared extremely well against the Cowboys of late. They have won each of their last four meetings with Dallas. The Cowboys are desperate to get their season back on track after absorbing a 42-17 walloping at the hands of the Denver Broncos on Sunday. Ezekiel Elliott had his worst game as a Dallas Cowboy, rushing for just eight yards on nine carries.
Writer's Prediction: Dak Prescott leads the Cowboys (-3) to a 27-21 victory.
Create a betting account now and put your NFL predictions to the test!

2,484 total views, 1 views today
Comments
comments