---
The ACC was the toast of last season with the Clemson Tigers taking down the mighty Alabama Crimson Tide in the National Championship Game. This year, the Tigers are looking to extend their reign, but first they have to mind the competition in their own conference. Here's a look at each ACC team heading into the brand new college football season.
---
Most Recent Articles
---
ACC Regular Season Win Total Predictions
Atlantic Division
1. Clemson Tigers
Last season: 14-1 (7-1)
Before you draw any conclusions about how the Tigers are bound to fall off following the departures of quarterback Deshaun Watson, running back Wayne Gallman, and wide receiver Mike Williams, think first of the talent left on the squad. Clemson has a stout offensive line and an even stouter defensive line to help Watson and company's replacements to adjust early in the season and settle later on. The defense brings back a scary group that includes seven starters. Seven starters with championship experience. Unlike last season, the Tigers' defense may have a bigger load considering the amount of top tier talent the team lost in the offseason.
Writer's Prediction: Clemson finishes the season with an 11-4 record, UNDER 9.5 wins.
2. Louisville Cardinals
Last season: 9-4 (7-1)
Louisville topped the conference last season in scoring offense, putting up 42.5 points per game, and with dual-threat Lamar Jackson returning, the Cardinals are reasonably expecting to match their offensive brilliance in 2016. The team stumbled late that season, losing all of their last three games, including a 29-9 embarrassment at the hands of LSU in the Citrus Bowl, but with a more experienced Jackson and a stop unit that gets back nine starters, the Cardinals should remain a dangerous side to cross paths with. Jackson is +900 to win the Heisman this season.
Writer's Prediction: Louisville goes OVER 9.5 wins with a 10-3 record.
3. Florida State Seminoles
Last season: 10-3 (5-3)
Gone is beast playmaker Dalvin Cook from Florida State's backfield but the Noles are still among the early favorites to win the national championship with odds of +750 to do so. After all the team has no problems in the most important position in football with Deondre Francis still the starting quarterback after throwing for 3,350 yards and 20 touchdowns against just seven interceptions in 2016. Top recruit Cam Akers steps into the void left by Cook and if he proves to be even just as good as advertised, the Seminoles should be going somewhere. And we're not even beginning to talk about Florida State's defense that boasts arguably the best secondary in the nation. Tarvarus McFadden, who was second in the nation last year in interceptions with eight, leads the team's defensive unit downfield.
Writer's Prediction: Florida State ends the season with an 11-2 record, OVER 9.5.
4. NC State Wolfpack
Last season: 7-6(3-5)
It took Deshaun Watson and the Tigers overtime to fend off the Wolfpack last season in a 24-17 win and though NC State lost, its defense clearly sent a strong message across the conference. The team's defense is expected to be tighter with eight starters returning to the unit that ranked eighth in the nation last year in rushing defense. Paired with an improved offense commandeered by quarterback Ryan Finley  (3,055 passing yards, 18 touchdowns in 2016) operating behind an also improved offensive line, the Wolfpack are capable of putting up more than a scare on the conference's top dogs.
Writer's Prediction: NC State goes OVER 7.5 with an 8-4 record.
5. Wake Forest Demon Deacons
Last season: 7-6(3-5)
Wake Forest ended the 2016 campaign on a high note, upsetting Temple in the Military Bowl and whether the Demon Deacons would go bowling again largely depends on whether the offense that was branded mediocre last year has transformed into a much better unit this time around. That nine starters are back for the offense is encouraging news for Wake Forest.
Writer's Prediction: Wake Forest concludes the season with a 6-6 record.
6. Syracuse Orange
Last season: 4-8 (2-6)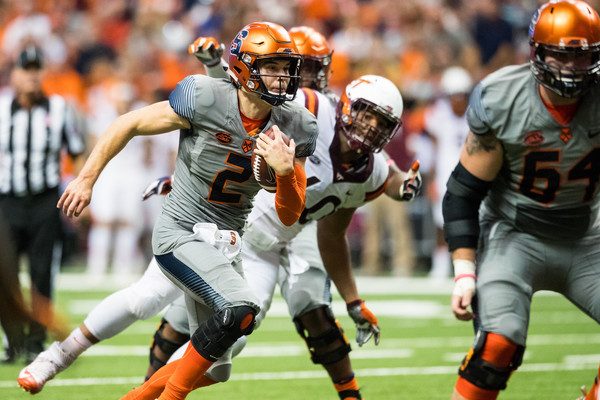 The Orange did not punch a ticket to the postseason last year but hey, they upset then No. 17 Virginia Tech in October of last year. Now, head coach Dino Barbers is expecting more than that, as Syracuse looks to build on its electric passing attack that averaged 321.3 yards per game, second best in the ACC in 2016. The Orange need not to assimilate a new QB to their system with signal-caller Eric Dungey back for another year to work with the talented duo of Ervin Philips and Steve Ishmael acting as his top targets. The defense might weigh every good thing the offense does, however, after they allowed more than 500 total yards per game a year ago.
Writer's Prediction: Syracuse finishes the season with a 4-8 record.
7. Boston College Eagles
Last season: 7-6(2-6)
Boston College's offense was a picture of disaster last season, as the Eagles were second worst in the nation in total offense. News is that the Eagles are going to try to speed things up on the attack but with only minor improvements to expect in that department, the team's direction should remain anchored on a their defense that features a beast on the pass rush in Harold Landry. Landry paced the ACC last season in sacks with 16.5.
Writer's Prediction: BC goes 5-7 to end the season.
8. Coastal Division
Virginia Tech Hokies
Last season: 10-4 (6-2)
Current ACC Coastal division champ Virginia Tech might be taking a step back this season. For one, quarterback Jerod Evans, who was among the conference's best quarterbacks last year is gone along with wide receivers Isaiah Ford and Bucky Hodges. While the offense find its identity, the team's defense should be good enough to keep the Hokies competitive. Last year, the Hokies were 18th in the nation in total defense and could even be better this coming season in large part because of a secondary that is brimming with NFL-ready talent.
Writer's Prediction: Virginia Tech settles with an 8-6 win-loss record, which is UNDER 8.5 wins.
9. North Carolina Tar Heels
Last season: 8-5 (5-3)
Quarterback Mitch Trubisky now calls the NFL his home but the Tar Heels will replace him with LSU transfer Brandon Harris. Harris, however, arrives in Durham with an almost empty cupboard of targets, as the program is currently in a rebuild mode, particularly on offense. There's life on the other side of the ball though and it's going to be the team's barometer this new season.
Writer's Prediction: North Carolina finishes with a 7-6 record, UNDER 7.0, with no bowl appearance.
10. Miami Hurricanes
Last season: 9-4 (5-3)
Miami would've been seen as a much destructive force if Brad Kaaya decided to stay one more year in Miami Gardens, but even with him gone, the Hurricanes are positioned to be one the teams to reckon with in the ACC. The Canes are +750 to win the conference and a big reason why is their defense that will have back the services of 10 of its top 11 playmakers from a year ago.
Writer's Prediction:  Miami goes OVER 9.5 with a 10-3 record overall.
11. Pittsburgh Panthers
Last season: 8-5 (5-3)
Something has to get done on the Panthers' defense after surrendering the second most yards in the conference in 2016. Depth on the stop unit has improved, however, which should help Pitt get a little bit more respect defensively. As for the offense, head coach Patt Narduzzi has to plot ways to maximize USC transfer Max Browne, who replaces Nathan Peterman in the quarterback position. The passing attack has to carry much of the load with running back James Conner now in the big league but with a talented receiving corps, Browne shouldn't have much difficulty adjusting to his new environment.
Writer's Prediction: Pitt goes UNDER 7.5 with a 6-6 record.    
12. Georgia Tech Yellow Jackets
Last season: 9-4 (4-4)
The triple option offense is here to stay for the Yellow Jackets who used the strategy to the hilt last season on their way to a conference-topping 258.08 rushing yards per game average. Save for the Marcus Marshall (transferred to James Madison), most of last year's key components on Georgia Tech's backfield is back, including rushing leader Dedrick Mills. The passing game has to get a bigger role though to lessen the team's predictability on offense.
Writer's Prediction: Georgia Tech finishes gets an 8-4 record, OVER 6.5
13. Virginia Cavaliers
Last season: 2-10 (1-7)
Sure the Cavs may improve in head coach Bronco Mendenhall's second season with the team, but those improvements could just mean a slight decrease in their losing margin. Virginia got knocked out last season with a 2-10 record and by the time the Cavaliers wake up just in time for the season, they'll still find themselves in the same killed-or-be-killed Atlantic Coast Conference. The team was in the bottom four and bottom three last season in total offense and total defense, respectively.
Writer's Prediction: A 4-8 record isn't going to be that bad for the Cavaliers.
14. Duke Blue Devils
Lastly, we have the Blue Devils, who served as the conference's doormat last season, but could be exceeding lowly expectations this year. Duke will have quarterback Daniel Jones back in the fold after being forced to step into the limelight in 2016 following then QB Thomas Sirk's injury. Sirk is now gone and Jones' will use his 2016 experience to lead a Duke offense that put up 23 points per game a year ago.
Last season: 4-8 (1-7)
Writer's Prediction: Duke goes 5-7, just a bit UNDER of the 5.5 line.
Create a betting account now and cash in on college football.

2,065 total views, 1 views today
Comments
comments