---
Enjoy clowning the AFC South for being a weak division while it lasts. There may be an uprising from each team in the coming months. Everyone – at least on paper – had interesting additions in the off-season, and have built a certain identity.
Let's get some predictions going for each squad. Read on!
---
NFL News and Previews
---
2017 AFC South Team Win Total Predictions
**VIEW NFL WIN TOTAL LINES HERE
Houston Texans
O/U wins: 8.5
Writer's Prediction: 9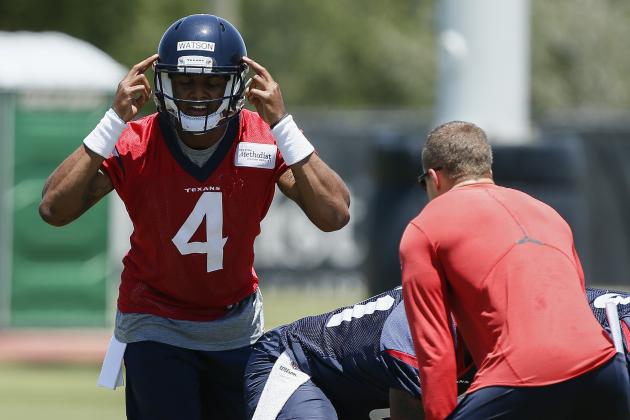 The Texans will enter the 2017 season having recorded three-straight 9-7 campaigns. They will also be in the same position as they were last season, as they again picked up a young quarterback (this time a rookie) to be their new signal-caller.
This time, though, it looks to be more appealing. Former Clemson Tigers quarterback and National Champion DeShaun Watson, who the team traded up for in the draft, is an exciting talent that boasts pocket presence, explosiveness, quick decision-making, and mobility. Also, it's likely that he can't be more horrible than what Brock Osweiler showcased last year, and his upside is just higher.
Watson will also be surrounded with great weapons everywhere. His connection with one-time All-Pro DeAndre Hopkins, who's similar to his number one wideout in college, Mike Williams, should be exciting. Along with that will also be big-play receivers Will Fuller and Braxton Miller, tight end CJ Fiedorowicz, and pass-catching running back Lamar Miller.
As for the defense, we can expect it to be top-notch – the unit is coming off a year where they allowed the fewest total yards (301.3 per game). JJ Watt, Brian Cushing, Whitney Mercilus, and Jadeveon Clowney should remain formidable, and although the secondary lost AJ Bouye to free agency, Jonathan Jackson, Kareem Jackson, and Kevin Johnson can make up for it well.
Another 9-7 win-loss card could be the ending for the Texans, but they may look to be better than in seasons past.
Indianapolis Colts
O/U wins: 8.5
Writer's Prediction: 8
Inconsistent and underachieving – two words that best describe the Colts' 2016 season. They missed the playoffs, played erratically on both ends, and literally alternated wins and losses for 14 straight weeks (Week 3-Week 17).
With that inconsistency, of course, is a good and bad side. Here's the good side: the premiere-level, stat-stuffing QB Andrew Luck is back. His rapport with TY Hilton has also returned to life, and their tandem saw Hilton lead the NFL in receiving yards this past year (1,448 yards). We should see the two produce good yardage in the coming season, with some help from the receiving corps that includes Donte Moncrief and Philipp Dorsett. Look out for Frank Gore too, the RB position's beloved ageless wonder just had a 1,000-yard season at age 33.
Now for the bad side: That damn-awful defense. From the Texans' first-ranked D, we go to one of the worst. The Colts were 30th in yards allowed and either gave up 300-plus passing yards or 116-plus rushing yards in 13 of their 16 games last season.
What's at least a positive dose, though, is they re-loaded the group as much as they could. Their six most expensive signings in the free agency were defensive players, and six of the eight youngsters they got from the draft are also for their stop unit.
Tennessee Titans
O/U wins: 8.5
Writer's Prediction: 10
After a great 2016 season, where they missed the playoffs by the skin of their teeth, things are finally looking up for the Titans. It's a rarity that they are in the conversation of not only having more wins than the Colts or Texans, but winning the division as well.
What people are liking from this team, aside from momentum, is the the way that the passing attack has been upgraded, which is something that's needed (25th in passing yards in 2016). Marcus Mariota will now have a lot to throw to, as they drafted exciting receivers Corey Davis and Taywan Taylor, and also signed veteran Eric Decker. Those three, coupled with Rishard Matthews and Delanie Walker, and the backfield of DeMarco Murray and Derrick Henry is truly intriguing.
The needed reinforcement in the secondary was also addressed (30th in pass defense). They went ahead and picked up USC cornerback Adoree Jackson in the draft, and signed defensive backs Logan Ryan and John Cyprien.
If Mariota is given the full green light in throwing the ball and the new DBs pan out like the front seven does (second in ground defense and sixth in sacks), watch out NFL!
Jacksonville Jaguars
O/U wins: 6.5
Writer's Prediction: 6
It doesn't appear to be possible since they've been one of the league's bottom-feeders for so long now, but the Jaguars actually had a down year last season. For some odd twist – maybe a curse – they inexcusably went backwards! So much so, that it deserves this classic Doc Rivers GIF.
HOWEVER, just like in the past 2-3 seasons, it's again hard to rule them out a la Cleveland Browns, because they keep on drafting and signing the right guys, especially on defense – thanks maybe in large part to new Vice President of Football Operations Tom Coughlin. Just this off-season, they were able to lure the likes of well-respected defenders AJ Bouye, Calais Campbell, and Barry Church out of their respective teams (where they were key pieces).
The three are very interesting additions, especially when you consider that the Jags had just finished sixth in yards allowed last year (321.6 per game).
The offense, meanwhile, is intact with its main core: QB Blake Bortles and main wideouts Allen Robinson, Allen Hurns, and Marqise Lee. They each had forgettable 2016 campaigns, but the lack of production from the running game may have also added to their slump. That's where another great upgrade was made, as they landed LSU's star running back Leonard Fournette with the fourth pick of the draft. He can be expected to be better than TJ Yeldon and Chris Ivory, who collectively ran for 3.6 yards per carry this past season.
Create a betting account now and get set for another exciting NFL season.

1,496 total views, 1 views today
Comments
comments