On November 30th, Alabama and Auburn will square off in the latest edition of the Iron Bowl. The Crimson Tide are gunning for a perfect regular season while the Tigers have a golden chance to put a huge dent in Nick Saban's BCS title dreams this season.
Betting on College Football: Alabama Crimson Tide vs. Auburn Tigers
Game Details:
When: 3:30 PM ET, November 30, 2013
Where: Jordan-Hare Stadium, Auburn, Alabama
Odds:
Money: Alabama (-10.5) vs. Auburn (+10.5)
Spread: Alabama (-420) vs. Auburn (+330)
Totals: 55.0
*All odds as of Nov. 27.
| | Alabama Crimson Tide | Auburn Tigers |
| --- | --- | --- |
| SU/ATS | 10-0/6-4 | 10-1/9-2 |
| Over-Under | 5-4-1 | 6-5 |
| Last Game | vs. Chattanooga (Nov. 23) | at Georgia (W 43-38) |
| Player to Watch |  RB T.J. Yeldon (1022 Rushing Yards, 12 TDs) | RB  Tre Mason (1153 Rushing Yards, 17 TDs) |
* All stats are as of Nov. 22
Betting on the Alabama Crimson Tide: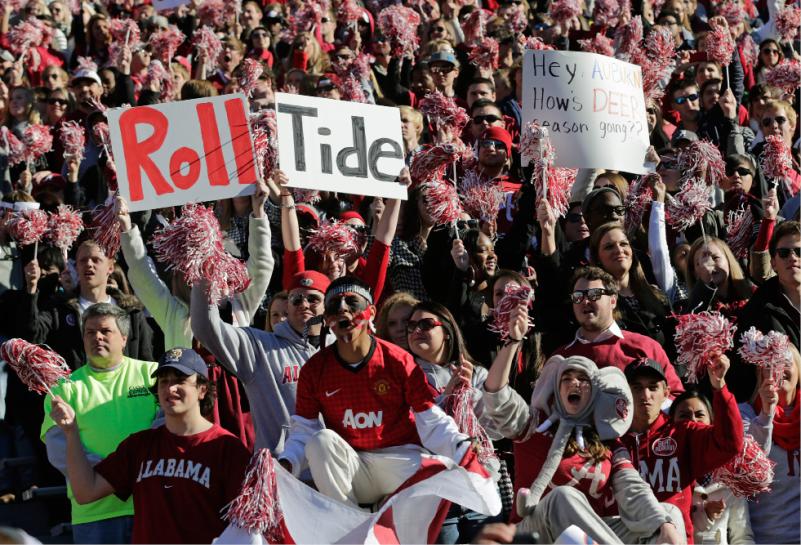 The Crimson Tide will most likely breeze through Chattanooga in their penultimate game of the regular season before shifting their entire focus to their Iron Bowl nemesis, Auburn. No. 1 Alabama have their sights on a perfect regular season but Auburn looks like they could be a legitimate threat. [sc:NCAA240banner ]
AJ McCarron has been consistent for the Crimson Tide. McCarron never was as spectacular as his fellow SEC QBs, like Johnny Manziel and Zach Mettenberger, but he is expertly facilitating the Alabama offense.
But the true calling card of the Crimson Tide is their defense. Their scoring defense is ranked best in the nation as opponents only manage to put up a meager 10.2 points per game against the Tide on average.
Alabama is 4-1 SU in its last five games against the Tigers. It has also covered the spread in the last two Iron Bowls.
Bet now on the Alabama Crimson Tide.
Betting on the Auburn Tigers:
Just when Auburn's hopes for a BCS title appearance were slipping away, the improbable happened.
Thankfully for Auburn, Ricardo Louis had his eyes on the ball when he caught Nick Marshall's desperation heave, and raced to a miraculous 73-yard touchdown to give the Tigers the lead and eventually a come-from-behind 43-38 win over Georgia.
To win an important match on a passing play becomes even more fascinating for Auburn when one looks at the team's stats. The Tigers are 103rd in the nation in passing yards. But what they lack in passing, they make up for a very potent rushing game.
[sc:NCAA490banner ]
Running back Tre Mason leads the team with 1153 rushing yards, followed by Marshall who has 823. Together, they form the backbone of the third best running game in the nation, which averages 320.3 yards per game.
Auburn is on a seven-game winning streak. Even more impressive is the Tigers' 8-0 ATS record in their last eight games overall.
Bet now on the Auburn Tigers
1,976 total views, 1 views today
Comments
comments