Don't be fooled by Arkansas's 7-6 record in 2014. The Razorbacks showed a lot of improvement in their sophomore season under head coach Bret Bielema. If a few things had gone their way, they possibly could've had a double-digit win season.
A host of Arkansas' star offensive performers will return this season, including the only running back tandem in the FBS to log 1,000 rushing yards each in 2014. After showing such promise last season, can the Razorbacks finally make good on their potential in 2015?
Read on below as we run the rule over the Razorbacks for the upcoming college football season. Also, check out our previews of two more under-the-radar teams, Miami (FL) and Nebraska.
[sc:NCAAFArticles ]
2015-2016 Arkansas College Football Preview
Overview
Arkansas must have had one of the most impressive 7-6 seasons in recent memory. The Razorbacks went just 2-6 against the SEC, but four of those losses were by a single touchdown – including their one-point loss to Alabama – and their two wins were back-to-back shutouts of LSU and Ole Miss.
[sc:NCAA240banner ]This season, the Razorbacks return senior quarterback Brandon Allen, running back tandem Jonathan Williams and Alex Collins – who both rushed for over 1,000 yards and scored 12 touchdowns each last season – as well as four starters across an excellent offensive line.
Their much-improved defense, which ranked ninth in the nation in scoring defense last season, will need a bit of reloading after the loss of some key players – Trey Flowers, Darius Philon, Martrell Spaight and Alan Turner. Second-year defensive coordinator Robb Smith looks up to the task, though. He'll still have breakout star Taiwan Johnson on the defensive line, as well as an experienced secondary.
Arkansas is still a notch below the big guns in the SEC, but don't discount the Razorbacks from causing a major shock. They're priced at +1,000 to reign supreme in the SEC, and +4,500 to win the national championship.
Key Player – Brandon Allen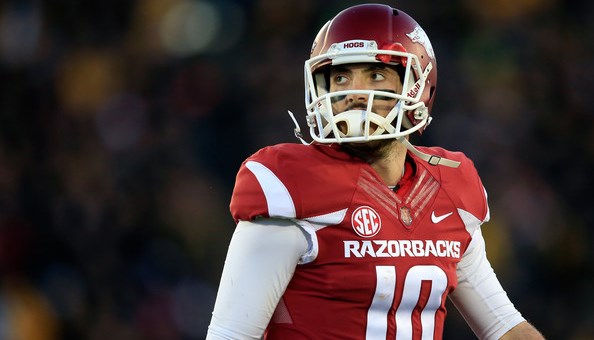 Bret Bielema is renowned for assembling terrific running games, and he's done it again at Arkansas. With a terrific running back tandem and a bruising O-line, the Razorbacks could arguably have the best rushing attack in the country this season.
That running game should continue to take a lot of the pressure off quarterback Brandon Allen, who was solid but unspectacular last season. He threw for 2,285 yards and had 20 touchdowns against just five interceptions, but ranked just seventh out of 11 qualified SEC quarterbacks in terms of QB rating.
The Razorbacks could very easily ride their running game all the way to a winning season this year. But if they have ambitions of breaking into the upper echelons of the SEC, they'll need a bit more efficiency from their senior quarterback this season.
Key Game – vs. Texas A&M (Sept. 26)
Arkansas's first SEC assignment comes in the form of Texas A&M in a neutral field. The Razorbacks lost this corresponding fixture last season – which was played in the Dallas Cowboys' AT&T Stadium – in heartbreaking fashion. They gave up a 14-point fourth quarter lead as the Aggies eventually won in overtime.
After experiencing those kinds of heartbreaking losses all season long, this year's rematch against a much-improved A&M team will be a nice litmus test for the Razorbacks to see whether they actually have learned their lesson.
Create a betting account now and get ready to test your college football wagering skills in the upcoming season.
Best/Worst Case Scenario for the Season
Best Case Scenario
Arkansas continues to run people over with its imposing running game. But this time, the Razorbacks turn those close losses into wins thanks to Allen's growth at quarterback. Arkansas maintains its upward trajectory in Year 3 under Bielema, as the program gets its first double-digit win season since 2011.
Worst Case Scenario
Allen fails to provide an added dimension to the offense in his senior year, as Arkansas follows last season's depressing script of dominating on the ground, but still losing close games. As a result, the Razorbacks remain just a game or two above .500.
Complete Schedule
| DATE | OPPONENT | TIME |
| --- | --- | --- |
| Sat, Sept. 5 | vs. UTEP | 3:30 PM ET |
| Fri, Sept. 11 | vs. Toledo (neutral field) | 4:00 PM ET |
| Sat, Sept. 19 | vs. Texas Tech | 7:00 PM ET |
| Sat, Sept. 26 | vs. Texas A&M (neutral field) | TBA |
| Sat, Oct. 3 | @ Tennessee | TBA |
| Sat, Oct. 10 | @ Alabama | TBA |
| Sat, Oct. 24 | vs. Auburn | TBA |
| Sat, Oct. 31 | @ UT Martin | TBA |
| Sat, Nov. 7 | @ Ole Miss | TBA |
| Sat, Nov. 14 | @ LSU | TBA |
| Sat, Nov. 21 | vs. Mississippi State | TBA |
| Fri, Nov. 27 | vs. Missouri | 2:30 PM ET |
Writer's Prediction
Despite five of Arkansas' eight conference games coming away from home, the Razorbacks and their running game pull off a couple of tough road wins to finish 10-3, going over 8.0 regular season wins.
[sc:NCAA490banner ]
1,685 total views, 2 views today
Comments
comments