The Atlanta Falcons and Cincinnati Bengals are both coming off thrilling victories over fierce division opponents in Week 1. Matt Ryan and the Falcons outgunned Drew Brees and the Saints at home, while Andy Dalton and the Bengals brought down the Ravens in Baltimore.
The two teams, who possess two of the best young receivers in the game in Julio Jones and A.J. Green, collide in Week 2 with every intention of maintaining their 100 percent record.
Check out how their Week 1 victims recover with our previews of the Steelers vs. Ravens and Saints vs. Browns, and read on to have a better idea of who comes away with a perfect record still intact.
[sc:Football ]
Atlanta Falcons vs. Cincinnati Bengals Preview and Prediction
When: Sunday, September 14, 1:00 PM ET
Where: Paul Brown Stadium, Cincinnati
Line: Atlanta Falcons (+5) vs. Cincinnati Bengals (-5); total 48.0 – view all NFL lines
Betting on the Atlanta Falcons
For anyone who forgot just how good the Atlanta Falcons can be when healthy, their 37-34 overtime win over the New Orleans Saints should be more than enough to jog your memory. The Falcons accumulated 568 total yards of offense, the most from any team by some margin in Week 1.
[sc:NFL240banner ]Quarterback Matt Ryan actually was still pretty good last year despite injuries to his top receivers, Julio Jones and Roddy White. But he looked like a flat-out superstar with his dynamic duo back as he outdueled Drew Brees en route to a Falcons franchise-record 448 yards and three touchdowns.
Even their much-maligned running game, which ranked dead last with 78 yards per game last season, has suddenly found new life. Steven Jackson, himself back healthy, led the way with 52 yards, but four other Falcons contributed to their 123 yards on 25 carries.
Of course, it's still pretty early in the season and they're set to get tested this week against a legitimately tough Bengals defense. Speaking of which, the Falcons' own defense isn't going to shut anyone down. There's a reason the Falcons swan dove when they couldn't outscore anyone last season; their defense was at the bottom five in terms of yards and points allowed.
But with Jones and White, as well as Devin Hester (five catches, 99 yards) to go with a burgeoning running game, the Ryan and the Falcons have enough weapons on offense to blow the Bengals away.
If you believe the Falcons are now much closer to their 2012 selves this year, consider that they went 6-2 on the road that year, only to fall to 1-7 in last season's injury-hit campaign.
Create a betting account today and cash in all the NFL action this season.
Betting on the Cincinnati Bengals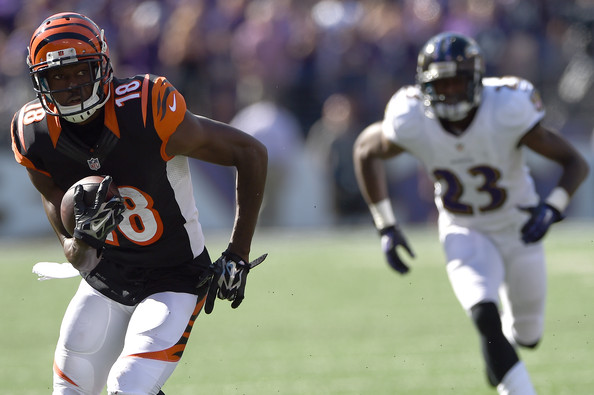 If it weren't for Joe Flacco going all Joe Flacco-level awful in Week 1, the Bengals might have fallen prey to the Ravens at Baltimore. They were certainly there for the taking.
Their running game was off (they were outgained 91-79 by the Ravens, who were 30th in rushing last year) and they couldn't convert on third down (4-for-14), which led to field goals attempts (six) instead of touchdowns. Even their typically solid defense squandered a 15-point lead as the Ravens staged a second half fightback.
Thankfully for Cincy, A.J. Green was on hand to pick up the slack. The All Pro-caliber wideout caught six balls on 131 yards, more than half of which coming on his game-sealing 77-yard touchdown. Even when the offense isn't operating at full efficiency, Andy Dalton (25-for-38, 301 yards vs. the Ravens) and the Bengals always have that big-play ability with one long bomb to Green.
However, the entire team may suffer from a drop in overall efficiency if tight end Tyler Eifert and linebacker Vontaze Burfict fail to suit up. Both left their game against the Ravens due to injury, which could also keep them out against the Falcons.
Burfict in particular would be a major loss. He's the team's best linebacker and is excellent in pass coverage, something that will be sorely missed against the Falcons' passing attack.
But maybe their homefield advantage will compensate for the loss of any of their key players. The Bengals were just one of three teams to go 8-0 on their homefield last season. More impressively, though, they covered the spread in all eight games, including five spreads of six points or more.
Writer's Prediction
Dalton and the Bengals' offense recovers from its Week 1 hiccups, while the Falcons' attack – with help from the Cincy defense – falls back down to earth outside the confines of the Georgia Dome. Take the Bengals to keep their home winning (and covering) streak alive.
[sc:NFL490Banner ]
1,639 total views, 1 views today
Comments
comments