The New York Giants made a statement in Week 4, dismantling the Washington Redskins by 31 points to record their second-straight victory. They will look to make it three in a row when they square off with the inconsistent Atlanta Falcons this coming Sunday.
Who will emerge victorious in this NFL shootout? Read on for a complete preview of this showdown and while you're at it, you can check out our complete NFL Week 5 picks and predictions.
[sc:Football ]
Atlanta Falcons vs. New York Giants Preview
When: Sunday, October 5, 1:00 PM ET
Where: MetLife Stadium, New Jersey
Line: Atlanta Falcons (+4.5) at New York Giants (-4.5); total: 49.5 – view all NFL lines
Betting on the Atlanta Falcons
A week after demolishing the Tampa Bay Buccaneers by 42 points, the Atlanta Falcons were brought back down to earth on Sunday as they lost 41-28 to the Minnesota Vikings to 2-2.
[sc:NFL240banner ]Once again, defense was the issue for Atlanta, allowing a total of 558 yards against a team playing starting a rookie quarterback and playing without its best player. The Falcons couldn't stop Teddy Bridgewater, who was solid in his first start for Minnesota, completing 19 of 30 passes for 317 yards.
Still, Bridgewater was just the beginning: the run defense of the Falcons continues to be a porous mess. Even without star Adrian Peterson who is suspended indefinitely because of child abuse charges, the Vikings rushed for 241 yards and four touchdowns.
That has been the story so far for Atlanta this season as they are the fifth-worst team in the NFL in rushing defense with opponents averaging 153.5 yards on the ground against them through their first four games. It will only get more difficult for them as they will next face the suddenly in-form Giants who are averaging 173.5 rushing yards in their last two games.
For the Falcons to have a chance at grabbing their third victory of the season against the Giants, they need quarterback Matt Ryan to facilitate their offense much better. In their two wins thus far this season, they have averaged a whopping 46.5 points per game. Compare that to their average in their two losses where they have only managed to score only 19.0 points per game.
In the game against the Vikings, Ryan completed 25 of 41 passes for 298 yards and three touchdowns but he also threw two interceptions that cost Atlanta. He should have room to find his targets as the Giants are ranked 22nd in passing defense this season with opponents averaging 254.5 passing yards against them.
The Falcons are 2-2 ATS this season.
Create a betting account now and cash in on all the NFL action.
Betting on the New York Giants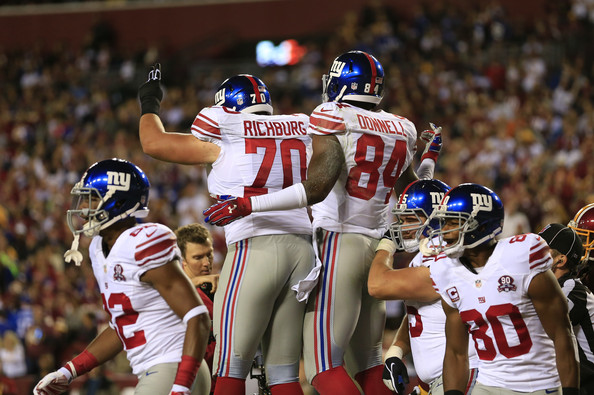 A new star was born in the Big Apple and his name is Larry Donnell. With the whole of New York City transfixed on Derek Jeter's final game at Yankee Stadium, Donnell made sure that he wasn't going to get lost in the conversation with a virtuoso performance in the New York Giants' 45-14 victory over the Washington Redskins on Thursday night.
The second-year tight end out of Grambling State caught three touchdown passes in a stunning first half showing to send Giants fans in a state of euphoria. After losing their first two games, many fans feared the worst for a team that started last year 0-6. The Giants have battled back strongly though, racking up two consecutive wins to even their slate at 2-2.
It will be interesting to see how Donnell will fare against the Falcons this coming weekend but we can't help but be impressed with the performance he displayed against the Redskins last Thursday. Prior to his outing against Washington, Donnell had one career touchdown catch. He now leads the Giants in touchdowns (four) and overall receptions (25) as he has consistently gotten open for his quarterback.
Speaking of which, the Giants two wins would not be possible without the improved play of Eli Manning who is looking more and more comfortable in the Giants' intricate West Coast offense. Offensive coordinator Ben McAdoo said awhile back that he expected Manning to complete 70 percent of his passes with this new up-tempo offense and he has certainly done so in his last two games, completing 49 of his 67 passes for a 73.1 percent passing clip.
In the game against Washington, Manning completed 28 of 39 passes for 300 yards and four touchdowns with one interception. He should find space against the second-worst defense in the NFL this season in terms of yards allowed per game (429.8), especially now that he has discovered a target other that Victor Cruz.
The Giants are 2-2 ATS this season.
Writer's Prediction
Manning and the Giants (-4.5) win big.
[sc:NFL490Banner ]
1,823 total views, 1 views today
Comments
comments