The NFL preseason is finally off and running with all teams already getting a taste of live football action. Although some have questioned whether these preseason games really matter, for now it is here to stay and in Week 2 there are plenty of tantalizing matchups to see.
The Baltimore Ravens look to continue their fine start to the preseason as they travel to Dallas on Saturday night to face the Cowboys who are looking for their first win of the exhibition season. Read on for a complete preview of this ballgame and while you're at it take a look at our preview of five things to watch in the Philadelphia Eagles' second preseason game.
[sc:Football ]
Baltimore Ravens vs. Dallas Cowboys Betting Preview
Where: AT&T Stadium, Arlington, Texas
When: Saturday, August 16, 7:00 PM ET
Line: Baltimore Ravens (+1) at Dallas Cowboys (-1); total: 41.5 – see all NFL lines
Why This Game Matters
[sc:NFL240banner ]Cowboys quarterback Tony Romo will see action for the first time since undergoing back surgery last December in this game. Although Cowboys owner Jerry Jones has announced that Romo is already 100 percent recovered from his injury, it will be interesting to see first-hand how Romo will deal with live action and whether his mobility suffered post-surgery.
Betting on the Baltimore Ravens
When offensive coordinator Gary Kubiak was hired by the Baltimore Ravens back in January to replace Jim Caldwell, his main task was to help QB Joe Flacco rediscover the form that helped Baltimore win the Super Bowl back in 2013.
After their first preseason game, the early verdict is so far, so good.
The Ravens were impressive in their opening game, routing the San Francisco 49ers 23-3 in a rematch of the 2013 Super Bowl that launched Flacco to the upper echelon of quarterbacks.
In his only series of the game, Flacco produced a majestic 80-yard touchdown drive as he went 4-of-5 for 52 yards in 10 plays as the Ravens ran roughshod over the 49ers defense. Four different receivers caught passes from Flacco, namely Kyle Juszczyk for 17 yards, Dennis Pitta for 14, Jacoby Jones for 12, and new receiver Steve Smith for 9.
In fact, the whole Ravens' offense had a strong outing, amassing a total of 386 yards during the game. Apart from Flacco, backup quarterback Tyrod Taylor also had a solid performance, going 13-of-21 for 116 yards with one touchdown and one interception, as he outperformed the opposing 49ers backup quarterback Blaine Gabbert.
Another trademark of Kubiak's West Coast offense is its strong offensive line and in this game, the Ravens showed what it is capable of. Eugene Monroe, Marshal Yanda and the rest of the O-line were aggressive right off the bat and created plenty of openings for the running backs to wreak havoc.
The Ravens, which averaged a meager 3.1 yards per carry a year ago, rushed for a total of 237 yards on 48 tries for an impressive 4.9 average against the 49ers. Ray Rice, who was suspended by the NFL for the opening two regular season games for domestic violence, ran three times for 17 yards in the Ravens' opening drive.
Bernard Pierce, the likely starter while Rice serves his suspension, ran for 37 yards including a two-yard TD run to end Baltimore's opening drive. Pierce appears to have made the adjustment quickly to Kubiak's one-cut system for running backs and that is a good sign for the Ravens as they look to improve on their rushing game which was third-worst in the league last season with a measly 83.0 yard per game average.
Create a betting account now and cash in on the preseason games as the start of the NFL season draws ever closer.
Betting on the Dallas Cowboys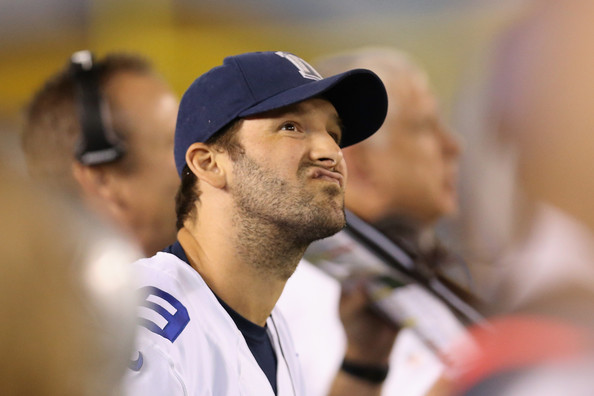 Tony Romo will make his long-awaited return to the football field after undergoing back surgery last December as his Cowboys look to pick up their first win of the preseason when they host the Baltimore Ravens at the AT&T Stadium Saturday.
Romo had another solid season for the Cowboys last year going 342-of-535 for 3,828 yards with a 63.9 percent completion rate. But after missing the last game of the season, Romo failed to reach the 4,000+ passing yard mark for the first time in three seasons.
The Cowboys certainly missed his services last Thursday in their opening preseason game against the San Diego Chargers as they were totally dominated, 27-7. Brandon Weeden, who was making his Cowboys debut, impressed for Dallas, going 13-of-17 for 107 yards with one TD as he looked to cement his position as the backup quarterback.
However, the spotlight will be directed once again on Romo this coming Saturday, and reports coming out of training camp suggest that the 34-year-old quarterback is fully fit and looking sharp ahead of his preseason debut against the Ravens.
Cowboys quarterbacks coach Wade Wilson was impressed with Romo's practice session last Saturday saying that this was Romo's best practice post-surgery. Wilson remarked, "He was really cutting the ball loose in all areas, the shorts, mediums and some real nice deep balls in 1-on-1s. Today he looked like his real self. His motion was real solid. He was getting a lot of his lower body in his throws as well."
That is good news for the Cowboys who were 14th in the league last season in the passing yards department with a 247.1 yard per game clip.
The Cowboys are 2-2 SU in their last four regular season home games against the Ravens.
Writer's Prediction
The Ravens will continue their great preseason form with a win over the Cowboys as they improve their record to 2-0.
[sc:NFL490Banner ]
2,128 total views, 1 views today
Comments
comments