The Huskies aim to stop Cincinnati's surge, while the tired Spurs are looking to continue their dominance against the Nets.
[sc:BettingArticlesShortcoder ]
Sports Betting Preview for February 6
Top Stories in Sports Today
NBA – Lakers Survive, Beat Cavs
With no players left on the bench, Robert Sacre was forced to stay on the floor despite acquiring his sixth (and supposedly last) personal foul in the fourth quarter, allowing him to help the Lakers win 119-108 over Cleveland. The win stopped the Lakers' seven-game losing streak.
NBA – Heat Outlast Clippers
The Heat overcame Blake Griffin's 43-point explosion and escaped with a 116-112 win over the Clippers. LeBron James nearly recorded another triple-double with 31 points, 8 rebounds and 12 assists.
NHL – Blackhawks Edge Ducks
Corey Crawford turned away 29 shots while Marian Hossa and Jonathan Toews each had a goal to help the Blackhawks beat Anaheim, 2-0. With the win, Chicago is just a point behind the Western Conference leader, Anaheim.
Top Bet Games to Bet On
NCAAB – Connecticut Huskies vs. Cincinnati Bearcats (7:00 PM ET)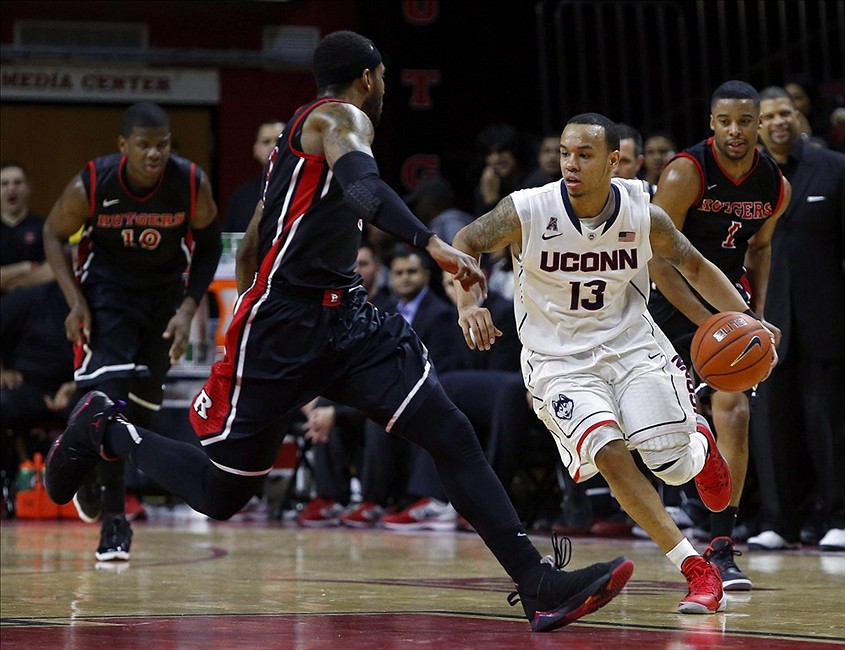 DeAndre Daniels is expected to suit up for the Huskies after hurting his ankle in Connecticut's win over Rutgers last January 25th. His return is vital for Connecticut, as his team will be up against AAC leader, Cincinnati. Daniels is averaging 13.4 PPG and 5.6 RPG. Both numbers are second best on the team with senior guard Shabazz Napier steadily topping the team with 17.9 PPG and 6.0 RPG.
Connecticut seemed to have used its last outing against Houston as a practice game in preparation for tonight's highly anticipated match against No. 7 Cincinnati. Against Houston, Napier scored a game-high 19 points to lead the Huskies to an easy 80-43 whitewashing of the Cougars.
Odds: Connecticut (+5) vs. Bearcats (-5), O/U: TBA
The Bearcats haven't lost in quite a while. They are on a lengthy 14-game winning streak, another win tonight vs. the Huskies could thrust Cincinnati higher than No. 7 in AP poll rankings next week.
Cincinnati is relying on two seniors, guard Sean Kilpatrick and forward Justin Jackson to deliver most of the points on offense. Kilpatrick and Jackson are the only Bearcats averaging in double digits in scoring with 19.4 PPG and 11.3 PPG.
On defense, it's a combined effort for Mick Cronin's team. The Bearcats' defense is among the fiercest in the nation, ranking third in scoring defense (56.7 PPG) and 12th in opponent field goal percentage (38.6%). Cincinnati is 5-0 Under in its last five home games.
NBA – San Antonio Spurs vs. Brooklyn Nets (8:00 PM ET)
[sc:NBA240banner ]With the aging (and frequently injured) trio of Tim Duncan, Manu Ginobili, and Tony Parker, having a solid, deep bench is a luxury for the Spurs. They showed their diverse and talented lineup and came out with their latest win over the Washington Wizards
The Spurs notched a draining 125-118 double overtime win over the Wizards as their back-up bench stepped up and contributed 53 points, including Patty Mills' 11 points in the two overtime periods. The Spurs have the highest scoring bench in the NBA with their reserves putting up 44.4 PPG.
San Antonio is on a three-game winning streak that could be extended with a win tonight against the Net, whom they've beaten in 19 of their last 20 meetings.
Odds: Spurs (+5.5) vs. Nets (-5.5), O/U: 195.5
The Nets put a stop to their losing streak with a 108-102 win against the 76ers on Monday night. The losing streak put on hold their efforts to take over the Raptors' No. 1 spot in the Atlantic Division. Nevertheless, Brooklyn is just 3.5 games behind Toronto. The Nets could move further away from their recent slip up when they host the Spurs tonight.
The Nets have been a frequent loser in this match-up having lost to San Antonio in 19 of their last 20 meetings, However, Brooklyn could take advantage of the tired Spurs, who are possibly feeling weary after their exhausting double-overtime road win last night in Washington.
To add to the potential advantage of exhaustion, is the absence of some of the Spurs' key players, Manu Ginobili (hamstring), Kawhi Leonard (finger), and Tony Parker (back). Brooklyn is 8-2 SU in its last 10 home games.
For the most comprehensive list of NFL, NCAAF, NCAAB, MLB, and NHL game odds and betting lines, plus other sports, visit Top Bet's sportsbook.
[sc:NBA490banner ]
1,505 total views, 1 views today
Comments
comments