Tom Brady and Peyton Manning engage in what could be their last postseason meeting when the Patriots hit the road to face the favored Broncos.  Meanwhile the 49ers and Seahawks will both go head-to-head for a chance to play in Super Bowl XLVIII.
Sports Betting Preview for January 19
Top Stories in Sports Today
NBA – Nets Top Hawks in London Game
Joe Johnson was still smoking after the Nets' 127-110 win over the Hawks. Johnson sizzled for 29 points on 11-of-15 shooting, which includes six three-point connections.
NHL – Rangers Beat Visiting Red Wings
Henrik Lundqvist continued his return to Vezina Trophy winning form when he turned away 38 shots in the Rangers' 1-0 win against the Red Wings. The shutout was Lundqvist's 48th in his career.
Tennis – Serena Williams Sets Record With Third-Round Victory
Amid the blistering temperature in Melbourne, Serena Williams topped Daniela Hantuchova, 6-3, 6-3 in their third-round match in the Australian Open. The win gave Williams her 61st win in the history of the tournament, the most by any woman.
Top Bet Games to Bet On
NFL
New England Patriots vs. Denver Broncos (January 19, 3:00 PM ET)
The Patriots booked a return trip to the Super Bowl for the second time in two years after shredding Indianapolis in the AFC Divisional round, 43-22. Despite Tom Brady throwing for less than 200 yards for the third time in as many games, Bill Belichick's squad managed to rack up points against the Colts because of their exceptional running game. LeGarrette Blount, in particular, was a man possessed in that game, rushing for 166 yards and four touchdowns to power the Patriots to a convincing victory.[sc:NFL240banner ]
Based on their last three games, the Patriots have improved defensively. During that stretch, they have limited foes to an average of 16.3 PPG and allowed only 33.33% of their opponents' to score touchdowns when in the red zone. That's 20% better than their season average of 53.85%.  The Patriots are 3-0 SU and ATS in their last three games.
Odds: Patriots (+5) vs. Broncos (-5), O/U: 56.0
Peyton Manning won't be denied of his first playoff win since signing with the Broncos, a team starving for a Super Bowl title and had expected the Vince Lombardi Trophy to arrive a year earlier until a debilitating loss to the Ravens in last season's playoffs.  Denver did the damage early against the Chargers in the NFC Divisional game. The Broncos withstood a 17-point barrage by the Chargers and escaped with a 24-17 win. Denver employed a suffocating defense on the Chargers, who only put up 259 yards and definitely felt the Broncos' eighth ranked rushing defense by managing only 65 on the ground.
Denver is looking to avenge their heartbreaking Week 12 loss to the Patriots on the road. This time, the Broncos have the home field advantage. The Broncos are 3-1 SU and ATS in their last four home games against New England.
NFL
San Francisco 49ers vs. Seattle Seahawks (January 19, 6:30 PM ET)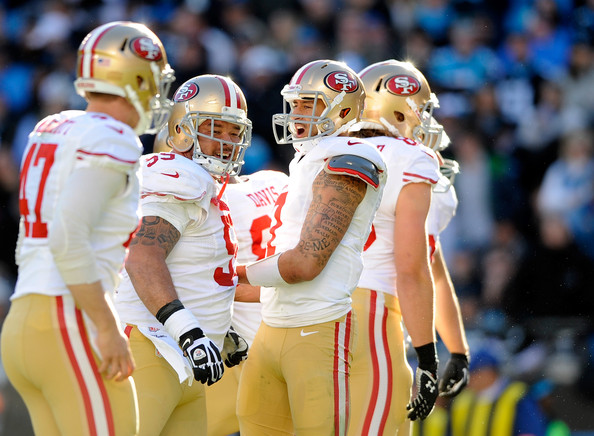 Though failing to defend their NFC West division title, the 49ers won't care a bit once they beat the team which won their division this season – bitter rival Seattle Seahawks.
The 49ers are on an impressive streak, which they look to extend up to the Super Bowl. They haven't lost in eight straight games both at home and on the road. San Francisco is 7-0-2 ATS in its last nine road games, giving confidence to bettors, especially when considering that the 49ers will play at Seattle – one of the most difficult places to come out with a road win.
For them to make it past Seattle, the 49ers need to outwork the Seahawks vaunted defense. With the return of wide receiver Michael Crabtree, the 49ers could pose serious threat to the Seahawks' top ranked passing defense. Crabtree had a sparkling performance with 125 yards receiving in the wild card round against Green Bay. However, this was followed it up with an unspectacular 26-yard output versus Carolina last Sunday.
Odds: 49ers (+3) vs. Seahawks (-3), O/U: 39.5
All the Seahawks did on their last game against New Orleans in the NFC Divisional round was get on the back of Marshawn Lynch and watch him transform into full Beast Mode. In that game, Lynch ran circles around the hapless Saints' defense for 140 yards and two touchdowns to lead his team to a 23-15 win. It was another home win for the Seahawks, who seem to make wins automatic when playing at home. They are 9-1 SU in their last nine home games.
Even their head-to-head match-up against the 49ers when at home mimics the frightening home field advantage of the Seahawks this season. Seattle is 4-1 SU and 5-0 ATS in their last five home games against San Francisco, which includes their senseless 29-3 beatdown of the 49ers back in Week 2.
Though the Seahawks aren't scoring that much (20 points/game in the last five games), their flesh-eating defense is there to compensate. With a torturous pass defense that ranks as the best in the NFL (172.0 passing yards allowed per game), 49ers' Colin Kaepernick and his receivers could be crippled but before they even think of running the ball instead or vice versa, they should also solve Seattle's rushing defense (101.6 rushing yards allowed per game, 7th in NFL).
For the most comprehensive list of NFL, NCAAF, MLB, and NHL game odds and betting lines, plus other sports, visit Top Bet's sportsbook.
[sc:NFL490Banner ]
1,659 total views, 1 views today
Comments
comments