The road-loving Trailblazers will test the home-court mettle of the Cavs, while the Nuggets hope some cold mountain air can cool off the Thunder.
[sc:BettingArticlesShortcoder ]
Sports Betting Preview for December 17
NFL – Ravens Kick Lions to Home Loss
Justin Tucker's 61-yard field goal – his sixth of the game – with just 38 seconds left gave the Baltimore Ravens a huge 18-16 road win over the Detroit Lions. With the win, the defending champions are now the second Wild Card in the AFC.
NBA – Pacers Drop First Home Game
Josh Smith's 30 points powered the Detroit Pistons past the previously perfect Pacers, 101-96, in Indiana. The Pacers now drop to 11-1 SU at home.
NBA – Beal Blows by Knicks
Back after nine games out with a foot injury, Bradley Beal made a layup with 6 seconds left to give the Washington Wizards a 102-101 win over the New York Knicks in Madison Square Garden. The Knicks are now just 4-9 SU at home.
Top Bet Games to Bet On
Portland Trailblazers vs. Cleveland Cavaliers (7:00 PM ET)
The Portland Trailblazers currently have the best record in the West, due in no small part to the play of reigning Rookie of the Year Damian Lillard. No sophomore slump is in sight for the dynamic lead guard, who's averaging 20 points/game while orchestrating the league's most potent offense (107.9 points/game). Portland is 11-1 SU in its last 12 road games. [sc:NBA240banner ]
Odds: Blazers (-5) vs. Cavs (+5); O/U: 205.0
His ROY predecessor, Kyrie Irving, however, is not having the season most had anticipated. The third year guard has seen his points and shooting percentages all drop from last year as the 9-14 Cavs have struggled to get above .500 this season. But they are still a respectable 7-3 SU at home, and are 7-2 SU in their last 9 home games vs the Blazers.
Oklahoma City Thunder vs. Denver Nuggets (9:00 PM ET)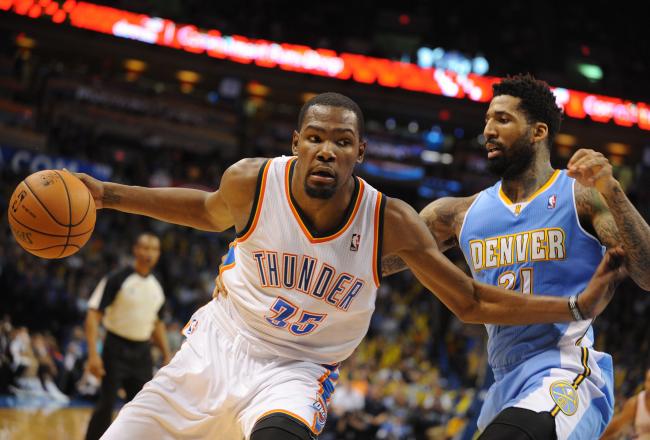 There's no hotter team in the NBA at the moment than the Oklahoma City Thunder. Kevin Durant and friends have won six games in a row and are 9-1 SU in their last 10 games overall. Aside from being an unstoppable offensive force, Durant is also stepping up his defense; he's totalled at least 3 stocks (steals + blocks) in eight of his last nine games.
Odds: Thunder (-2.5) vs. Nuggets (+2.5); O/U: 208.0
Durant's defensive assignment tonight against the Nuggets will be Wilson Chandler. The 6-year vet is second on the team in scoring (11.5 points/game), but he has gone over 17 points in each of Denver's last three games. Chandler is also averaging a superior 13 points/game at home, where the Nuggets are 7-3 SU this season.
For the most comprehensive list of NFL, NCAAF, MLB, and NHL game odds and betting lines, visit Top Bet Sportsbook.
1,545 total views, 1 views today
Comments
comments