After the chaos that was the Wild Card Round, which saw three of the four underdogs pulling off upsets, what will the Divisional Round bring? The higher seeds have history on their side against their opponents, with one notable exception.
[sc:BettingArticlesShortcoder ]
NFL Betting Power Rankings as of January 8, 2014
*All odds as of January 8, 2014.
| TEAMS | TRENDS |
| --- | --- |
| Carolina Panthers | 12-1 ATS in last 13 games vs SF |
| Seattle Seahawks | 4-1 ATS in last 5 playoff home games |
| New England Patriots | 6-1 ATS in last 7 home games |
| San Diego Chargers | 6-1-3 in last 10 games vs DEN |
1. Carolina Panthers (+2)
Defending NFC Champion San Francisco will have all the momentum on its side; after a win at Green Bay last week, San Fran is now 7-0 SU in its last 7 games. But who better to beat the 49ers than their NFL doppelganger – and ultimate bogey team — the Carolina Panthers.
With both teams possessing an elite defense, a superior running game and a dual-threat quarterback, there's very little to separate these two teams, as their regular season meeting showed. The Panthers sneaked away with a 10-9 win at San Francisco, and another close contest should be expected in Carolina. [sc:NFL240banner ]
Plus, the Panthers have history overwhelmingly on their side. Since the expansion of the NFL to Carolina in 1995, the Panthers have lost just 3 times ATS to the 49ers in 18 overall meetings and in the last 13 games, they are an incredible 12-1 ATS.
2. Seattle Seahawks (-7.5)
Take the Saints' road resurgence against Philadelphia with a grain of salt; bear in mind, they only just beat an Eagles team that almost didn't make the playoffs thanks to the Kyle Orton-led Cowboys.
Seattle will be a completely different animal for the Saints. This is a home field that has experienced defeat just once in two seasons, and that loss came with the Seahawks having essentially nothing to play for against a Cardinals team still fighting to make the playoffs.
That great home field advantage also translates to the playoffs; Seattle is 5-0 SU and 4-1 ATS in its last five home playoff games. And no one needs to remind New Orleans fans what happened when the 11-5 Saints visited the 7-9 Seahawks in the 2010 Wild Card Round.
3. New England Patriots (-7)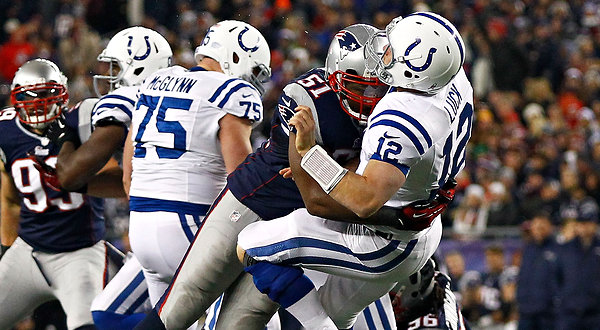 Andrew Luck won his first playoff game in dramatic fashion last week, but a combination of key Chiefs injuries and a little fortune (the Colts won despite committing 3 more turnovers; playoff teams were 8-75 all-time in such games) greatly aided that victory.
But to earn his first playoff road win, he'll need to get past the New England Patriots, who went undefeated at home (8-0 SU) this year and are 6-1 ATS in their last 7 home games.
Luck laid a proverbial egg in his only other playoff road outing in last year's defeat to the Ravens. And in his only game so far in New England, the Pats picked him off three times in a 59-24 beatdown – the worst loss of Luck's career.
4. San Diego Chargers (+9.5)
The Denver Broncos may be the highest scoring offense in NFL history, but one defense they haven't figured out has been that of the San Diego Chargers.
In their first meeting, the Chargers held the Broncos to just 28 points and only lost by eight. And in their second meeting, they went to Mile High and held Denver to a season-low 20 points in their only home defeat of the season.
This is by no means a fluke year for the Chargers. In their last 10 road games at Denver, San Diego has only lost once against the spread (6-1-3 ATS).
Head over to the sportsbook and place your bets now on the Divisional Round.
2,566 total views, 1 views today
Comments
comments