Prop bets are fun. When there's big star power or a high-powered offense like we have in this year's Super Bowl, prop bets will be as popular as straight bets because we care whether or not Peyton has a huge day.
For Super Sunday Top Bet has posted more than one hundred different props. There's definitely value in these bets and money to be made by taking advantage of these. The toughest part about making Super Bowl prop bets is deciding which ones to bet on.
Here are our top picks of bets.
[sc:SuperBowl48 ]
Team, Player, and Game Prop Bets for Super Bowl XLVIII
1. Longest Made Field Goal of the Game – Over/Under 43.5 Yards
BET ON: Under (-115)
Despite having this year's two most reliable field goal kickers in Denver's Matt Prater (25-for-26 FGs) and Seattle's Steven Hauschka (33-for-35), the potentially treacherous conditions such as snow and wind could severely hinder both coaches from attempting very long field goals.
One can also combine this particular bet with dozens of other parlayable game props for a substantially larger payout. Parlaying this bet with, say, the coin toss would yield a potential payout three times more than two separate bets for the same amount.
2. Richard Sherman – Will He Intercept a Pass?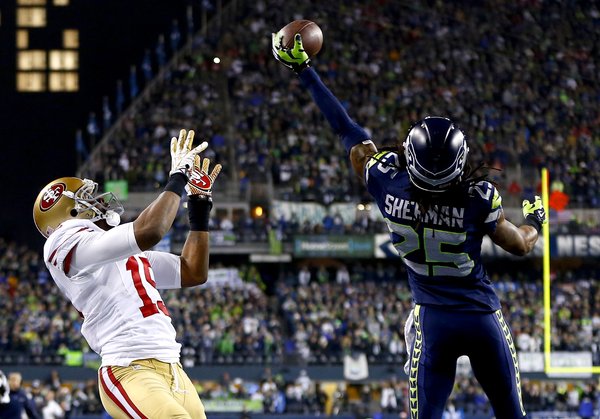 BET ON: Yes (+200)
You'd think someone as smart as Peyton Manning would just avoid throwing to whomever Richard Sherman is covering. But if Manning does decide to challenge "the best", Sherman has proven with his spectacular play in the NFC championship game that he is ready to make the big play.
Sick of that "thug" Sherman and want to bet on a classy pro like Russell Wilson? You may do so at the Seahawks player props section, which features more than a dozen Wilson prop bets to choose from.
3. Knowshon Moreno – Total Receiving Yards Over/Under 26.5
BET ON: Over (-115)
With the sheer number of relevant offensive players, the Broncos' player props is pretty stacked with options. Have fun trying to figure out over or under for yards of the first catch, total catches and total yards of Denver's army of receivers.
One such receiver could be running back Knowshon Moreno. With the Legion of Boom keeping those wideouts in check, Manning could opt to utilize Moreno more in the passing game. Moreno had nine such games of over 26 yards receiving this season.
4. Who Will Have More – Carmelo Anthony Points or Peyton Manning Completions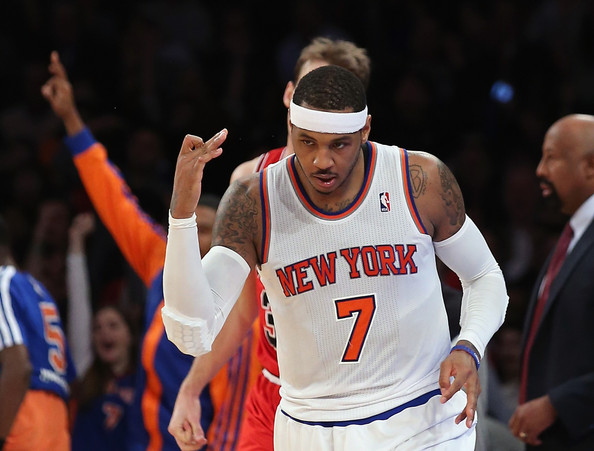 BET ON: Manning (+120)
Always entertaining and favorite prop bets of the all-around sports fan, cross sport props pit Super Bowl outcomes with those from other sports like basketball and soccer. How many times can someone bet on/against Peyton Manning and Russell Wilson with the likes of Carmelo Anthony and LeBron James on the other side? Maybe just once in a lifetime.
With that possible once-in-a-lifetime bet, take a hard look at taking Manning completions against Anthony points. Manning's completion average in the regular season + playoffs (28) actually trumps Melo's season points average (27).
5. First to Throw an Interception
BET ON: Russell Wilson (+120)
Not a fan of yes/no or over/under props? Then try the player match-up props out for size. No numbers or polarizing questions in these bets; just man against man, squaring off.
The two quarterbacks will likely decide the fate of the Super Bowl, but they will definitely decide who will throw the first interception. Russell Wilson committed a turnover in the very first play of the NFC Championship game. Lightning could strike for the second-year man, who could experience some big-game jitters.
6. Peyton Manning – How Many Times Will He Say Omaha During the Game
BET ON: Under (-120)
And of course, no Super Bowl will be complete without a set of completely inane but wildly entertaining Super Bowl fun props. Aside from the classic Gatorade Bath (no bath at EVEN odds??) and National Anthem length, this year's selection actually has an over/under line set for Peyton Manning "Omaha" calls, set at 28.5.
Just stop and think about it: people are actually going to put money on the line to guess how many times arguably the greatest quarterback of all-time shouts out a call whose meaning is an absolute mystery to everyone. If that isn't weird enough, how about wagering whether or not a Red Hot Chili Pepper will perform shirtless?
7. Super Bowl XLVIII MVP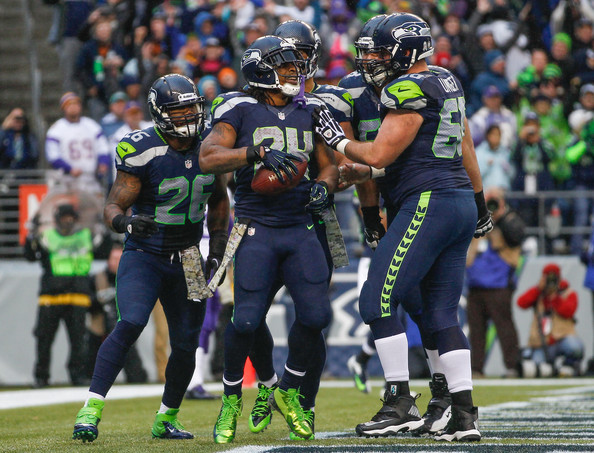 BET ON: Marshawn Lynch (+600)
A running back hasn't won the Super Bowl MVP since Terrell Davis in 1998, but if the Seattle Seahawks do win their first Super Bowl in franchise history, chances are that Marshawn Lynch going #BeastMode was a big reason why. Lynch has 249 yards and 3 TDs in two playoff games so far.
But of course, the quarterbacks are still the odds-on favorites for Super Bowl MVP, as that position has won in six of the past seven years.
BONUS BET: $10 Free Bet – Player to Record first 1st Down
BET ON: Eric Decker (EVEN)
Eric Decker is a first down machine. He was the second most targeted receiver this year for the Broncos with 137 touches, 87 of these were caught, and of those 87 receptions, 63 resulted in a first down. That's a 72% first down rate. View other players' odds to record the first 1st down in the $10 Free Bet section.
Pick your favorite best prop bet out from the bunch and place it now on Top Bet's sportsbook.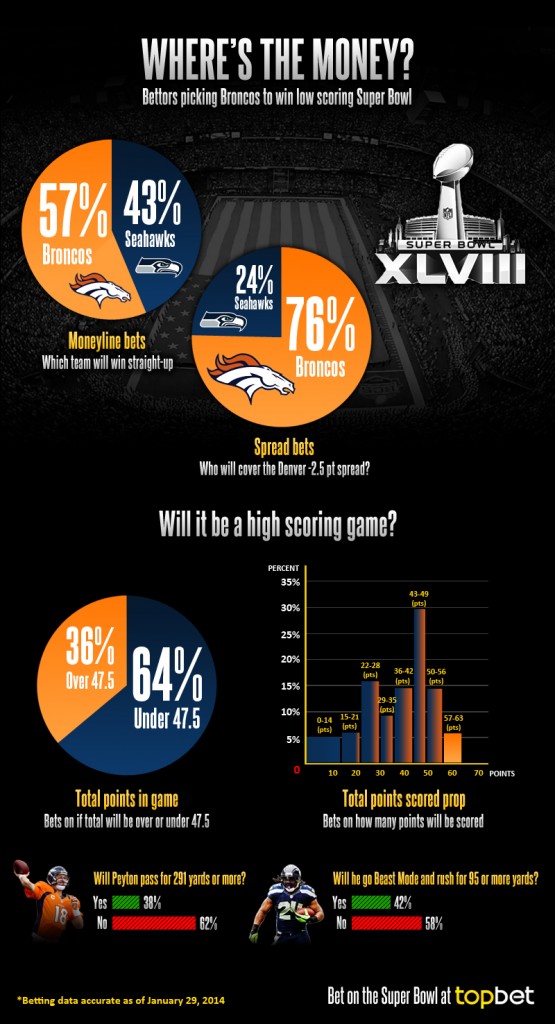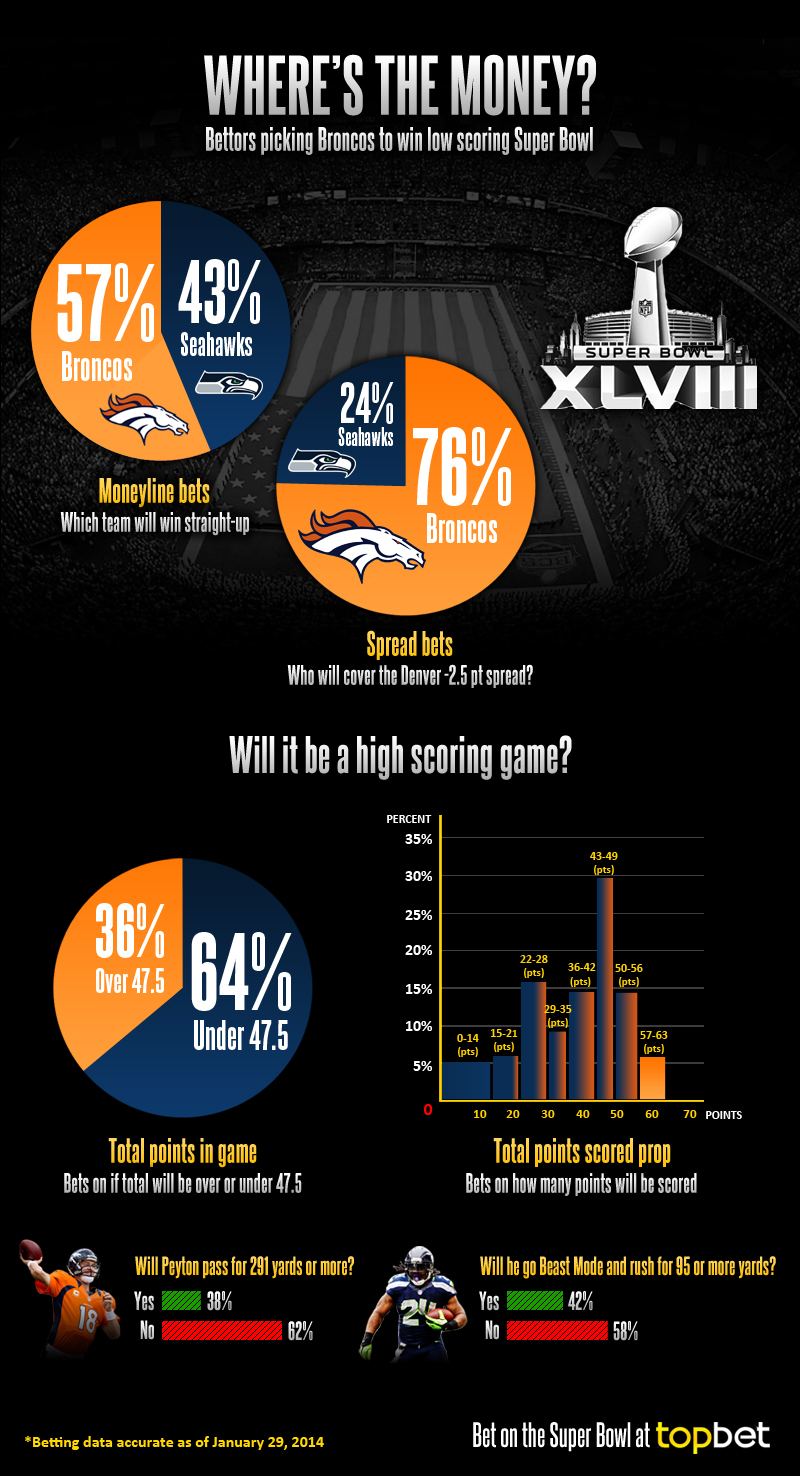 [sc:NFL490Banner ]
1,610 total views, 1 views today
Comments
comments