In our coverage of the 2014 Super Bowl we've provided you with a variety of stats-based ways to decide which team you're betting on this year: historic trends of #1 offense vs. #1 defense, an analysis of how past Super Bowl underdogs have performed, and a cold weather analysis of both teams.
However for some people, the only stats they care about is how the public is betting. It's a great way to gauge public opinion, as well as, potential line movements. We strongly recommend balancing the stats below with the historical data in the links above to get a full overview of these two teams
Where's the money on for this Super Bowl?
By now we all know that Super Bowl XLVIII is a historic match-up of two #1 teams. This match-up also offers the opportunity for future hall-of-famer, Peyton Manning,  to shake is his bad rep as a poor big-game performer.
The weather will play a big part and depending on the direction it turns, one team will have an advantage. Seattle is built to withstand all weather conditions and Peyton's offensive juggernaut is at its best when the weather is at its best. Keep in mind that both teams have a very strong secondary, with Seattle's being called the best ever by Deion Sanders.
Predicting whether this will be a high scoring game depends on how well you think each team can adapt. The Broncos have done well without some key defensive players, namely Von Miller, but can they adapt to Marshawn Lynch's relentless pounding and an unpredictable Russell Wilson?
Let's find out what the public thinks: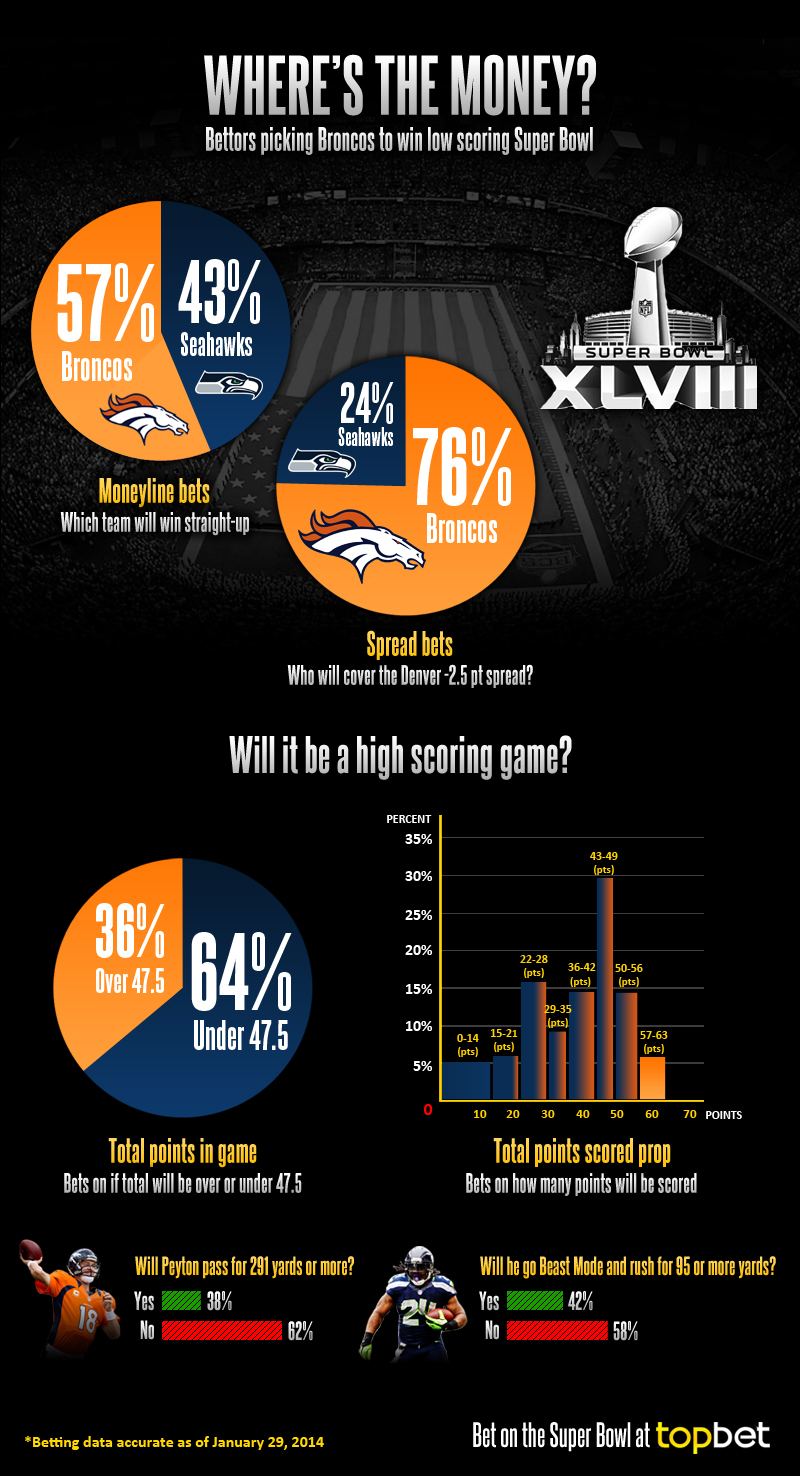 Who are people betting on to win the Super Bowl straight up?
The public is almost evenly split when picking a winner but Broncos fans are coming out on top.
Their record-breaking season stole the headlines this year but should the public be discounting the Seahawks who dominated the NFC? Seattle outscored their opponents this season by 186 points, while the Broncos outscored their opponents by 207 points. Many strength-of-schedule reviews graded the Broncos competition this season as the weakest any team in the NFL faced.
The Broncos are currently priced at -145 to win, while the Seahawks are +125 underdogs.
Will Denver or Seattle cover the spread?
Looking at these numbers , the 12th man is not making their voice heard loud enough. 3:1 betting in support of Peyton's squad![sc:NFL240banner ]
With a 30% higher payout on spread bets for the Broncos, the public is swooping in and expecting Denver to cover. Given our own review of experts' Super Bowl picks, which showed support evenly split, and a Madden simulation that had the game going to OT, we're slightly shocked.
Maybe Floyd Mayweather's $13 Million bet on the team in orange swayed things a little? There's news coming out now that he might have been messing with the media, so be careful.
The spread is currently Denver (-2.5) and Seattle (+2.5).
Will it be a high scoring Super Bowl?
Believe it or not, most people don't care who wins and just want to see a good game. For those people, they want points scored by the bucket. Sadly, according to how people are betting on the exact point total prop bet these people will be disappointed since half the action is expecting a game with a total of 42 points or lower. 43 to 49 total points is the top pick at 29% and 49.5 points is the split for the standard Over/Under bets.
| The total points scored will be 0-14 | 5% |
| --- | --- |
| The total points scored will be 15-21 | 6% |
| The total points scored will be 22-28 | 16% |
| The total points scored will be 29-35 | 8% |
| The total points scored will be 36-42 | 14% |
| The total points scored will be 43-49 | 29% |
| The total points scored will be 50-56 | 14% |
| The total points scored will be 57-63 | 6% |
The over and under is the more traditional way bettors can lay money down, which allows bettors to predict whether this Super Bowl will be a high or low scoring game. Here we see that the under is heavily favored and that means win or loss, Seattle's defense is expected to keep Peyton grounded for the most part.
| Over 47.5 pts | 36% |
| --- | --- |
| Under 47.5 pts | 64% |
The total points for the Super Bowl is currently set at 47.5 points and your $110 wager wins you $100.
[sc:SuperBowl48 ]
Will Peyton Manning and Marshawn Lynch have big games?
| Peyton will pass for more than 291 yards | 38% |
| --- | --- |
| Peyton will pass for less than 291 yards | 62% |
Looking at his record-setting average of 342 yards per game this season, passing for 291 yards in this game should be a cake-walk, right?
Beware, Seattle's secondary is pretty much a brick wall, having allowed 172 yards per game. No one, including Peyton, should expect another 400+ yard passing game from Mr. MVP.
Broncos Player Props: Peyton Manning – Total Passing Yards.
| Lynch to rush for more than 95 yards | 42% |
| --- | --- |
| Lynch to rush for less than 95 yards | 58% |
Considering Marshawn Lynch rushed for 78.6 yards per game and only broke 100 yards three times this season, it looks like bettors at Top Bet are unsure if he'll go beast mode against the Broncos front-line defenders.
Then again, once he's in the playoffs something definitely flips in him and his 140 yards against the Saints and 109 yards against the tough 49ers D is what the 42% are counting on.
Seahawks Player Props: Marshawn Lynch – Total Rushing Yards.
Well there you have it, bettors are expecting a hard fought showdown between these two teams where the Broncos win a lower scoring game. Peyton will win it without breaking a sweat and where  Marshawn Lynch may or may not become a huge factor.
Whether that's what you predict or not is up to you and how you choose to bet on the game.
When you're ready to bet on the game, head to Top Bet Sportsbook who are offering new players a 50% instant bonus.
[sc:NFL490Banner ]
2,296 total views, 1 views today
Comments
comments