It's going to be a scintillating classic showdown between offense and defense in the Big Ten Championship as the No. 10-ranked Spartans and the No. 2-ranked Buckeyes meet in Columbus.
Michigan State's impenetrable defense will undergo its toughest test of the season when it takes on the juggernaut that is Ohio State's offense.
Also check out:
College Football Betting Preview: Michigan State vs. Ohio State in the 2013 Big Ten Championship Game
Game Details
When: 8:00 PM ET, December 7, 2013
Where: Ohio Stadium, Columbus, Ohio
| | Michigan State Spartans | Ohio State Buckeyes |
| --- | --- | --- |
| SU/ATS | 11-1/7-4-1 | 12-0/7-5 |
| O-U | 4-8 | 8-4 |
| Last Game | vs. Minnesota Golden Gophers (W 14-2) | vs. Michigan Wolverines (W 42-41) |
| Player to Watch | DE Shilique Calhoun (Named as the Smith-Brown Defensive Lineman of the Year) | RB Carlos Hyde (1290 Rushing Yards, 14 Touchdowns) |
Michigan State Spartans vs. Ohio State Buckeyes Odds:
As of December 3rd.
Money: Ohio State (-5.5) vs. Michigan State (+5.5)
Spread: Ohio State (TBA) vs. Michigan State (TBA)
Totals: 51.5
Betting on Michigan State:
Things would have been very different had the Spartans not lost to the Fighting Irish back in September. It was the only blemish on their otherwise impressive record. Nevertheless, Michigan State will aim for the Big Ten title on Saturday against a BCS Championship spot-seeking Ohio State. [sc:NCAA240banner ]
The Spartans' formula for success has always been their ferocious defense. They lead almost every defensive statistical category in the FBS including rushing defense per game (64.8), total yards allowed per game (237.8) and passing efficiency defense per game (91.8). Michigan State's scoring defense also gives up a miniscule 11.8 PPG.
The team is poised to put to test their elite defensive game against Ohio State – a team that has the offensive tools capable of bringing the Spartans' defense to its breaking point.
Michigan State is 4-0 SU and ATS in their last four road games.
Bet now on the Michigan State Spartans.
Betting on Ohio State: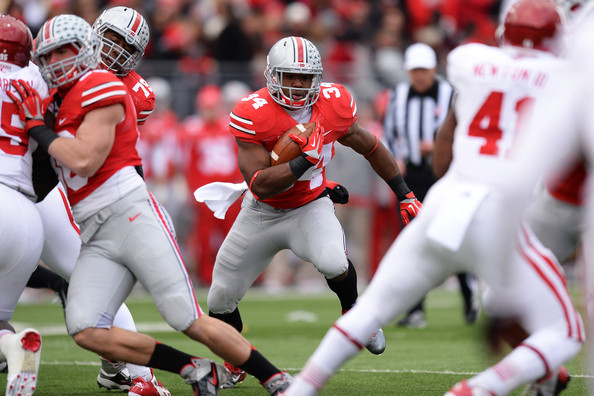 After emerging with a close 42-41 win against fierce rival Michigan last week, the Buckeyes now turn their attention to the Big 10 Championship, which they plan to use as their final springboard to the BCS National Championship.
Urban Meyer's boys will test the mettle of the Spartans' D with their vaunted offense. The Buckeyes are 3rd in the FBS in scoring, annihilating opposing teams with 48.2 PPG. Their scoring is mostly propelled by the team's explosive rushing game. Lead by running back Carlos Hyde (7.8 yards per rushing attempt — 6th in FBS), the Buckeyes are No.2 in the nation in rushing yards per game with 321.3.
Against the Wolverines, the Buckeyes recorded 393 rushing yards with Hyde and quarterback Braxton Miller combining for 379 yards.
Ohio State is 15-0 SU in their last 15 home games. They haven't lost a game since last season.
Bet now on the Ohio State Buckeyes.
[sc:OhioStateArticles ]
3,000 total views, 2 views today
Comments
comments