Auburn's pair of back-to-back miracle wins, including Nick Marshall's hail mary against Georgia and Chris Davis' 100-yard missed field goal return in the Iron Bowl, have put them ahead of former No. 1-ranked Alabama in the SEC standings and into the conference championship game.
They'll go up against the No.5-ranked Missouri Tigers, fresh off a suffocating win over Johnny Manziel and the Texas A&M Aggies.
Also check out:
College Football Betting Preview: Missouri vs. Auburn in the 2013 SEC Championship Game
Game Details
When: Saturday, December 7, 2013 @ 4:00 PM ET  [sc:NCAA240banner ]
Where: Georgia Dome, Atlanta, Georgia
Odds
As of December 2.
Money: TBA
Spread: Missouri (+2) vs. Auburn (-2)
Totals: TBA
Betting on the Missouri Tigers
Mizzou is challenging the opposition in all aspects of the game with their well-balanced performance so far this season. They currently sit 15th in points-for in the FBS rankings and 14th in points-against.
They'll also bring a well-distributed passing game into the SEC Championship game in Atlanta, Georgia. L'Damian Washington has 44 receptions for 824 yards, tall man Dorial Green-Beckham has 49 receptions for 686 yards and Marcus Lucas leads the team in receptions with 50 for 596 yards.
Their lone loss on the season came against Jadeveon Clowney and the South Carolina Gamecocks on October 26, by a slim margin of 27-24.
Their championship opponents, Auburn, won their last two games on costly mistakes by the opposition — it's a trend that Mizzou will look to avoid at all costs. Can they keep Auburn at bay and avoid any game-altering errors?
Bet now on the balanced game of the Missouri Tigers.
Betting on the Auburn Tigers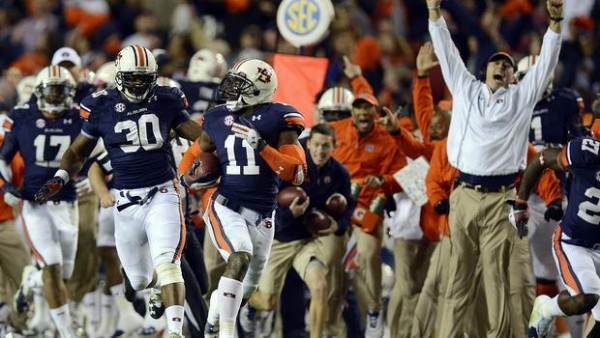 The Tigers team from the SEC West has been enjoying a Cinderella bounce back season, going 11-1 after finishing their 2012 campaign a dismal 3-9 and 0-8 against the SEC. What a turnaround it would be for them to claim the title of the conference they couldn't beat only one year ago.  [sc:NCAA240banner ]
Leading the way for Auburn this season has been dual-threat QB Nick Marshall, who's rushed for 922 yards and 10 TDs on the season. The rushing game is currently 5th best in the nation, anchored by junior Tre Mason, who sits at 15th in FBS rushing yards with 1317 for 18 TDs.
Both of their previous games ended with last minute heroics, and they'll be looking to capitalize on any mistakes made by their conference-mates from Missouri when they meet in Georgia this Saturday.
Auburn is 8-0 SU in their last eight games. Will the magic wear off for this group of championship hopefuls before they can claim top spot in the SEC?
Bet now on the miraculous Auburn Tigers.
1,771 total views, 1 views today
Comments
comments