A much coveted place in the historic 100th Rose Bowl Game will be on the line in the 2013 Pac-12 Championship Game on December 7, 2013. [sc:NCAA240banner ]
The Stanford Cardinal are back to defend their conference crown, with the bigger goal of defending their Rose Bowl title in its centennial game. Standing in their way are the Arizona State Sun Devils, who are looking to return to "The Granddaddy of Them All" after a 17-year absence.
In this classic Offense vs. Defense match-up, Stanford's defense won out in their first meeting. But the change in venue could turn the tide toward the high-powered Arizona State offense.
Also check out:
College Football Betting Preview: Stanford vs. Arizona State in the 2013 Pac-12 Championship Game
Game Details
When: 8:00 PM ET, December 7, 2013
Where: Sun Devil Stadium, Tempe, AZ
Odds:
*As of December 4th
Money: TBA
Spread: Stanford (+3) vs. Arizona State (-3)
Totals: 56.0
Betting on Stanford Cardinal: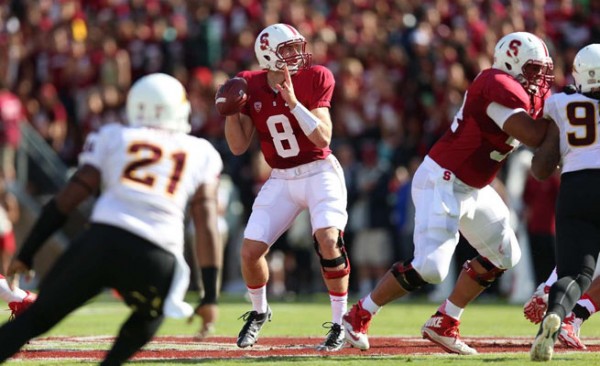 Stanford won its third consecutive Pac-12 North division title under head coach David Shaw, as the Cardinal went 10-2 in the regular season and 7-2 in conference play. They lost both games this year on the road; they were upset 27-21 at Utah before a last-second field goal upended them at USC in their third to last regular season game.
Stanford bounced back with a 63-13 demolition of in-state rivals California. Quarterback Kevin Hogan lit up the Golden Bears for a career high 329 yards and 5 TDs. They then finished off their regular season with a 27-20 win over #25 Notre Dame. That win pushed the Cardinal to a perfect 6-0 against Top 25 teams this season.
Their first ranked conquest was their Championship Game opponents, Arizona State. Stanford thoroughly dominated the Sun Devils, at one point leading 39-7 in the eventual 42-28 win. The Cardinal rushing attack had a field day with 240 yards and 3 TDs.
However, it's their excellent defense that Stanford prides themselves on. The Cardinal were No. 1 in scoring defense and total defense in the Pac-12, allowing just 19.0 points 341.3 yards per game respectively.
Will the Cardinal successfully defend their Pac-12 crown? Bet now on the Stanford Cardinal.
Betting on Arizona State Sun Devils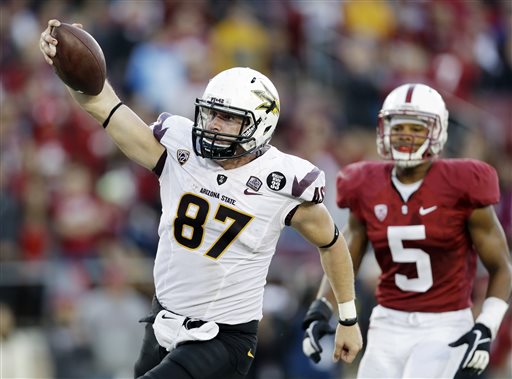 Arizona State will be making their first appearance in the recently configured Pac-12 Championship Game riding a seven-game winning streak. The Sun Devils went 10-2 overall under second year head coach Todd Graham for their first 10-win season since 2007. They won the Pac-12 South with an 8-1 record – their only loss coming on the road at Stanford. [sc:NCAA240banner ]
But the Pac-12 Championship Game will be held in the Sun Devils' backyard in Tempe, where they were a perfect 7-0 SU this season. Some notable victories include the 62-41 win over USC which cost Lane Kiffin his job, and the 58-21 demolition of fierce rivals Arizona in their final regular season game.
Those were the kinds of performances that made Arizona State the 2nd ranked scoring offense with 43.2 points/game. The Sun Devils have exploded for six 50-point games this season, five of which came at Sun Devil Stadium.
But this is by no means a one-dimensional team. The Sun Devils ranked second in the conference in sacks, with 36, and third in total defense at 351 yards allowed/game. And no team has forced more turnovers than Arizona State's 30, which is three more than any other team in the conference.
Can the Sun Devils crash the centennial party in Pasadena? Bet now on the Arizona State Sun Devils.
2,523 total views, 1 views today
Comments
comments