Another Thanksgiving Day matchup is guaranteed to put a huge smile on your face, as the No. 14 California Golden Bears, who have won their first four games, lock horns with the San Diego State Aztecs for their first road game of the season. Will they be able to stay unbeaten? Or will the Aztecs pull off the upset?
Read on below for a complete analysis of this big game. And for more college basketball previews, click here for Stanford vs. Villanova and here for Wichita State vs. USC.
[sc:MarchMadness ]
California Golden Bears vs. San Diego State Aztecs Preview
Where: Orleans Arena, Las Vegas, Nevada
When: Thursday, November 26, 11:59 PM ET
Line: California Golden Bears vs. San Diego State Aztecs – view all NCAA Basketball lines
TV Broadcast: FS1
Betting on the California Golden Bears (4-0)
So far, so good for the California Golden Bears, who've opened up the new season 4-0. Those first four games were opposite underdog teams that have a combined record of 4-11. Tonight is going to be a little different though, as they'll be facing a respectable foe in the form of the San Diego State Aztecs at Orleans Arena.
[sc:NCAAB240banner ] The 14th-ranked Bears' current winning streak has been mainly thanks to their offense that's averaging a sizzling 85.2 points per contest, the third-highest in the Pac-12. Their youthful blend of veterans and their two new freshmen has impressively worked to their advantage.
Fourth-year point guard Tyrone Wallace is contributing 20.3 PPG and 5.5 APG while shooting at 60.4 percent from the field. Shooting guard Jordan Mathews is posting 13.3 PPG and is 9-for-19 from beyond the arc, and fellow junior Jabari Bird has scored in double-figures in all of their games.
The newcomers, meanwhile, have lived up to their respective potentials thus far. Jaylen Brown is averaging 16.3 PPG and the 18-year-old Ivan Rabb has been relentlessly banging with bodies down the paint to give him a team-high of 8.5 RPG.
Besides offense, defense should also be their main focus against the Aztecs. California is still the more superior team but it can't take their opponents lightly because they have players like Jeremy Hemsley and Dakarai Allen, who can provide them some headaches all game long. The two are posting 25.0 points per game combined on the year.
California is 3-1 ATS this season.
Create a betting account now and cash in on all the NCAAB action.
Betting on the San Diego State Aztecs (3-2)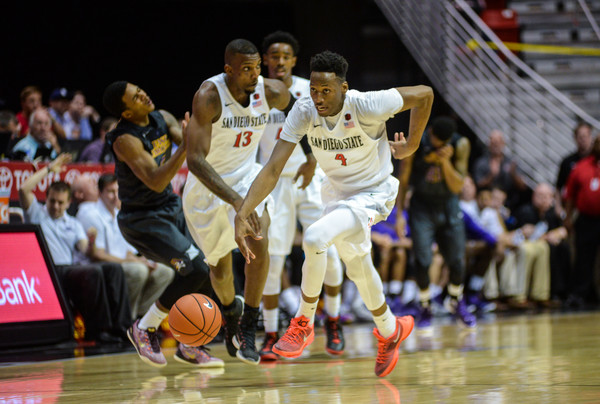 The San Diego State Aztecs haven't really had a strong start, winning three of their first five games. But for tonight's game, they'll be coming in with some serious momentum on their side after a resounding 25-point win over East Carolina last Monday.
In that game, Steve Fisher's squad scored the first 16 points and never looked back. The trio of Jeremy Hemsley, Trey Kell and Winston Shepard were the main contributors for the Aztecs.
Hemsley, who opened with three three-pointers to open the game, tallied 16 points with six dimes. Kell did his best to keep up with him, posting 15 points in 27 minutes of actions. Shepard, meanwhile, gave the team a huge lift off the bench by matching Hemsley's performance with 16 points under his belt as well.
Now, the Aztecs will hope for the same output and result when they square off against the No. 14 California Golden Bears. For them to pull off a huge win, they need to replicate their performance opposite the Pirates and limit the Bears' high-scoring offense.
That said, look for Hemsley and Shepard to continue leading the charge for the Aztecs on the offensive end while the rest of the team provides a collective effort in holding off California's starters—who are all averaging double-figures across four outings—from finding their comfort zones.
Meanwhile, it'll be good to keep a close eye on Dakarai Allen too. Allen is the team's second-leading scorer this season with 11.4 points per contest and is shooting the rock at a respectable 47.1 percent.
San Diego is 3-3 SU and 4-6 ATS overall versus California.
Writer's Prediction
Aztecs keep it close but eventually succumb to the Bears' overwhelming offensive power, 61-70.
Create a betting account now and build a winning college basketball parlay.
[sc:NCAAB490Banner ]
1,803 total views, 1 views today
Comments
comments