The quest for their 12th straight Big 12 title begins later tonight for the No. 4 Kansas Jayhawks, as they welcome to Lawrence Big Sky's Norther Colorado Bears. Will the Jayhawks open up their season with a demolition job of a team that is grasping for identity following huge losses in the offseason? Or will the Bears win and leave Allen Fieldhouse in a state of ecstasy?
Read on below for a comprehensive breakdown of this game, and while you're at it, check out our other previews of the North Carolina vs. Temple and Pittsburgh vs. Gonzaga.
[sc:MarchMadness ]
Northern Colorado Bears vs. Kansas Jayhawks Preview
Where: Allen Fieldhouse, Lawrence
When: Friday, November 13, 8:00 PM ET
Line: Northern Colorado Bears vs. Kansas Jayhawks – view all NCAA Basketball lines
Betting on the Northern Colorado Bears (0-0)
[sc:NCAAB240banner ]There's no time for the Bears to adjust to the new season, as they'll be tested hard right out of the gate. Up against Big 12 powerhouse Kansas, North Colorado must show that it has improved on some of its weaknesses a season ago.
There's no bigger liability on this team than its defense that allowed 74.4 points per game last season, ranked 331st in the nation overall. If the Bears show up to work on Friday with that quality of defense once again, they'd likely be waylaid by what some experts expect will be one of the most efficient offenses in the Big 12.
It would have been easier to believe in the Bears if some of their top scorers from last season are back to lead the offense that was terrific a season ago. Aside from losing Tevin Svihovec, who led the team with 13.5 last season, the Bears also no longer have the services of Tim Huskisson (10.7 PPG) and Dominique Lee (10.3 PPG). With these losses, the door is wide open for the pair of juniors in Cameron Michael (12.9 PPG) and Jordan Wilson (8.8 PPG) to reconstruct an offense that finished 31st in the nation last season by averaging 74.7PPG.
The duo should get help from newcomers Jamal Evans and Tanner Morgan, who give the frontline a much needed boost, though it's unlikely that they'd be enough trouble for Kansas' big men such as Perry Ellis and Hunter Mickelson.
Northern Colorado is 3-1 SU in its last four games overall.
Create a betting account now and cash in on all the NCAAB action.
Betting on the Kansas Jayhawks (0-0)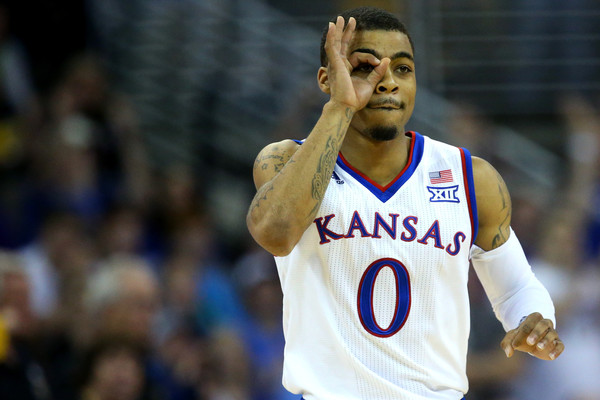 For the Jayhawks, this game against Northern Colorado is the calm before the storm that is the November 17 showdown with Michigan State. But as much as most people expect Kansas to steamroll over the Bears, the Jayhawks still need to look impressive in this game to look deserving of their lofty preseason AP rank.
Gone are Kelly Oubre and Cliff Alexander from the team that reached the third round of the NCAA Tournament last March, but the Jayhawks should still look fine with Frank Mason, Perry Ellis, and Wayne Selden back in the fold. Of the three, it's arguably Mason, who played the best ball last season, averaging 12.6 PPG, 3.9 RPG, and 3.6 APG.
Ellis led the team in scoring with 13.8 PPG on 45.7 FG%, but that that was no better than the 54.9 FG% he had in his sophomore year, when he averaged 13.5 PPG. That said, Ellis should have his way against Northern Colorado's slim frontcourt that allowed 66.7 FG% at the rim last season.
More trouble for Northern Colorado is the Jayhawks' three-point shooting. Selden and Mason have combined for 88 of Kansas' 213 triples last season, and they did it on 39.9 FG% shooting from beyond the arc.
Kansas is 8-2 SU but is just 4-6 ATS in its last 10 games as the home team.
Writer's Prediction
Kansas wins, 81-48.
Create a betting account now and build a winning college basketball parlay.
[sc:NCAAB490Banner ]
2,198 total views, 1 views today
Comments
comments