Welcome back to football, folks.
Not since the New England Patriots won it in 2005 has there been a back-to-back champion in the NFL. Can the Seattle Seahawks prove to be immune to Super Bowl hangover and reign supreme again in February? Below are three reasons why the Seahawks can win the Super Bowl XLIX.
For other NFL articles, we suggest that you read our 2014 NFL regular season record predictions and the NFL experts' predictions for the league's division winners and Super Bowl champion.
[sc:"Football Articles" ]
Three Reasons Why the Seattle Seahawks Will Win the Super Bowl XLIX
Defense
[sc:NFL240banner ]More than any other reason, the Seahawks won the Super Bowl last season because of their defense. Although they exploded for 43 points in Super Bowl XLVIII, it was the Seahawks' air-tight defense which set the tone early and took every ounce of fight from the Denver Broncos.
There were some changes made in the defensive front seven over the offseason, and that should provide some cause of concerns early in the season. Nevertheless, the secondary remains as sturdy as last season's with Richard Sherman, Kam Chancellor, and Earl Thomas hounding the opposing receivers. The NFL has evolved into a quarterback's league and keeping the Legion of Boom intact should help cover for any issues in their still-strong defensive line.
The Seahawks ranked no. 1 overall last season in passing defense, allowing only 172.0 yards per game and no. 7 in rushing defense, with opponents managing only 101.6 per game on the ground.
Home Field Advantage
CenturyLink Field is a loud place. It's also a place where the Seahawks look unbeatable. Dating back to 2011, the Seahawks are 18-2 in their last 20 games there. They went 7-1 at home last season. Consider that until January of this year, the home team wins around 57% of the time in the NFL. The Seahawks are doing their best to raise that percentage every season: they've won 68.8% of their regular season home games since 2002, the year they moved to CenturyLink Field.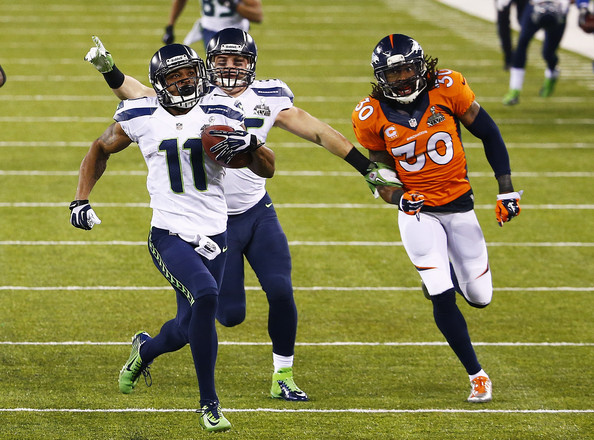 Percy Harvin
Percy Harvin was the football version of "Mr. Glass" last season, playing in only one regular season game and spending the rest of the year recovering from various injuries. Despite the short time he logged in last season, the Seahawks know very well what Harvin can bring to the table: an unstoppable force, when healthy, on offense.
With the departure of Golden Tate, Harvin will have to carry a bigger load in the Seahawks' passing offense that finished just 26th in the league with an average of 202.3 yards per game.
It all adds up to another juicy season for Seahawks fans. And at +600 to win the Super Bowl, they're worth a look.
Create a betting account now and cash in on NFL games.
[sc:NFL490Banner ]
1,554 total views, 1 views today
Comments
comments