Anyone who watched last year's Super Bowl is probably well aware that anything can happen in the NFL. But that doesn't stop anyone from doing things like predicting the regular season records of all 32 teams, tapping potential breakout players for the upcoming season, or predicting division winners and even Super Bowl champions in late August.
With that in mind, we've taken stock of the major NFL football experts' outlooks coming into the 2014-2015 NFL season. Below, we compare and contrast their picks for all eight division winners, and determine which are worth staking some money on in some NFL futures bets so that you can get set for what should be a great season. Read on to get educated on all the action to come.
[sc:Football ]
Division Champions
DIVISION
Nate Davis
(USA Today)
Colin Cowherd
(ESPN)
Predictalator
(PredictionMachine.com)
AFC East
New England Patriots
New England Patriots
New England Patriots
AFC North
Baltimore Ravens
Baltimore Ravens
Cincinnati Bengals
AFC South
 Indianapolis Colts
Indianapolis Colts
Indianapolis Colts
AFC West
Denver Broncos
Denver Broncos
Denver Broncos
NFC East
Philadelphia Eagles
Philadelphia Eagles
New York Giants
NFC North
Green Bay Packers
Green Bay Packers
Green Bay Packers
NFC South
New Orleans Saints
New Orleans Saints
New Orleans Saints
NFC West
Seattle Seahawks
San Francisco 49ers
Seattle Seahawks
There's hardly anything controversial from USA Today writer Nate Davis' division winners. He has six teams – the Patriots, Colts, Eagles, and Seahawks – to defend their division crowns, and expects the Ravens, Packers and Saints – three out of the last five Super Bowl winners – to reclaim theirs.
[sc:NFL240banner ]Very few will have any objections to the Ravens returning to prominence after a poor defense of their 2012 Super Bowl title last year. The same goes for the Saints, who didn't really get better so much as the Carolina Panthers – the defending NFC South champs – got worse. And a healthy Aaron Rodgers is just about all the Packers need to take the North, even with a subpar defense.
ESPN radio personality Colin Cowherd agrees with Davis in just about every conference except, surprisingly, the NFC West, where Cowherd believes the defending Super Bowl champion Seahawks won't even defend their own division crown. Instead, Cowherd has penciled in the 49ers, who are +150 to win the West.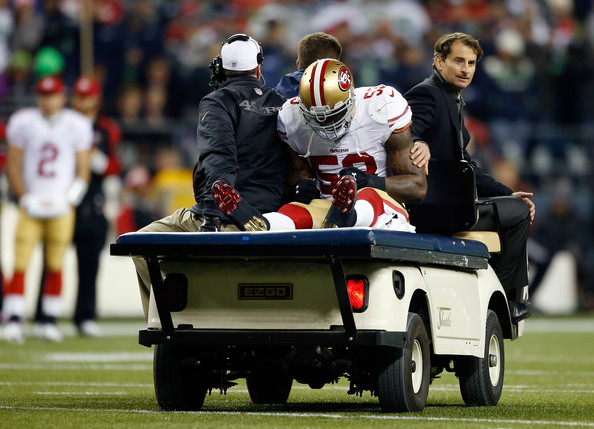 While the Niners are undoubtedly a very talented team, they will be without NaVorro Bowman for most of the season as he recovers from his horrific knee injury. Their defense could get even weaker if Aldon Smith also incurs a lengthy ban after his off-the-field offenses. Without those two key defenders for a large chunk of the season, it's hard to see Cowherd's prediction coming true.
Finally, the sports-simulating computer "Predictalator" from PredictionMachine.com has thrown up a couple of curve ball picks contrary to its human counterparts. While it agrees with the other two about the Pats, Colts, Broncos, Packers and Saints as shoe-ins, it believes the Bengals – last year's AFC North champs – defend their title, while the Giants – who finished a disappointing 7-9 and are +325 to win the division – become the beasts in the NFC East.
It's obviously very possible the Bengals win the North again, especially since that division has as many as three likely contenders – the Bengals, Ravens and Steelers. The same could be said of the NFC East, which could have as much as all four teams bunched up together near the end of the regular season.
Create a betting account today and get your bets down now while lines are at their juiciest for Week 1 and futures bets alike.
Super Bowl Champion
| Expert | Champion |
| --- | --- |
| Nate Davis | Seattle Seahawks |
| Predictalator | Denver Broncos |
| Chris Chase | Indianapolis Colts |
| Cris Collinsworth | Philadelphia Eagles (sort of) |
| Tony Gonzalez | Denver Broncos |
Davis and the Predictalator didn't just stop with the regular season. No, they went all the way through to the playoffs and crowned their Super Bowl XLIX champions. Davis has the Seattle Seahawks defending their title over the Indianapolis Colts, while the Predictalator has the Denver Broncos getting their revenge over the Seahawks in a Super Bowl rematch.
With all due respect to Davis and the super computer, picking the two odds-on favorites to win (Denver and Seattle are both +600) doesn't take much imagination. That same lack of imagination can't be levied upon Chris Chase, who used the process of elimination to get to his eventual champion, the Indianapolis Colts.
While we share his sentiment that the Colts, priced at +1,400 to win the Super Bowl, will be a really good team to beat this season, it's probably a little too early for Andrew Luck to eclipse the master, Peyton Manning, and get out of the AFC. Similarly, it may be too soon to proclaim the Eagles Super Bowl contenders, which NBC color analyst Cris Collinsworth (sort of) did with during the Hall of Fame Game between the Bills and Giants. While he didn't say they would win it all, Collinsworth's (semi-) endorsement of the Eagles suggested the team was one "to keep an eye on."
We've saved the biggest, boldest prediction for last, and it's recently-retired tight end Tony Gonzalez picking the Broncos to win the Super Bowl. What's so bold about that, you say? Well, Gonzalez picked the Broncos to go 19-0 on the season – 16-0 in the regular season and 3-0 in the playoffs. With Peyton playing what could be his last season, and behind a bolstered defense that's built to match Seattle's, Tony might not be wrong.
[sc:NFL490Banner ]
3,290 total views, 1 views today
Comments
comments