The Washington Capitals made noise in the offseason when they acquired Justin Williams and T.J. Oshie, but neither player played like an NHLer in the Caps' embarrassing loss to the San Jose Sharks Tuesday. With Alex Ovechkin expected to be back on the ice after missing that game, will the Caps avoid suffering consecutive defeats this early in the season? Or will the Chicago Blackhawks show Washington why they're the defending Stanley Cup champions?
For more NHL, you can also read our preview of Predators vs. Islanders.
[sc:NHLArticles ]
Chicago Blackhawks vs. Washington Capitals Betting Preview
Where: Verizon Center, Washington
When: Thursday, October 15, 2015 8:00 PM ET
Line: Chicago Blackhawks at Washington Capitals; total: 5.5 – view all NHL lines
Betting on the Chicago Blackhawks
[sc:NHL240 ]For the first time this season, the Blackhawks went scoreless in a game, as the Philadelphia Flyers defeated Chicago Wednesday, 3-0. The Blackhawks entered the game having scored seven goals in their previous two games, but Flyers goalie Michal Neuvirth proved to be just too tough of a customer for Chicago.
Chicago has relied mostly on its second line for points this season, but Artemi Panarin, Artem Anisimov, and Patrick Kane was all stymied by a locked-in Neuvirth, who stopped all of the unit's nine shots on goal. Chicago's loss to Philly brings further attention to the ongoing silence of the team's first line. So far this season, Ryan Garbutt, Jonathan Toews, and Marian Hossa have combined for zero goals and four assists.  Hopefully for the Blackhawks, the Caps' defense that was repeatedly caught sleeping by San Jose on Tuesday would be just as porous later tonight.
Corey Crawford, meanwhile, might just be a backup to Scott Darling against Washington after giving up three goals to the Flyers. Darling was exceptional in his only start thus far this season, stopping 28 of 29 shots in Chicago's 4-1 win over the Islanders on Saturday.
Chicago is 6-4 in its last 10 road games.
Create a betting account now and see if you're prediction will be right on target.
Betting on the Washington Capitals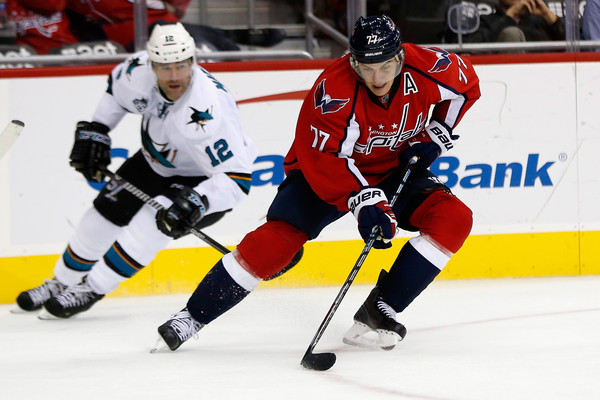 It wasn't exactly clear why exactly Alex Ovechkin missed the game against San Jose, but the superstar's value to the Capitals needs no second-guessing after the Sharks blanked Washington, 5-0.
Playing without Ovechkin, the Caps' offense was effectively hushed by San Jose, who didn't have to worry about covering the three-time Hart Memorial Trophy winner. Washington was just plain sloppy in the Sharks game, as reflected on the 17 giveaways they registered. That's not to mention the penalties that gave San Jose five power play opportunities.
Conversely, Washington also went kaput on the power play, going 0-for-4 on the man advantage despite the presence of skilled scorers like T.J. Oshie and Evgeny Kuznetsov. Uncharacteristic for a team that finished last season atop the league with a 25.3 PP%.
Order in Washington's offense should be partly restored, however, as coach Barry Trotz said he's expecting Ovi to return for the Chicago tilt.
Having Ovechkin back in the mix, though, would mean nothing if Washington's defense plays poorly again. Against the Sharks, Washington allowed 27 shots on goal in the first two periods and five in the third, wherein San Jose buried two empty netters. It wasn't the best of nights for goalie Braden Holtby, as he gave up three goals on 30 shots faced.  Of course, there was extreme pressure on Holtby in that game with the team's offense in disarray. A more balanced lineup should help Holtby tend to his netminding duties later tonight. He is 3-1 with a 2.96 GAA and .914 SV% in four career starts against Chicago.
Washington is 4-0 in its last four home games against the Blackhawks.
Writer's Prediction
Chicago wins, 3-2.
[sc:NHL490 ]
1,925 total views, 1 views today
Comments
comments