The NBA Finals rematch that everyone wants to see is finally going to happen, as the Cleveland Cavaliers and the Golden State Warriors cross paths anew. Will LeBron James and company jolt the Warriors in Game 1? Or will Golden State get an early 1-0 series lead? Read on for more about this game. You can also check out what the experts are saying.
NBA News & Predictions
---
Cavaliers vs. Warriors Game One Preview
Where: Oracle Arena, Oakland
When: Thursday, May 2, 8:00 PM ET
Line: Cleveland Cavaliers (+6) vs. Golden State Warriors (-6); total: 210 –  view all NBA lines
TV Broadcast: ABC
---
Betting on the Cleveland Cavaliers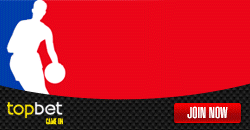 LeBron James is out to prove he's still the NBA's undisputed king. And nothing but a championship ring will get him to that status. Up against the Warriors again in the finals, James will have a complete supporting cast he didn't have last year with a healthy Kevin Love and Kyrie Irving ready to help Cleveland get its first ever title.
James has been phenomenal throughout the season and he'll be an unquestioned threat for the Warriors every game. James is averaging 24.6 points, 8.6 rebounds, and 7.0 assists per game in the postseason. While he compiled those numbers against lighter teams in Detroit, Atlanta, and Toronto, James proved he can deal heavy damage against the Warriors in last year's finals. In that series, he put up 35.8 points, 13.3 rebounds, and 8.8 assists in six games.
With Love and Irving in the mix, though, James won't be forced to do that much. Love gives Cleveland a scoring frontcourt piece that the Cavs severely missed last year against the Warriors. Love is norming 17.3 points and 9.6 boards per game in the playoffs, while also shooting 45.0 percent from deep. Irving, on the other hand, gives the Cavs a skilled point guard to match up with Stephen Curry. Irving played in Game 1 of last year's finals but missed the rest of the series with an injury.
But what makes this Cleveland team even more interesting is its ability to get hot from the outside. Love and Channing Frye provide the Cavs excellent three-point shooting without sacrificing size. Together, the two stretch fours knocked down 4.9 three-pointers a game this postseason. As a team, the Cavs make 14.4 threes on 43.4% shooting.
Cleveland is 8-2 SU and 7-3 ATS in its last 10 games.
Betting on the Golden State Warriors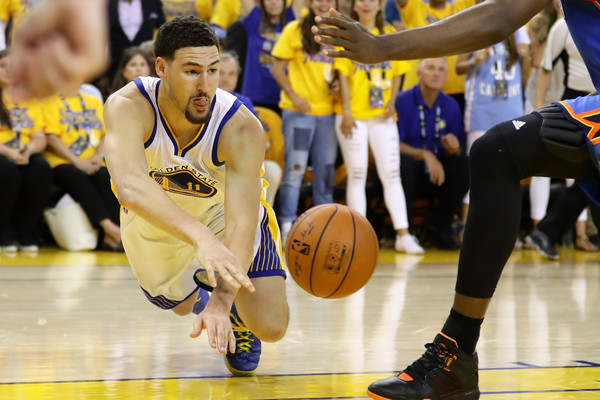 After a testy series against the Oklahoma City Thunder, the Warriors are back in the NBA Finals to defend their crown.
Coming back from a 3-1 series deficit in the western conference finals has certainly helped toughen up the Warriors. Stephen Curry didn't play like an MVP in some of their losses to OKC, but he did recover late in the series. Curry is the reigning two-time MVP so there's no question as to which Warriors is the most important to his team.
That being said, it's likely that the Warriors wouldn't even reach this stage without the heroics of Klay Thompson, who averaged 24.7 points in the series. Curry put up 27.9 PPG.
The Splash Brothers will have to keep it going from the perimeter to rattle Cleveland. Three-point shooting has been a big part of the Warriors' offense and no team this season has yet to completely figure out how to stop the Warriors from running around and dropping buckets from the outside. Not even the Cavaliers, whom Golden State beat twice in the regular season by a combined margin of 40 points.
Golden State, which is 8-2 ATS in its last 10 home games, also appears to have the better bench than the Cavs with the Warriors' secondary units averaging a league-best 35.9 PPG in the postseason. The Cavs, on the other hand, muster just 23.9 PPG.
Perhaps overlooked because of the Warriors' explosive three-point shooting is their excellent play on the open court. The Warriors are racking up 16.8 fast break points per game this postseason with a portion of those baskets coming from pull-up threes.
Writer's Prediction
Golden State (-6) wins, 108-105.
Create a betting account now and cash in from all the exciting NBA Playoffs action in an instant.

Comments
comments