The Oklahoma City Thunder sure know what it feels like being in the current position of the Golden State Warriors. The Warriors, who came back from a 3-1 series deficit to Kevin Durant and crew in the Western Conference Finals, are looking to avoid the same fate as the Thunder as they host the hard-charging Cleveland Cavaliers. With LeBron James playing like a demigod of late, will the Cavs win Game 7 and come back to Cleveland with the franchise's first-ever NBA  title? Or will the Warriors avoid being the first team to choke a 3-1 finals series lead?
NBA News & Predictions
---
Cavaliers vs. Warriors Game Seven Preview
Where: Oracle Arena, Oakland
When: Sunday, June 19, 2016, 8:00 PM ET
Line: Cleveland Cavaliers (+4.5) vs. Golden State Warriors (-4.5); total: 206.5 – view all NBA lines
TV Broadcast: ABC
---
Betting on the Cleveland Cavaliers (+4.5)

How sweet would it be for the Cavaliers to end the franchise's title drought with a historic Game 7 win tonight in enemy territory? Well, certainly sweeter than LeBron James stat line over the last two games.
Of course, that's not to down play James' couple of monster performances during Games 5 and 6 in which he averaged video-game numbers of 41.0 points, 9.0 assists, and 12.0 rebounds, while shooting 56.1 percent from the floor and committing just three turnovers. Clearly, James can be unstoppable if he wants to be unstoppable. With Andre Iguodala hurting and Andrew Bogut no longer there to protect the rim for Golden State, James' chances of abusing the Warriors' defense looks great again.
The King still needs his supporting cast to show up, however, to complete Cleveland's comeback.
Kyrie Irving has been the best player on the Cavs team not named LeBron James, as what his series average of 27.3 PPG on 47.3 FG% shooting points out. Irving will have a critical role this Monday, particularly on offense, where he's expected to help match whatever production Stephen Curry will have on the other side of the ball.
It would also be huge for Cleveland if Kevin Love finally plays like a $110-million professional basketball player. Love has been a target of scorn by frustrated Cleveland fans tired of his miserable play in the finals. So far in the series, Love has put up 8.4 PPG and grabs just 5.4 RPG. Love only had seven points and three boards in Cleveland's 115-101 win on Thursday. Fortunately for the Cavs, Tristan Thompson has elevated his play to cover up for Love's shortcomings. Thompson was a beast in Game 6, scoring 16 points and pulling down 16 boards and was always James' favorite target for slick passes inside the paint.
Speaking of which, Cleveland has terrorized the Warriors interior defense of late, as the Cavs averaged 45.0 points in the paint over the last two contests. Golden State, on the other hand, only managed 30.0 PITP.
Betting on the Golden State Warriors (-4.5)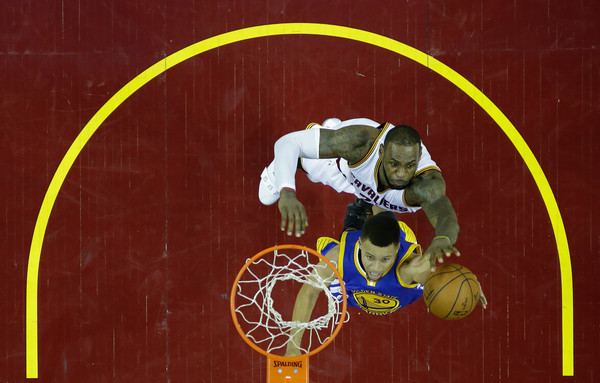 The Warriors won a record 73 wins in the regular season but they're obviously having trouble notching one more to defend their title successfully. Hopefully for the Warriors, having home-court advantage in such a pressure-packed Game 7 would translate to a victory this Monday. The Warriors are 7-3 ATS in their last 10 games at Oracle Arena.
There's a lot riding on the shoulders of Steph Curry and Klay Thompson. For the Warriors to go back-to-back both players will have to deliver and there's no better time for them to explode than in Game 7. Curry scored 30 points in Game 6 but was more accurate in aiming his mouthpiece at a Cavs fan, as he's shooting just 39.0 FG% from the field over the last two games. Curry probably had his rhythm upset by the amount of fouls charged on him on Thursday (he was fouled out). He'll have to be extra careful on defense to avoid picking up foolish fouls that could cost him some minutes on the floor.
Thompson, on the other hand, has been a steady figure for the Warriors. Thompson followed up his 37-point performance in Game 5 with a less-stellar 25-point output in Game 6, wherein he went 9-for-21 from the field and just 3-for-10 from deep.
Let's not forget about Draymond Green. Green returned to the court in Game 6 after serving a one-game suspension, but was able to produce just eight points. He did have 10 rebounds and six assists, however. Green should have a better scoring night in Game 7 with the Warriors holding court.
The Warriors also have their own Kevin Love in the form of Harrison Barnes, who's turned into ghost mode over the last two games. Barnes had five points on a disgusting 2-for-14 shooting in Game 5. He followed that up with a big fat egg in Game 6, going 0-for-8 from the field and 0-for-5 from long range. Barnes need to start producing offensively to help ease the load off Curry and Thompson, who are expected to deal with a phalanx of Cavs defenders this Monday.
Golden State's bench could be the difference maker in Game 7. The Warriors' bench is averaging 31.3 PPG in the series, almost doubling Cleveland's second unit production of 16.2 PPG.
Writer's Prediction
Golden State (-4.5) wins, 120-112.
Create a betting account now and cash in on the NBA Playoffs action.

Comments
comments