The NCAA regular season is now past its halfway mark and some of the real contenders are starting to separate themselves from the early pretenders.
Make no mistake about it, despite March being only a month away, there is still a lot of basketball left to be played to conclusively say which teams make it and which teams do not. But that doesn't mean we can't make predictions of what the NCAA basketball landscape could be like in March and in April.
March Madness NCAA Tournament Predictions & Odds
The Number 1 Seeds In The NCAA Tournament Are…
Syracuse Orange
Odds to win NCAA Basketball Tournament: +500
The Associated Poll ranked the Orange eighth in its preseason rankings. Twenty-two straight wins later (or 14 weeks into the season), the Orange have propelled themselves upward to take the No. 1 overall position.
They are one of the only two teams remaining in the NCAA with an undefeated record. Syracuse had beaten 10 teams in the RPI Top 75, six against Top 50, and four against Top 25. That's a solid lineup of wins to back up their huge chances to become a No. 1 tournament seed, let alone be the overall top seed.
Some of Syracuse's most notable wins were against Villanova, Pittsburgh, and Duke.
Arizona Wildcats
Odds to win NCAA Basketball Tournament: +600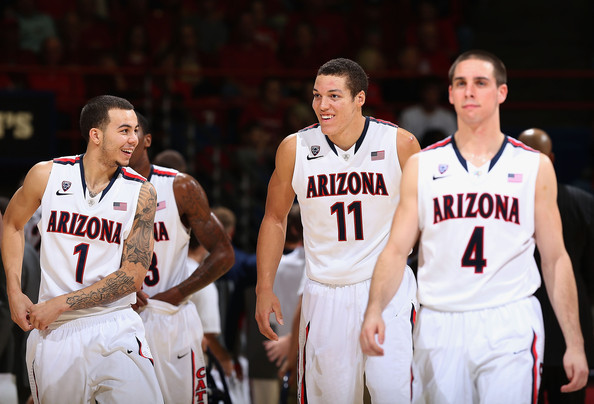 The loss to California did little to hurt Arizona's chances to get one of the four No. 1 seeds in the NCAA Tournament. It's easily compensated by the team's road wins against San Diego State and Michigan – two teams that are inside the RPI Top 20.
However, Arizona is currently dealing with another kind of loss. The team lost Brandon Ashley to a foot injury and he will be out for the season. Ashley is one of Arizona's vital cogs (he averages 11.5 points and 5.8 rebounds per game) but despite this development, it's still too early to tell whether the team will spiral down because of his absence.
It's still safe to say that Arizona is one of the top favorites to clinch a No. 1 seed.
Florida Gators
Odds to win NCAA Basketball Tournament: +700
The current SEC top team was running second to John Calipari's Kentucky in preseason conference predictions. Since then, a lot has changed, including the fact that Florida is now the higher ranked team compared to the highly touted, freshmen-laden Wildcats.
The Gators are on a 13-game winning streak and are ranked No. 3 in the AP poll. They have five wins at the expense of teams that are ranked Top 50 in RPI. Florida is also lucky to see Michigan State and Kansas lose last week, which partly contributed to its climb in the polls.
More good news for Billy Donovan: former McDonald's All-American Chris Walker is finally cleared by the NCAA to play for the Gators.
Wichita State Shockers
Odds to win NCAA Basketball Tournament: +1,200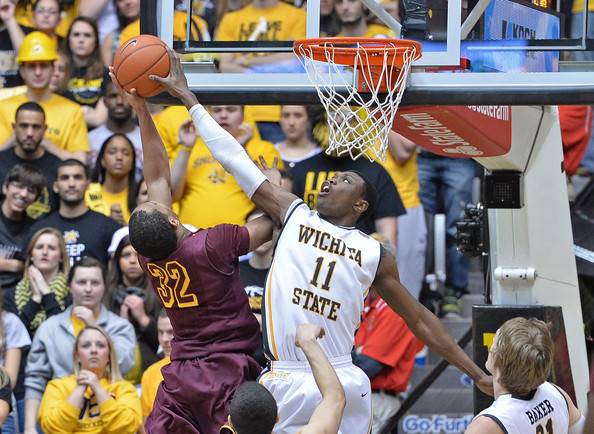 USA Today coaches' poll ranked the Shockers No. 2 while the AP poll has them at No. 4. Regardless of whichever ranking you believe Wichita State deserves, in the end, you'll likely see this team clutching a No. 1 seed once Selection Sunday is over.
Wichita State has a perfect 23-0 record and with a relatively weak schedule, the possibility of finishing the regular season with an unblemished records is growing.
However, among the four teams we predict to get No. 1 seeds in the NCAA Tournament, the Shockers could be the first top seed casualty in the NCAA Tournament. With a suspect strength of schedule (0.5378 – 90th in the nation), it's not easy to gauge how strong the Shockers really are despite their immaculate 23-0 record.
This scenario is reminiscent of what Gonzaga suffered last March. In that tournament, the Bulldogs were the first No. 1 seeds to be knocked out. Like Wichita State this season, Gonzaga's mettle was highly questioned for having a weak SOS.
Coincidentally, it was the Shockers, who beat Gonzaga in the third round of last year's NCAA Tournament.
The Conference With The Most Teams In The NCAA Tournament Is…
Big Ten (8 Teams)
Wisconsin Badgers
Projection: No. 9
The Badgers were in the running to get a No. 1 seed but a less than perfect January all but took them out of contention.
Michigan State Spartans
Projection: No. 5
The Spartans enjoyed being in the top spot of the AP polls from Week 2 to 5 but fell to No. 5 after two defeats in January to rival Michigan and Georgetown.
Ohio State Buckeyes
Projection: No. 9
Similar to the Badgers, Ohio State struggled mightily last month, winning only twice in seven games.
Iowa Hawkeyes
Projection: No. 4
The Hawkeyes have five losses already but have yet to lose against a team outside of the RPI's Top 15.
Other Teams
Michigan Wolverines, Illinois Fighting Illini, Minnesota Golden Gophers, Indiana Hoosiers
Teams Most Built To Win The Tournament
Syracuse Orange
[sc:NCAAB240banner ]Defense and experience could pay off big time come March for the Orange. Their 21-0 record includes wins over quality opponents. Like we've mentioned earlier in this piece, Syracuse has dealt with opponents that belong in the Top 75, 50, and 25 in RPI and emerged victorious in all those games.
Although Syracuse is a defense-centric squad, this team proved they could also score as shown in their win against Duke. In that game, the Orange outscored the Blue Devils, who are 19th in scoring in the nation, for a 91-89 overtime win.
Florida Gators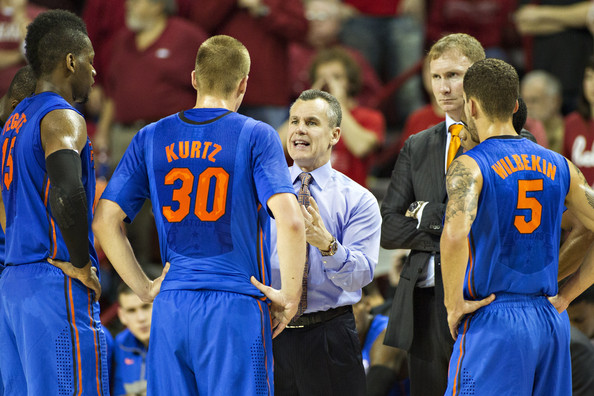 The Gators defeated Kentucky and Memphis during their current winning streak. They have also two close road losses to Wisconsin and Connecticut.
Consider all that and you get the idea that although the Gators have a less impressive 19-2 record than Wichita State and Arizona, they are more battle experienced. It may not matter now, but once the madness of March sets in, this will  be a plus factor for coach Billy Donovan's boys.
Speaking of Florida's coach, Donovan is also a key asset for the Gators. He certainly knows that it takes to be an NCAA champion having steered the Gators before to two national championships.
The Wooden Award Will Go To…
Doug McDermott (-1,500)
Amid the perplexing attention this season's batch of freshmen is garnering, Creighton Bluejays Doug McDermott is enjoying a terrific season worthy of the same recognition.
Creighton is riding McDermott's great season, in which he is second in the nation in scoring (25.0 PPG) and has been shooting the ball with remarkable efficiency (577 FG %). He also leads his team in rebounding with 4.2 per game.
Check out the latest betting odds and lines for NCAA basketball games on Top Bet sportsbook. There, you will also find updated futures odds for the 2014 Wooden Award and for some of the top schools' odds to win the NCAA Basketball Tournament.
[sc:NCAAB490Banner ]
1,998 total views, 1 views today
Comments
comments