In less than two months, the long and dark tunnel of a football-less period is about to end with the return of NCAA Football. And while we're still waiting for that day to come, allow us to give you a brief look at our early preseason power rankings.
In these rankings, we take the top 25 schools after all their offseason moves and see how the very best in college football would stack up against one another if the season began today. Read on as we highlight some of the more interesting teams within that top 25.
For more football reading, click here for our prediction for the win totals of all teams in the NFL's NFC West division.
[sc:NCAAFArticles ]
2015 College Football Preseason Power Rankings
25. Louisville Cardinals
24. Missouri Tigers
23. Stanford Cardinal
22. Boise State Broncos
21. Arkansas Razorbacks
20. Tennessee Volunteers
19. Arizona State Sun Devils
18. Georgia Tech Yellow Jackets
17. Wisconsin Badgers
16. LSU Tigers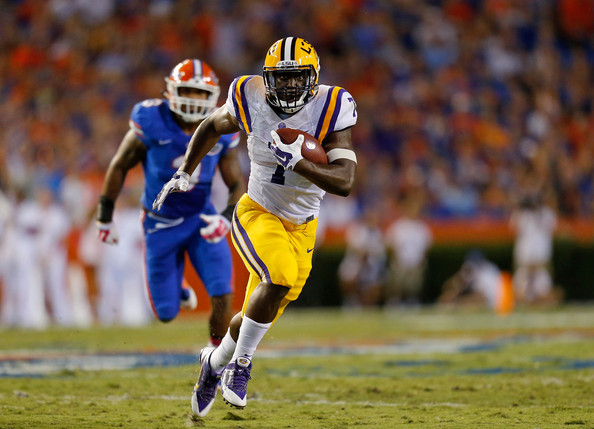 [sc:NCAA240banner ]It's time for Leo Fournette to take the next step. Fournette, who was Les Miles' prized recruit last season, turned a lot of heads rushing for 1,034 yards on 187 carries with 10 touchdowns. Considering that LSU elected to have a committee approach in its backfield last season, expect Fournette to get much better numbers once Miles gives him the green light to be the team's bell cow.
The Tigers' passing game, meanwhile, doesn't look as optimistic as they're still trying to figure out who between Anthony Jennings and Brandon Harris will be the team's starting quarterback.
15. Florida State Seminoles
Leave it to Jimbo Fisher to find a way to keep his team competitive despite the departure of some key players from last season, including one certain Jameis Winston. In lieu of the Heisman-winning Winston, Fisher will have to decide whether to hand the reins at quarterback to redshirt junior Sean Maguire or transferee Everett Golson (from Notre Dame).
Also gone are wide receiver Rashad Greene and tight end Nick O'Leary, who were the Seminoles' top two receivers last season. That leaves the talented but unproven five-star recruit George Campbell and the pair of Jesus Wilson and Travis Rudolph as the Seminoles' top options downfield. In the backfield, the 'Noles (12th in rushing yards last season in the ACC) will have to ask more from tailback Dalvin Cook if they are to come close to their offense that averaged 33.7 points last season.
Create a betting account now and cash in on the upcoming college football wars.
14. Ole Miss Rebels
13. Arizona Wildcats
12. Notre Dame Fighting Irish
Unlike Ohio State, LSU, and Florida State, the Fighting Irish have no quarterback drama to watch this summer. With Golson fleeing to Tallahassee, Notre Dame was spared of a quarterback quandary and instead will have Malik Zaire as the team's starting signal-caller next season. Zaire will have a wide range of weapons next season, as there are 19 players set to come back for the Fighting Irish.
That group includes Will Fuller, Corey Robinson, Chris Brown, and Amir Carlisle, who all finished last season with at least 300 receiving yards and combined for 24 of the team's 30 receiving TDs. The receiving cast is so deep that wide receiver C.J. Prosise (516 yards, two touchdowns in 2014) has been optioned to the backfield, where help is needed. Last season, the Fighting Irish finished 19th in passing yards (285.5 per game) and 70th in rushing yards (159.5 per game).
11. UCLA Bruins
10. Clemson Tigers
9. Georgia Bulldogs
8. Michigan State Spartans
Defense has been Michigan State's calling card to success for the past four seasons, wherein the Spartans finished inside the Top 10 in total yards allowed per game. This year, the Spartans look to be just as ferocious on the defensive end led by former Big Ten Defensive Player of the Year, Shilique Calhoun.
Don't sleep on the Spartans' offense, though. Connor Cook, projected to be a Top-10 selection in next year's NFL draft, will be back under center to command Michigan State's offense which finished last season 36th overall in passing yards with 265.6 yards per game.
7. Alabama Crimson Tide
Alabama took heavy losses to their offense with the departures of running back T.J. Yeldon, as well as receivers Amari Cooper and DeAndrew White. Alabama also lost Blake Sims, which further fuels the excitement of Crimson Tide haters waiting for Alabama to stumble this coming season. But the same group of people must have forgotten just how slick Nick Saban is in replenishing his team with top flight recruits. In fact, Alabama's recruit haul this offseason was ranked second overall by Rivals.com.
6. Baylor Bears
5. USC Trojans
4. Auburn Tigers
The Tigers had an awful stretch to end their campaign last season, as they went 1-4 in their last five games, including a heartbreaking 34-31 overtime loss to Wisconsin in the Outback Bowl. Auburn, however, seems to have the weapons to get back into NCAA title contention. That starts with quarterback Jeremy Johnson, who will now be in charge of Auburn's passing offense. Like Johnson, wide receiver D'haquille Williams is also set to inherit the limelight as the team's top receiver following Sammy Coates leaving for the NFL.
Meanwhile, the arrival of former Gators coach Will Muschamp at Auburn should have a positive influence on the Tigers' defense. Last season, the Tigers were ninth in the SEC in total defense with 398.8 total yards allowed per game.
3. Oregon Ducks
Let the post-Marcus Mariota era begin for Oregon. With the Heisman-winning quarterback now in the NFL, the Ducks will have to decide who between Eastern Washington transfer Vernon Adams and Marcus Mariota's backup Jeff Lockie will be the team's starting signal-caller in the upcoming season.  Mariota is a tough act to follow but whoever wins the job will be guaranteed a tremendous amount of talent to work with. Among them is wide receiver Byron Marshall, who finished last season with 1,003 receiving yards and six touchdowns.
2. TCU Horned Frogs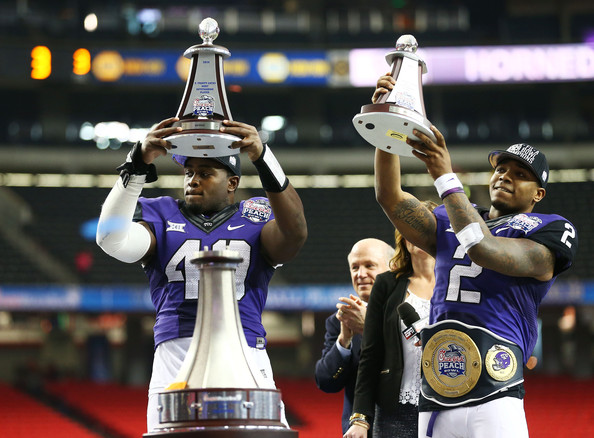 Hell hath no fury like a football team scorned of a place in the four-team playoff—just like TCU last season. The Horned Frogs took out all their frustration on Ole Miss in the Peach Bowl last December after being left out in the inaugural CFP despite an impressive 11-1 regular season record.
TCU is considered as among the top schools to challenge for the top spot in the preseason polls. Of course, that has a lot to do with sophomore quarterback Trevone Boykin, whose magnificent rookie season earned him the favorite label to win this coming season's Heisman Trophy. As of this writing, Boykin is priced +500 to take home the coveted trophy.
1. Ohio State Buckeyes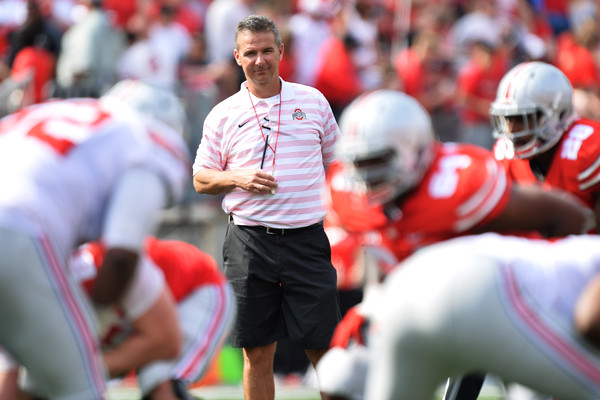 Can the Buckeyes go back to back? Urban Meyer may not say it, but Ohio State is a stacked team worthy of all the compliments it has been getting throughout the offseason. Notwithstanding a three-player quarterback battle involving Cardale Jones, Braxton Miller and J.T. Barrett, the Buckeyes are primed to return to their high-scoring ways of last season, when they finished fifth overall with 44.8 points per game.
For one, the Buckeyes will get another season from running back Ezekiel Elliott, who racked up 1,878 rushing yards and 18 rushing touchdowns in 2014. Then there's junior wide receiver Michael Thomas, who is ready to take on the lead role in the receiving corps following the loss of Devin Smith to the NFL. Last season, Thomas caught 54 passes for 799 yards and nine touchdowns.
[sc:NCAA490banner ]
2,141 total views, 1 views today
Comments
comments