The Denver Broncos put their Super Bowl disappointment behind them with a Week 1 victory over the Indianapolis Colts. They will look to make it back-to-back victories when they next face the Kansas City Chiefs, who were upset by the Tennessee Titans on opening day.
Can Andy Reid put the Chiefs' NFL campaign back on track? Or will Peyton Manning bring more heartache to Kansas City? Read on for a complete preview of this AFC West showdown and while you're at it, check out our complete NFL Week 2 picks and predictions.
[sc:Football ]
Denver Broncos vs. Kansas City Chiefs Preview
When: Sunday, September 14, 4:25 PM ET
Where: Sports Authority Field at Mile High, Denver
Line: Kansas City Chiefs (+13) at Denver Broncos (-13); total: 52.0 – view all NFL lines
Betting on the Denver Broncos
After a disappointing Super Bowl performance against the Seattle Seahawks last February, Denver Broncos general manager John Elway decided that his team needed a defensive upgrade if they are to challenge for a third Super Bowl title.
[sc:NFL240banner ]Based on their Week 1 performance, it looks like he made the right decision. The Broncos defense intercepted Andrew Luck twice, sacked him three times, and held off a furious Indianapolis Colts comeback to escape with a 31-24 victory in their first game since being demolished by the Seahawks in Super Bowl XLVIII.
The Broncos started the game like a house on fire as quarterback Peyton Manning threw three touchdown passes to tight end Julius Thomas to help Denver race to a 24-0 first half lead.
Their offense, however, started to struggle as the Broncos couldn't convert on third downs, going 1 for 7 in the second half. As a result, the Colts, led by QB Andrew Luck, started to make a charge and with 2:58 remaining had a chance to tie the game with a scoring drive.
The Broncos' defense stood resolute, however, as rookie Bradley Roby broke up Luck's fourth-and-6 pass to Reggie Wayne to seal the victory for Denver. Although they allowed 408 yards of offense to the Colts, they held Indianapolis to 4-of-13 on third down conversions and prevented the Colts from scoring a touchdown on two first-and goal tries from the five-yard line.
They will need to be up for it, though, when they entertain the Kansas City Chiefs this coming Sunday, with running back Jamaal Charles eager to bounce back from a sub-par performance on opening day. The Broncos will be confident in stopping the 27-year-old star, especially with the way they foiled the Colts' running game in Week 1.
They limited the Colts to only 54 rushing yards and if they can manage to do the same against the Chiefs running attack in Week 2, they'll easily record their second victory of the season. Of course, it also helps that you have one of the best quarterbacks to ever play the game in Peyton Manning on your side and with him striking up a connection with Julius Thomas this early in the season, the Broncos have a legitimate chance of nabbing a second consecutive Super Bowl appearance.
Denver is 8-2 in their last 10 games at home dating back to September 29 of last season. The Broncos are also 8-2 in their last 10 home games against the Chiefs dating back to the year 2004.
Create a betting account now and cash in on the NFL games.
Betting on the Kansas City Chiefs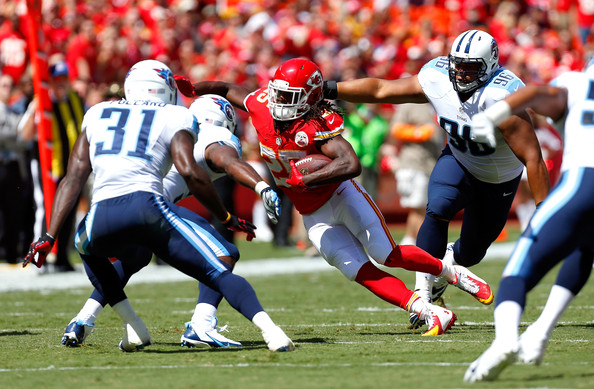 The Kansas City Chiefs struggled on both ends in their 26-10 opening game loss to the Tennessee Titans, which was definitely not the start to the season head coach Andy Reid wanted.
Quarterback Alex Smith, who recently signed a $68 million extension, looked out of sorts as he completed just 19 of 35 passes for 202 yards for the Chiefs, whose offense was badly weakened by suspensions to key players.
With leading wide receiver Dwayne Bowe and right tackle Donald Stephenson both suspended, the Chiefs found it difficult to generate any sort of offense. Their offense was so atrocious that they didn't reach the end zone until Anthony Fasano recorded a TD late in the fourth quarter.
To make matters worse, their star running back Jamaal Charles was also a non-factor. He finished the game with 19 yards on seven carries while also recording 15 receiving yards on four catches.
Apart from their offensive shortcomings, the Kansas City defense also looked in disarray. With Pro Bowl linebacker Derrick Johnson and starting defensive tackle Mike DeVito out because of Achilles injuries, the Chiefs had a problem stopping Titans QB Jake Locker. Locker finished the day 22-for-33 for 266 yards and two touchdowns.
It won't get any easier for them in Week 2 when they will face the reigning NFL MVP Peyton Manning who completed 22-of36 passes for 259 yards and three touchdowns in a solid 2014 debut against the Colts.
Fortunately, there's some good news for the Chiefs heading into the game against the Broncos. Bowe will return to the starting lineup after serving a one-game suspension and he will provide the outlet that QB Alex Smith was certainly missing in their game against the Titans.
Bowe caught 57 passes for 673 receiving yards last season and he will greatly boost a Chiefs offense that had only 178 passing yards in the game against Tennessee.
The Chiefs were 7-1 ATS in their eight road games last season.
Writer's Prediction
The Broncos dominate the Chiefs to go 2-0.
[sc:NFL490Banner ]
1,942 total views, 1 views today
Comments
comments