The nation's thirst for football action was quenched a bit when the preseason kicked off last Sunday with the Hall of Fame Game. But that's just the tip of the iceberg of what's to come this 2015 NFL season. More preseason action will be coming your way tomorrow with Denver and Seattle locking horns in a blockbuster showdown at CenturyLink Field.
Who will emerge victorious in this preseason opener? Read on below for an in-depth breakdown of this clash and while you're at it, you can check out our NFL preseason previews of Washington vs. Cleveland and New Orleans vs. Baltimore.
[sc:Football ]
Denver Broncos vs. Seattle Seahawks Betting Preview
Where: CenturyLink Field, Seattle, Washington
When: Friday, August 14, 10:00 PM ET
Line: Denver Broncos (+4.5) at Seattle Seahawks (-4.5); total: 37.0 – view all NFL lines
Betting on the Denver Broncos
The Denver Broncos will begin their 2015 preseason campaign on the road tomorrow as the two-time Super Bowl champions travel to CenturyLink Field to face the Seattle Seahawks. This will be the fifth consecutive year wherein the two powerhouse teams will square off in the preseason. The Broncos defeated the Seahawks, 21-16, in their preseason opener last year.
[sc:NFL240banner ]A lot has changed with the Broncos since that preseason meeting, though. After enduring another early playoff exit last season, Denver decided to bring in a brand new coaching staff this campaign. Providing the tactics for the Broncos this season is head coach Gary Kubiak and defensive coordinator Wade Phillips.
As the preseason goes along, it will be interesting to see how quarterback Peyton Manning adjusts to Gary Kubiak's West Coast offense. Kubiak has already said that it would be stupid for the Broncos not to build their offense around a sure Hall-of-Famer like Manning. He pointed out that he has had players finish as the league's leading rusher (Terrell Davis), leading receiver (Andre Johnson) and leading passer (Matt Schaub) during his time as a play-caller and that Manning will surely flourish under his offensive system.
One thing that will change this season for Manning, though, is his workload. Kubiak has said that he will rest veteran players on a regular basis to keep them fresh for the homestretch. That will surely help Manning who has struggled in the second half of the season the past three years. In his first eight games from 2012-2014, Manning threw 73 touchdowns and 17 interceptions in 24 appearances. Compare that to his second half performance during that same three-year stretch wherein he threw just 58 touchdowns and 19 interceptions.
With Manning probably sitting out Denver's first preseason game, the pressure is on Brock Osweiler to finally show what he's capable of for the Broncos. Given his mobility and athleticism, he seems to be a perfect fit for Kubiak's zone-blocking offense. The backup QB has taken just 121 snaps in his first three years with Denver, completing 17 of 30 passes for 159 yards and a touchdown.
The Broncos are 1-7 ATS in their last eight games on fieldturf.
Create a betting account now and put your NFL predictions to the test!
Betting on the Seattle Seahawks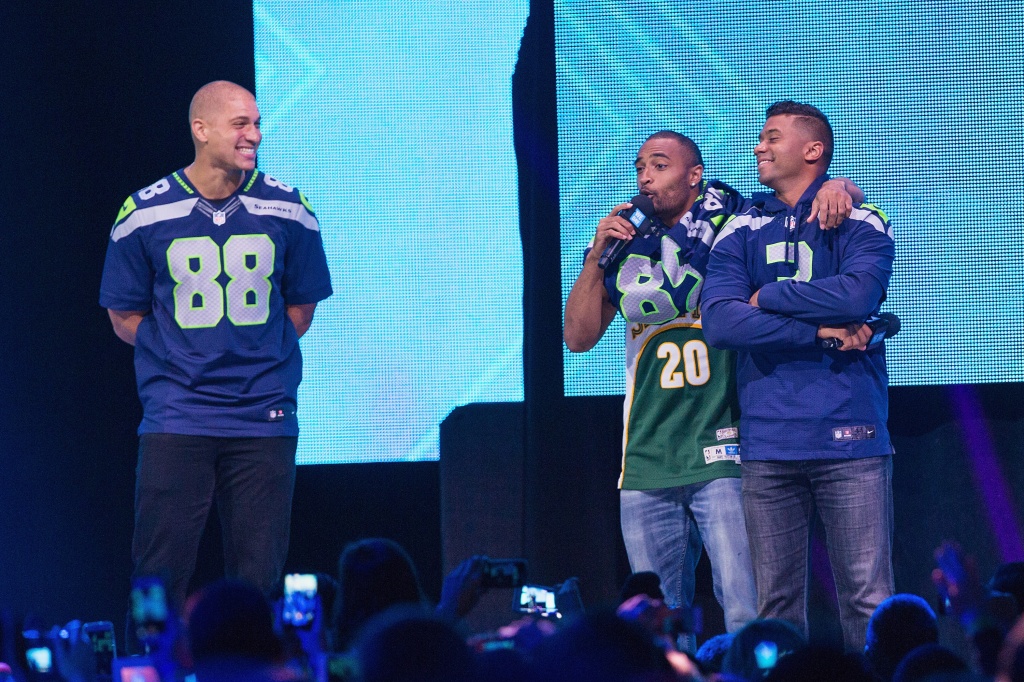 Seven months after their gut-wrenching defeat to New England in Super Bowl XLIX, the Seattle Seahawks will finally return to competitive action with a preseason showdown with the Denver Broncos. All eyes will be on tight end Jimmy Graham as he makes his much-awaited preseason debut for the Seahawks tomorrow night.
Seattle acquired Graham last March in a blockbuster trade with New Orleans for center Max Unger. The 6-foot-7, 265-pound Graham was tremendous in the Saints' pass-oriented offense the past four years, averaging 89 receptions, 1,099 receiving yards and 11.5 touchdown catches. He will provide a much-needed boost to a Seattle offense that averaged just 203.1 passing yards last season, sixth-worst in the NFL.
Apart from Graham, the Seahawks also made a huge splash this offseason by re-signing Russell Wilson and Marshawn Lynch to lucrative contract extensions. Wilson signed a four-year, $87.6 million deal with Seattle while Lynch signed a two-year, $24 million deal to remain with the Seahawks.
The Seahawks will have their work cut out for them, however, on the defensive end in this opening preseason game against Denver with injuries and absences crippling their defensive unit. Kam Chancellor is still AWOL as he continues to protest his contract situation. Richard Sherman, on the other hand, is a major doubt for tomorrow's game as he continues to recover from his injured elbow.
With that being said, look for newcomer Cary Williams to excel in this game. The former Philadelphia Eagle signed a three-year, $18 million deal with the Seahawks at the start of free agency. Williams has long arms and an aggressive style which perfectly fit the profile of a Seahawks defensive back. He'll replace former starter Byron Maxwell who signed a rich six-year, $63 million deal with the Philadelphia Eagles this past offseason.
Over is 4-1 in Seattle's last five games.
Writer's Prediction
Seattle (-4.5) wins, 17-10.
[sc:NFL490Banner ]
2,027 total views, 1 views today
Comments
comments