The NBA Western Conference Finals is set, as league MVP Stephen Curry and the Golden State Warriors will take on MVP runner-up James Harden and the Houston Rockets. The Warriors entered the conference finals after prevailing from a tough six-game series against Memphis Grizzlies. The Rockets, meanwhile, mustered enough resilience to climb out of a 3-1 series deficit against the Los Angeles Clippers.
Game 1 of the series is set to begin this Tuesday, and we compiled inputs from various experts around the web to get an overview of what to expect in this Western Conference showdown. And while you're at it, check out our own preview of this highly-anticipated series here.
[sc:NBAArticles ]
Experts Predictions for Houston Rockets vs. Golden State Warriors Series
NBA.com
| Expert | Series Prediction |
| --- | --- |
| Shaun Powell | Warriors in 6 |
A short while after the Houston Rockets earned their third straight win in Game 7 over the Los Angeles Clippers, NBA.com's Shaun Powell weighed in on what to expect in the Western Conference Finals.
[sc:NBA240banner ]Powell took note of the style and pace that we will expect in the series. The Golden State Warriors will go back to their run-and-gun mode after adjusting to the grinding defense of the Memphis Grizzlies. Meanwhile, the Rockets will continue to rely on their captain James Harden to lead, navigate, and take over the Houston offense.
With Golden State and Houston having a similar up-tempo game plan, Powell believes that the Warriors and their artillery from beyond the arc will be too much for the Rockets to handle. Golden State leads all playoff teams with an average of 11 3-pointers per game this postseason.
What are your thoughts on the NBA Conference Finals? Create a betting account now, and test your own predictions.
Rantsports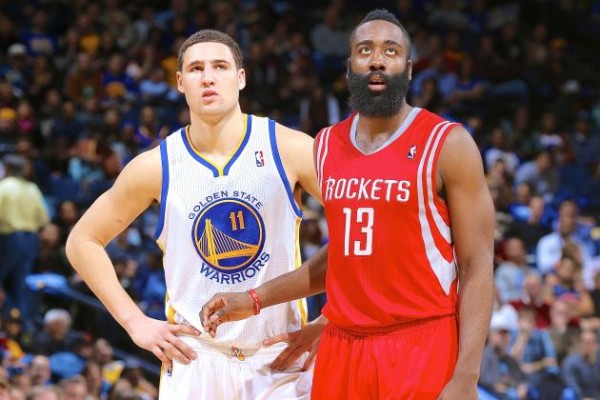 | Expert | Series Prediction |
| --- | --- |
| Seth Lassen | Warriors in 6 |
Seth Lassen, columnist for RantSports, also predicts a similar end to the series. Lassen cites several key players not named Curry or Harden who will have explosive performances in the series. Golden State's Klay Thompson is capable of a scoring explosion in a single quarter, and versatile teammate Draymond Green was considered as the Warriors' second-most valuable player behind Curry.
For Houston, Dwight Howard's matchup against the smaller frontcourt of Golden State could mean monstrous double-double figure games for the center. Lassen also commends the recent high-level output of Houston's role players Josh Smith and Corey Brewer. Smith himself is averaging 12 points (on 45 percent shooting) and six rebounds in the playoffs.
But in the end, Lassen predicts the well-rounded Warriors to close the series in six games, and seven at worst if the Houston's key contributors like Smith and Brewer step up big time in the series.
Sporting News
| Expert | Series Prediction |
| --- | --- |
| Sean Deveney | Warriors in 5 |
As for Sporting News writer Sean Deveney, he predicts that Golden State will wrap up the series rather quickly based on statistics from their games against Houston earlier in the year. The Warriors were 4-0 against the Rockets in the regular season, and the games have been decided with an average of over 15 points.
Both Steph Curry and James Harden averaged over 25 points in their regular season meetings, but the league MVP was much more accurate. In those four head-to-head games, Curry had averages of 56 percent from the field and 52 percent from three-point range, while Harden hit 41 percent from the field and 24 percent from downtown.
Furthermore, Deveney mentioned that Klay Thompson will pose as a formidable defensive matchup problem against Harden. Curry, meanwhile, will take on Houston's aged guard Jason Terry (and even Pablo Prigioni). Houston's original starting point guard Patrick Beverley is still out indefinitely due to an injury, but his return mid-way through the series is not out of the question.
[sc:NBA490banner ]
2,282 total views, 1 views today
Comments
comments