It took quite a scare, but the Kentucky Wildcats remained undefeated as they took their 30th win of the season. They put their undefeated record on the line one last time in the regular season when they take on a tough Florida team which gave them all sorts of headaches in February. Will the second time be the charm for Florida? Read on as we breakdown the season finalé of these two teams.
There's more high-stakes action in college basketball. Take a look at our complete previews for Kansas vs. Oklahoma and Texas Tech vs. Baylor.
[sc:MarchMadness ]
Florida Gators vs. Kentucky Wildcats Preview
Where: Rupp Arena, Kentucky
When: Saturday, March 7, 2:00 PM ET
Line: Florida Gators at Kentucky Wildcats – view all NCAA Basketball lines
Betting on the Florida Gators
Following Tuesday's 65-62 win over Texas A&M, the Florida Gators have now won back-to-back games to improve their chances of making the National Invitational Tournament. They can boost their chances even further if they can snag a win against still undefeated No. 1 Kentucky.
[sc:NCAAB240banner ]The Gators gave Kentucky quite a challenge the first time the two teams met on February 7. Florida led by as much as nine, but could not hold off Kentucky's late charge in a 68-61 loss.
Dorian Finney-Smith led the team with 16 points and five rebounds. Michael Frazier II (10), Eli Carter (11) and Kasey Hill (12) also scored in double-figures. Expect the same collection of Gators to exploit Kentucky's defense that looked vulnerable in its last game. The Wildcats allowed Georgia to shoot 47 percent from the field on Tuesday.
Finney-Smith has scored in double-digits (14.3 points per game) in the four games he's played since the loss to Kentucky. Carter has averaged 10.8 points per game leading up to this contest. The other Gators aren't looking sharp, though. Hill hasn't scored more than nine points since putting up 12 against Kentucky, while Frazier has not played since then due to an ankle sprain.
If the Gators can tighten up on their defense to cause turnovers, then they can at least keep within striking distance of Kentucky. They had eight steals in the first game against the Wildcats (Kentucky has given up an average of 5.1 steals in the season). Florida also defended the three-point shot well, limiting the Wildcats to 3-of-14 from downtown.
Florida has gone 5-2 against the spread in its last seven games against Kentucky.
Betting on the Kentucky Wildcats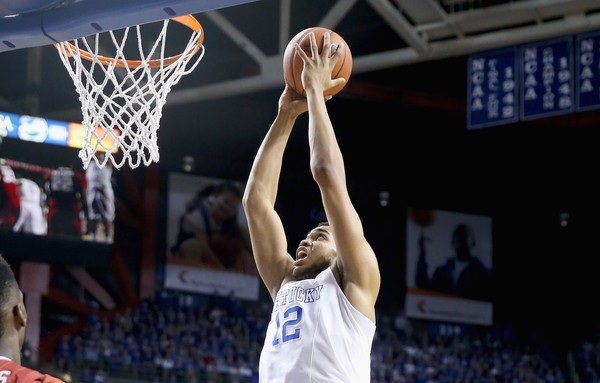 These Wildcats just do not go away. Trailing by nine with nine minutes left, No. 1 Kentucky took control of the game with a 14-0 run to beat Georgia, 72-64, on Tuesday night.
Karl-Anthony Towns was the star of the show with 19 points on 8-for-12 shooting and seven rebounds. He had plenty of help from the backcourt tandem of the Harrison twins, who combined for 28 points.
Having Towns and Aaron Harrison, in particular, is crucial for Kentucky in a tough matchup against Florida. Towns devastated Florida's interior defense for 19 points in the first game this season, while Harrison chipped in 23 points. Harrison was especially effective from three, converting 3-of-6 outside jumpers.
The Wildcats could also use the services of Willie Cauley-Stein and Devin Booker. Cauley-Stein had 13 points against Florida, but has averaged just 6.6 points in his last five. Booker put up a stinker on Tuesday, going 2-of-9 from the field. But you can count on Kentucky's talented freshman to pick up the slack as he had averaged 12.7 points in six games leading up to Georgia.
Having plenty of scoring options on the floor should help Kentucky spread out the Gators' less-than-stellar shooting defense away from home. On the road, Florida has allowed opponents to shoot 43 percent from the field.
Kentucky has gone just 4-4 against the spread at home in conference play, but has covered its last three at the Rupp Arena.
Writer's Prediction
Kentucky rolls through the season undefeated, but take Florida to cover the spread.
Create a betting account now and get yourself into all the exciting college basketball action.
[sc:NCAAB490Banner ]
2,279 total views, 1 views today
Comments
comments