The Cleveland Cavaliers are on the ropes. Down 0-2 in the NBA Finals against the Golden State Warriors, LeBron James and company need to act fast and stop their free-fall. Perhaps a game at home later tonight will help the Cavs turn things around.
NBA News & Predictions
---
Warriors vs. Cavaliers Game Three Preview
Where: Quicken Loans Arena, Cleveland
When: Wednesday, June 8, 2016 9:00 PM ET
Line: Golden State Warriors (-1) vs. Cleveland Cavaliers (+1); total: 206 – view all NBA lines
TV Broadcast: ABC
---
Betting on the Golden State Warriors (-1)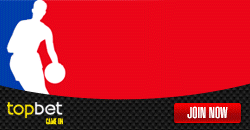 The public's money remains in Golden State's backyard. Right after the Warriors 110-77 decimation of Cleveland in Game 2, early lines have the Warriors favored by a point for Game 3 even though they're the road team this time around. Speaking of which, the Warriors are 3-0 SU and ATS in their last three trips to Cleveland.
Although Cleveland will finally have home-court advantage, a change in location obviously won't be the solution to their woes. The Cavs simply has yet to find a way to bottle up Golden State's offense that is averaging 107.0 points per game on a 51.8 percent shooting. That high shooting percentage should go down but if there's a team capable of keeping it up, it's Golden State.
Those figures become even more impressive when considering that the Warriors' top two gunners have yet to explode. Stephen Curry and Klay Thompson are scoring just 14.5 and 13.0 points per game, respectively.
It's not like the Warriors need the Splash Brothers to carry the team with Golden State's bench outscoring Cleveland's relievers. The Warriors' second stringers are putting up 42.5 PPG thus far in the series, while the Cavs' bench musters just 20.0 PPG.
Betting on the Cleveland Cavaliers (+1)
The Cavs will have home-court love but no Kevin Love in Game 3. That's likely what's going to happen later tonight with the power forward missing practice Tuesday due to the concussion he contracted in Game 2.
Love's absence means that the Cavs will be without one of their best scoring options. In no way that's good news for Cleveland, which is already having trouble making baskets. So far in the finals, the Cavs are averaging only 83.0 PPG on a salty 36.8% shooting from the field.
Whether Love will be on the floor or not, J.R. Smith needs to resurface. Known for his trigger-happy ways and complete lack of conscience on offense, Smith was just 3-for-9 over the last two games. He has to shoot and score more, especially with the Love situation. Hopefully, Smith will find his touch later tonight at home, where the Cavs are 9-1 SU and 8-2 ATS in their last 10 games there.
LeBron James, meanwhile, is producing all-around numbers of 24.1 points, 8.8 rebounds, and 7.3 assists on the series. That said, James has been slowed down by the Warriors' defense late in the game, as the four-time MVP is averaging only 8.5 points in the second half of the series.
Channing Frye and Timofey Mozgov should also have increased roles should Love eventually miss Game 3. A stretch big, Frye is knocking down 1.7 threes per game on 56.5% shooting in the playoffs. Mozgov, on the other hand, played 12 minutes of garbage time in Game 2, scoring five points and pulling down three boards. Mozgov averaged 14.0 PPG and 7.4 RPG in last year's finals against the Warriors.
Writer's Prediction
Golden State (-1) wins, 118-106.

Create a betting account now and cash in on the NBA Playoffs action.
Comments
comments