The wait is finally over. The most popular league in America is back with all 32 teams set to chase the 2015 Super Bowl title.
Last year, the Denver Broncos looked like the team that would lift the Lombardi Trophy for much of the season, but ultimately fell short on the  as they were sideswiped by the Seattle Seahawks in Super Bowl XLVIII. This year, their journey to redemption begins at home as they host the Indianapolis Colts in a fascinating Sunday Night Football match.
Can Peyton Manning finally record his first victory against his former side? Read on for an analysis of this opening week encounter. While you're at it, you can also check out our win total and regular season record predictions for every NFL team as the start of the season is finally in sight.
[sc:Football ]
Indianapolis Colts vs. Denver Broncos (8:30 PM ET)
Where: Sports Authority Field at Mile High, Denver, Colorado
When: Sunday, September 7, 8:30 PM ET
Line: Indianapolis Colts (+7) at Denver Broncos (-7) – see all NFL lines
Betting on the Indianapolis Colts
For 14 seasons, the Indianapolis Colts rode the coattails of their legendary quarterback Peyton Manning. From 1984 to 1997, the Colts were just 50-62 in their home games. When Manning arrived in 1998, the Colts went a staggering 76-28 as he led Indianapolis to countless playoff victories and a Super Bowl victory back in 2006.
[sc:NFL240banner ]So when the future Hall of Famer was let go by the Colts back in 2012, there was apprehension among Colts fans that their reign at the top of the AFC would finally come to an end. Thankfully for them, Luck was on their side.
The 24-year-old has been a godsend for the Colts as he has proven to be a worthy successor to Peyton Manning. He showed vast improvements in his second year with Indianapolis, increasing his completion rate from 54.1 % (339-for-627) in 2012 to 60.2 % (343-for-570) last year. Although his total passing yards went down to 3,822 from 4,374 two years ago, there was a great increase in his TD-to-INT ratio as he was able to cut in half his interceptions from 18 in his rookie year to just nine last year while producing the same number of touchdowns (23).
More importantly, though, Luck showed that he can win in the postseason too, as he gave the Colts their first ever playoff victory in the post-Peyton Manning era. Luck led Indianapolis to an impressive 28-point comeback to stun the Kansas City Chiefs 45-44 in the Wild Card Playoffs. In his first home playoff game, Luck was simply sensational as he completed 29 passes for 433 yards and four touchdowns.
Earlier in the season, Luck went toe-to-toe with Manning in a highly-publicized regular season clash with the Denver Broncos. Luck went 21-of-38 for 228 yards and three touchdowns as he led the Colts to a 39-33 victory in Manning's first game back at Indianapolis since he was released by his former club.
Since the playoffs, the Colts have upgraded their offense even further by signing wide receiver Hakeem Nicks from the New York Giants. During his stint with the Giants, Nicks caught 311 passes for 4,622 yards and 27 touchdowns. Alongside the returning Reggie Wayne, who suffered an ACL injury last year and T.Y. Hilton, Luck now has a trio of top-class receivers surrounding him.
So far, Nicks seems to have been e a wise investment, securing 8-of-9 targets for 86 yards in three appearances. He will definitely pose some problems for the Broncos in their opening tiff next week.
The Colts are 5-0 SU in their last five meetings with Denver…Peyton Manning was still their starting QB in four of those games.
Betting on the Denver Broncos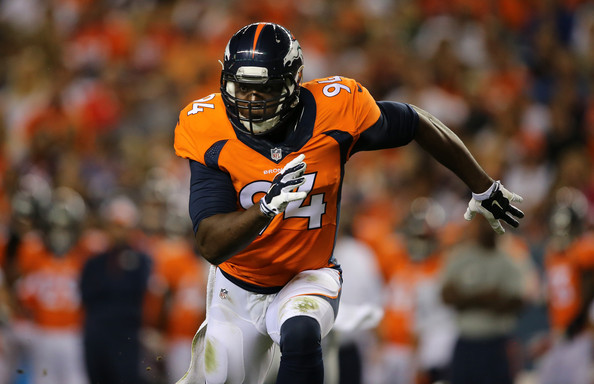 As the old saying goes, defense wins championships. The Denver Broncos definitely learned about it the hard way when they were embarassed by the Seattle Seahawks 43-8 in Super Bowl XLVIII last February as the Seahawks' Legion of Boom defense ran roughshod over the Broncos' highly-touted offense.
It was be a bitter pill to swallow for the Broncos but for general manager John Elway, there's no sense in crying over spilled milk. This past offseason, Elway decided that having a highly-efficient offense led by the incomparable Peyton Manning simply would not be enough. He needed to upgrade his defense.
Last season, the Broncos finished 14th in the league in sacks (41), 19th in yards allowed (356.0) and 22nd in points allowed (24.9). Most troubling according to defensive coordinator Jack Del Rio was their penchant for allowing their opponents too many big plays. Denver ranked 23rd in the NFL in allowing run plays of 10 or more yards with 23 while they were ranked 27th in allowing pass plays of 20 or more yards with a staggering 61.
Elway addressed those problems by signing defensive end DeMarcus Ware, safety T.J. Ward and cornerback Aqib Talib. Although Ware will turn 32 this season, he is still one of the best defensive players in the NFL. He has been to the Pro Bowl seven times and is the Cowboys' all-time leader in sacks with 117.
More importantly, his experience will prove vital to young guns such as Von Miller who has already spoken of his admiration for the former Cowboys star.
Talib, on the other hand, is one of the top cornerbacks in the league. He had four interceptions for New England last season and has 23 in total in his six-year NFL career. He will be an upgrade over the aging Champ Bailey who has left Denver after 10 fruitful seasons with them.
Ward is a tough safety who will definitely bring attitude to the Broncos' defense. He can blitz from all over the field and will bring a different dynamic to Denver's defensive schemes. Ward had a breakout season last year as he finished with 123 tackles, 1.5 sacks, 2 interceptions, 1 forced fumble, and 10 passes defended.
Denver's offense looks to be locked in early on even in preseason. Through three preseason games, Peyton Manning has completed 43-of-54 passes for 423 yards with three touchdowns and one interception. If he can replicate his performance last year with the Broncos which saw him post career-high numbers of 5,477 passing yards, 450 completions and 55 touchdown passes, then the sky's the limit for this side.
The Broncos are 8-2 SU in their last ten home games at Sports Authority Field.
Writer's Prediction
Manning will exact revenge and lead the Broncos (-7) to an easy cover over his former team. Create a betting account now and cash in on the first games of the NFL season.
[sc:NFL490Banner ]
2,061 total views, 2 views today
Comments
comments