After a strong start to the 2015 season, the New York Jets are suddenly in a bad slump after a humbling loss to the Raiders in Oakland on Sunday. Luckily for the Jets, they get a favorable matchup this coming weekend at home against the Jacksonville Jaguars.
Although the Jags are 2-5 for the season, they won a tight contest in Week 7 over the Bills before entering their bye. Can Jacksonville make full use of the rest period and upend desperate New York at MetLife Stadium this coming Sunday?
Let's take a closer look at this pivotal AFC clash below. Afterwards, check out our previews for some of Week 9's equally compelling AFC divisional matchups in Cleveland vs. Cincinnati and Miami vs. Buffalo to get an upper hand on all the top-flight NFL action to come.
[sc:Football ]
Jacksonville Jaguars vs. New York Jets Preview
Where: MetLife Stadium, East Rutherford
When: Sunday, November 8, 1:00 PM ET
Line: Jacksonville Jaguars at New York Jets – view all NFL lines
TV Broadcast: CBS
Betting on the Jacksonville Jaguars (2-5)
The Jacksonville Jaguars will head into their matchup versus the New York Jets this coming Sunday in high spirits. They ended their four-game skid with a nail-biting 34-31 win over the Buffalo Bills in London prior to their scheduled bye, and are now looking to reverse the tides of their seemingly unending misfortune.
[sc:NFL240banner ]Blake Bortles did not have the best of outings in the win over Buffalo (13-of-29 for just 182 passing yards), but did step up in crunch time when his team needed him the most. Bortles connected with wide receiver Allen Hurns for a 31-yard touchdown pass with 2:16 remaining to put the Jags back up in the game against Buffalo for good.
The second-year QB out of UCF continued to benefit from Jacksonville's Allen-and-Allen wideout tandem, with Hurns and Allen Robinson combining for eight receptions, 151 yards and both of Bortles' passing TDs in the win. The Jacksonville running game was also solid; starting running back T.J. Yeldon had 115 rushing yards and a touchdown to keep the Bills defense honest.
However, the Jaguars' defense still needs some work. The team got out to a 27-3 lead in the game against the Bills, but collapsed later on, allowing Buffalo to come back and take the lead. The Bills finished with 80 more offensive yards and had nine more first downs than Jacksonville.
But just like their starting QB, the Jags defense did just enough on D for them to eke out the win. The defense still generated four takeaways and contained Buffalo to just 3-of-12 on third downs. A well-rounded outing from the defensive unit will go a long way towards beating the slumping Jets this Sunday.
Jacksonville has lost its last 12 games away from home, going 4-7-1 ATS in that span. The team has not won a single road game since December of 2013.
Betting on the New York Jets (4-3)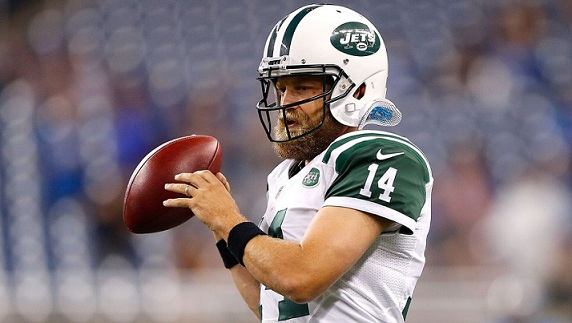 Leave it to the New England Patriots to send the New York Jets to a downward spiral. After the Pats dismantled them Week 7, the Jets followed-up that bad loss with another by falling to the Oakland Raiders on the road, 34-20, this past Sunday.
Even more terrible news for the Jets' season came from that defeat; Ryan Fitzpatrick got hurt in the opening drive, and initial reports indicate that he has a torn left thumb ligament. That unfortunate incident paved the way for former Jets starting QB Geno Smith to take over the offense.
Smith wasn't as horrible as everyone had expected in place of Fitzpatrick (27-of-42 for 265 yards, two TDs and one INT), but New York's offense clearly wasn't the same with Smith under center. Smith also got hurt late in the game by a hard-hit, which prompted Fitzpatrick to play a few more snaps in the fourth quarter with the game out of reach in spite of his own injury from early on. Best to first keep an eye out regarding Fitzpatrick's hand's final test results as the week progresses, but expect the worst coming from a presumed torn ligament, nonetheless.
It also didn't help New York that running back Chris Ivory, who has two 140-plus-yard rushing games this season, only mustered up 17 measly yards on 15 carries against the Raiders.
With the Jets' QB situation a total mess right now, it's up to their once intimidating defensive unit to start taking control of ball games once again. However, New York's D just gave up 451 total offensive yards and failed to register a sack against an Oakland offense that's led by a second-year QB. Also, after causing 15 turnovers for the first five games, the Jets have zero takeaways in their two-game skid.
At least the team still has a stout run defense to contain Jacksonville's T.J. Yeldon, who's been torching opposing D-lines of late. The Jags still rank third in the league in rushing yards allowed, and their front seven should keep Yeldon in check and bring more pressure towards Bortles and Jacksonville's passing game instead to create some timely turnovers like the team has successfully done earlier this season.
While New York has gone 5-1 ATS in its last six home games, the team is just 3-3 straight-up in that same span.
Writer's Prediction
The Jaguars prevail with a rare road victory, 19-13, and hand the Jets their third-straight loss.
Create a betting account now while the NFL's mid-season action is at its boiling point.
[sc:NFL490Banner ]
2,248 total views, 1 views today
Comments
comments