As the new college football season draws nearer and nearer, it's time to take a more in-depth look at each conference and how it will all unfold. After making our picks for how all of college football will break down, we now draw our attention to a mid-major conference that has seen a fair bit of turnover in recent years: Conference USA.
Conference USA has undergone a major facelift in a span of just a couple of years. Some of the bigger schools have packed their bags and moved on to bigger conferences. Those conference-altering changes have also cracked open the door for a potential powerhouse to emerge and take over the new-look conference. But will the new boys make some noise and spoil a potentially perfect season? Read on for our preview of C-USA.
[sc:"NCAAF Articles" ]
Conference USA College Football Preview and Predictions
Overview
[sc:NCAA240banner ]After losing the likes of UCF, SMU, Memphis and Houston to the American Conference last season, East Carolina, Tulsa and Tulane have all followed them out the Conference USA door for this upcoming season. In their place, the conference welcomes Western Kentucky and Old Dominion to the fold.
But despite the key losses of some of their best teams in recent years, C-USA may still be home to the best team in the "Group of Five" conferences: the Marshall Thundering Herd. Led by a possible Heisman candidate at quarterback, the Herd will be on a mission to avenge their humiliating defeat in the conference championship game at the hands of Rice.
Favorites – Marshall Thundering Herd and Rice Owls
Marshall went 7-1 in conference play last season (10-4 overall) to win the East Division, but eventually lost in the conference title game. This year, the Thundering Herd will be the overwhelming -500 favorites to win the conference, and could even have a legitimate shot to go undefeated.
Their high-octane offense, helmed by returning senior QB Rakeem Cato, has averaged 40+ points and 500+ yards/game in the past two seasons and with top WR Tommy Shuler (106 rec, 1,165 yds, 10 TD) also returning, Cato and the Herd should keep putting up some big numbers.
Marshall will also have the added advantage of having a favorable schedule. The Herd will face three of the four teams they lost to last season (Ohio, Middle Tennessee and Rice) at home in the regular season.
Reigning conference champs Rice will likely be the Herd's biggest challenger in the conference. The Owls, who are +800 to retain their crown, lost last season's starting quarterback and running back, but their offense figures to be in good hands with new offensive coordinator Larry Edmondson.
As a former QB coach, Edmondson should aid junior QB Driphus Jackson in his first year as starter. Meanwhile, a rushing offense that led the conference with 227 yards/game figures to remain solid with running backs Jawon Davis and Darik Dillard in the fold.
Player to Watch – Rakeem Cato (Marshall)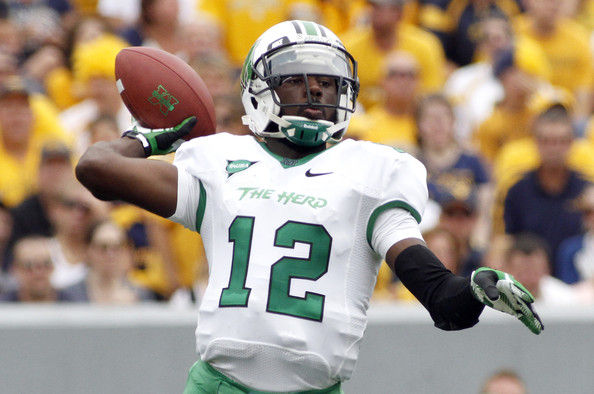 Rakeem Cato's last two seasons have produced some video game-caliber numbers. During his sophomore year, Cato completed almost 70% of his 584 passes attempts (the most in the FBS), threw for 37 touchdowns against 11 interceptions and averaged 350 yards/game (also most in the FBS).
He scaled back his passing last season. He threw almost 100 less attempts and his completion dropped almost 10 percentage points. However, Cato added a running dimension to his game as he rushed for 294 yards and added 6 TDs with his feet to go with 39 more TDs from the air, just one less than Heisman winner Jameis Winston.
Speaking of the Heisman, Cato is +4,000 to win the trophy in his senior year. While it would take something incredible for him to actually win, his collegiate track record suggests more of the same crazy offensive numbers from Cato.
Best Game on the Schedule
November 15 – Rice @ Marshall
The two schools didn't meet in the regular season last year, but they did eventually face each other in the conference championship game. Despite Marshall's gaudy offensive numbers, it was Rice that posted 41 points en route to a 16-point demolition of the Herd.
The two are set meet this year in conference play in the Herd's homefield, hungry for revenge in what could be a preview to a conference championship rematch later in the year.
Writer's Prediction
Cato and the Herd fall just short of a perfect season, but they'll still be the cream of the crop in Conference USA. Marshall (-500) exacts its revenge by beating Rice in the conference title game. Create a betting account now and put some money down on the big favorites in the college football conferences.
[sc:NCAA490banner ]
1,709 total views, 1 views today
Comments
comments