With college football coming to provide the thrills sports fans have been waiting for, we are taking a look at how things shake out in each NCAA conference. We've dug into the Pac-12 and Big Ten conferences already, and it's time to take a look at another big-time battle royale in the Southeastern Conference.
The SEC, arguably the most competitive and talent-rich conference in all of college football, is set for another bloodbath of a season. But having lost some talented names in the offseason, this season may be one of transition for a few of the conference's major programs and a more open than usual hunt for the top of the standings. Read on for more on this cut-throat conference.
[sc:"NCAAF Articles" ]
SEC NCAA College Football Preview and Predictions for 2014-15 Season
Overview
Let's take a moment to take stock of just how much talent the SEC lost in just one summer. A number of the conference's top programs lost their starting quarterback: AJ McCarron (Alabama), Aaron Murray (Georgia), Zach Mettenberger (LSU), Connor Shaw (SC), James Franklin (Missouri) and of course, Johnny Manziel (Texas A&M). And don't forget the NFL Draft's No. 1 overall pick, South Carolina's Jadeveon Clowney.
But as the smoke cleared from all the departures, the status quo looks to be pretty much intact. Auburn and Alabama, who both went 7-1 in conference play, come into the season as potential national championship contenders. And over in the SEC East, Georgia and South Carolina will be leaning heavily on their Heisman-worthy running backs to bring them to the conference championship game.
After having their streak of consecutive national championships snapped at seven, expect the SEC to come back with a vengeance and be very much in the mix as the nation shifts to its new playoff format.
[sc:NCAA240banner ]
Favorites – Auburn Tigers and Alabama Crimson Tide
The balance of power in the conference has shifted very much in the SEC West, which has won the last five conference titles. Of those five, Auburn and Alabama have claimed two conference crowns each, and will once again be battling it out to see who comes out of the division.
Auburn reached incredible heights in their first season under Gus Malzahn last year as they went 7-1 in the conference and reached their second national championship game in four years. However, they lost one of the key members of that offense in running back Tre Mason.
Thankfully for the Tigers, dual-threat quarterback Nick Marshall, who accounted for over 3,000 yards and 26 touchdowns on offense, returns to run the spread offense for Auburn, who are +400 to win consecutive SEC titles.
But the road to the title game runs through Tuscaloosa this season, where Nick Saban and the Crimson Tide are ready for another championship run after last season's dramatic defeat at Auburn. Saban still has to decide on a new starting quarterback to succeed McCarron, but the Tide will have an impressive rushing attack to complement whoever the new QB is.
And as with any Saban team, expect the defense to be top notch with another bumper crop of five-star recruits to help 'Bama, which is +125 to reclaim the SEC crown.
With an intense head-to-head battle in SEC East, it's time to create a betting account for some college football action.
Player to Watch – RB Todd Gurley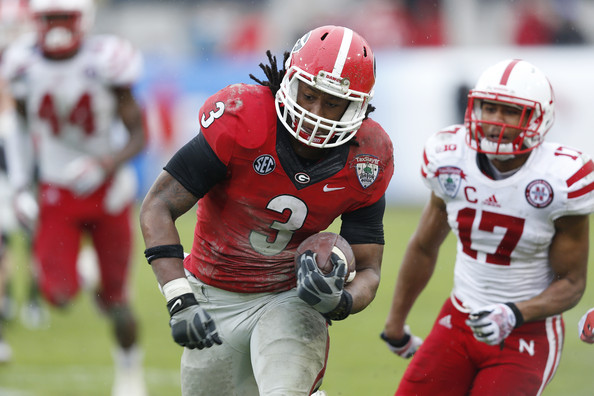 Don't let the name fool you: Todd is anything but girly when he runs. The Georgia running back couldn't quite build on his excellent freshman season (1,385 yards and 17 TDs) as an ankle injury hampered him last season. But despite missing three games, he still came just 11 yards short of 1,000 yards and also added 10 TDs. With a fully healthy Gurley this season, Georgia is the favorite to come out of the SEC East and is priced at +350 to overthrow the West's supremacy.
In a conference which boasts running backs likes TJ Yeldon in Alabama and Mike Davis in South Carolina, Gurley might just be the best of the bunch. And to take it even further, Gurley has the potential to be the best player in all of college football. He's priced at +800 to become the first tailback to take the trophy since Alabama's Mark Ingram in 2009.
Best Game on the Schedule
Auburn Tigers @ Alabama Crimson Tide
This year's Iron Bowl will see the Auburn Tigers put their vaunted rushing offense to the test against the stern defense of the Alabama Crimson Tide. Auburn had a miracle win last season after Chris Davis fielded a missed field goal attempt from Alabama, and then sprinted for a 109-yard touchdown to steal a 34-28 win.
This game has the potential of deciding which SEC West team advances to the divisional championship game, plain and simple.
Prediction
The Auburn Tigers will win the SEC Championship and contend for the National Championship. Auburn offers a good value at +800 to be crowned national champion.
[sc:NCAA490banner ]
1,977 total views, 2 views today
Comments
comments