As the college football season keep going, the contenders separate themselves from the rest of the pack. The Heisman Trophy contenders also find a way to stand out as men playing among boys. Sophomore running back Leonard Fournette sure did make a grand case as one of the favorites for the prestigious award as he had a monster game against Auburn to climb LSU five points up into No. 8 in the AP Poll.
Fournette was the star of Week 3, but he wasn't the only one to shine. Read on as we take a look at the top five Heisman Trophy contenders in the 2015 college football season. Get to see these stars in action as we take a look at the best five college football games in Week 3. You can also see how Fournette matches up against his opponents when LSU takes on Syracuse.
[sc:NCAAFArticles ]
The Top Five Heisman Trophy Hopefuls
Leonard Fournette, Running Back (LSU)
[sc:NCAA240banner ]Run Leonard run! That's exactly been the LSU Tigers' plan this year. Sophomore running back Leonard Fournette was an unstoppable tractor in a big 45-21 victory over Auburn in Week 3, rushing for 228 yards and three touchdowns on just 19 carries. Fournette now has six rushing scores this season, could for third among all running backs in the FBS this season.
Fournette could punctuate his status as the Heisman Trophy favorite with another signature performance against Syracuse this coming weekend. The Orange rank third in the FBS in rushing defense (47 yards allowed per game). If the sophomore back could rack up monster yardage yet again, then he may run away as the +250 favorite to win the Heisman Trophy.
Trevone Boykin, Quarterback (TCU)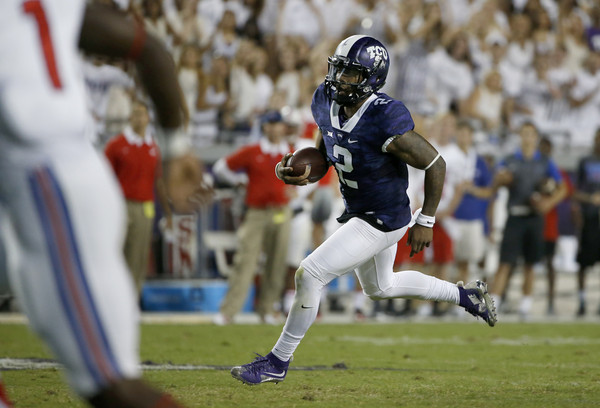 Of course, the Heisman Trophy remains a quarterback heavy award; 13 of the past 15 including the past five Heisman Trophy winners have all been signal callers. Being a quarterback in a top four team gives TCU's Trevone Boykin a shot.
Boykin has been very efficient in moving the chains for the No. 3 Horned Frogs. He's passing for a little under 10 yards per attempt with 10 touchdowns through the air. Boykin was at his best dissecting SMU's defense in Week 3, passing for 454 yards and five touchdowns while adding another score on the ground. Boykin's a hot pick at +700 to win the Heisman Trophy.
Nick Chubb, Running Back (Georgia)
Nick Chubb is carrying No. 7Georgia's rushing offense as a sophomore running back this season. But solid quarterback play from Greyson Lambert takes some steam off Chubb's performances. Nevertheless, the sophomore running back has been solid week in and week out, averaging 156 yards per game this season. He already has four rushing touchdowns and is due to get plenty more scores.
While he isn't a team's main offensive weapon like Fournette is for LSU, Chubb does enough work to land him as one of the favorites to win the Heisman Trophy at +800.
Ezekiel Elliott, Running Back (Ohio State)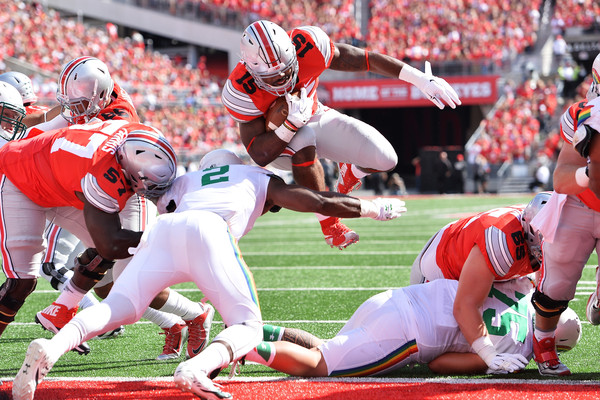 Urban Meyer has juggled between Cardale Jones and JT Barrett for the No. 1 Ohio State Buckeyes' starting quarterback. He has no such issue when determining which running back to put his trust in with Ezekiel Elliott (+900) continuing to put on solid performances this year. Elliott has been steady, reaching the 100-yard mark in each of the first three games of the season. He's scored four touchdowns and his averaging a solid 5.4 yards per carry.
In order for him to make a case for the Heisman Trophy, Elliott will need to get back to his dominant three-game stretch to end the 2014 season. Elliott rushed for over 200 yards in each of the victories in the Big Ten Championship Game against Wisconsin, the Sugar Bowl versus Alabama and the National Championship Game against Oregon with 10 total rushing scores. Those kinds of performances ensure a Heisman Trophy.
Derrick Henry, Running Back (Alabama)
No. 12 Alabama may have fallen out of the top 10 after a loss to Ole Miss. But Derrick Henry's still churning out yards. The junior running back rushed for 127 yards and a score on 23 carries against Ole Miss' vaunted defense. But he'll need to totally take over if the Crimson Tide are to have a shot at contending for the College Football Playoff.
Quarterback Jake Coker has struggled recently, passing for less than 60 percent and throwing three interceptions in his last two games. If Henry's is able to take the lion's share of the offense to disguise Coker's paltry passing, then he'll have a shot at rallying Alabama back into the top four. He strengthens his shot at taking the Heisman Trophy too at +1,200.
Create a betting account now and grab some of the profitable college football futures.
[sc:NCAA490banner ]
Comments
comments