No. 1 Florida ended Dayton's fairy tale run to book its ticket to the Final Four in Texas. But the road to the national championship game passes through some familiar foes: No. 7 Connecticut and the superhuman Shabazz Napier. It was Napier's late-game heroics that inflicted the Gators their last loss 30 games ago.
No. 1 Florida Gators vs. No. 7 Connecticut Huskies Final Four Betting Preview
Where: AT&T Stadium, Arlington
When: Saturday, April 5, 6:05 PM ET
Line: No. 7 Connecticut Huskies (+6.5) at No. 1 Florida Gators (-6.5) – view these lines
Betting on the Florida Gators
There was nothing magical about how No. 1 Florida beat Cinderella story Dayton 62-52 to progress to the Final Four. The Gators just did what they've done during their 30-game winning streak: play great defense and let the seniors lead the way.
The great Gator defense did a number on Dayton by limiting the Flyers to season low 52 points on 40% shooting. Senior point guard Scottie Wilbekin made the big shots on offense with 23 points and three 3-pointers, while fellow senior Patric Young (12 points, 6 rebounds and 4 blocks) was huge on both ends of the court.
It wasn't a flawless performance from Florida, by any means. The Gators shot a tournament-low 37.5% from the field, and leading scorer Casey Prather (just 10.5 PPG) is having an up-and-down tourney. Offense is definitely an area where Billy Donovan should fine-tune his team.
Obviously, Florida's defense will need to key in on the Huskies' main man, Shabazz Napier. Wilbekin will have that tough defensive assignment apart from his playmaking duties.
Florida is 7-3 ATS in its last 10 games, but just failed to cover the 10.5-point spread against Dayton.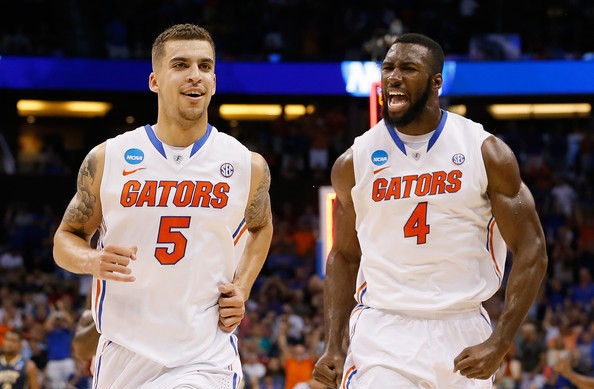 Betting on the Connecticut Huskies
No. 7 Connecticut reached its second improbable Final Four in four years with a 60-54 win over No. 4 Michigan State, and it once again came down to its amazing point guard.
Just as he has the entire tournament, Shabazz Napier put UConn on his back with 25 big points. He also made four of the team's five three-pointers and went 9-9 from the line. The Huskies finally cooled off from beyond the arc (they went just 5-22 from three) but they are still shooting a sizzling 92% from the line.
UConn also continued its remarkable interior defense to completely shut down the Spartans in the paint, limiting them to just six points and causing 16 turnovers.
Napier famously dropped 26 on Florida, including the game-winning three-pointer, in their regular season meeting in December to hand the Gators their last loss of the season. Needless to say, the fate of the Huskies rests firmly on his shoulders.
The Huskies are a perfect 4-0 SU and ATS in the tournament. However, the total against the Spartans was the first to go under.
Prediction
Napier's come up trumps throughout the entire tournament, and he's already beaten seemingly unbeatable Florida once. What's to stop him from doing it again? UConn to upset No. 1 Florida.
1,750 total views, 1 views today
Comments
comments