The North Carolina Tar Heels are stumbling at exactly the wrong time. Their recent losing skid against top-flight competition hasn't done them any favors as the NCAA Tournament approaches in March. The Tar Heels will have another chance to prove their worth against an old foe in No. 4 Duke at Cameron Indoor Stadium.
Will North Carolina sink or swim against one of their fiercest rivals in the conference? Read on as we give you our full analysis of this ACC clash.
Don't wait for March Madness before getting into the college basketball craze. There are a couple of big, exciting matchups on deck in Wake Forest vs. Notre Dame and Kentucky vs. Tennessee.
March Madness News & Predictions
North Carolina Tar Heels vs. Duke Blue Devils Preview
Where: Cameron Indoor Stadium, Durham, NC
When: Wednesday, February 18, 9:00 PM ET
Line: North Carolina Tar Heels (+8.5) at Duke Blue Devils (-8.5) – view all NCAA Basketball lines
Betting on the North Carolina Tar Heels
Saturday's 89-76 loss to Pittsburgh was a punch to the gut of North Carolina's season. The Tar Heels have lost three of their last four games, and could use a win over a ranked opponent more than ever. The Tar Heels are 1-5 ATS in their last six games against ranked opposition.
Paige also leads North Carolina with 4.2 assists per game. Dishing out the dimes should help North Carolina spread out Duke's defense. The Tar Heels are the nation's top passing team with 17.6 assists per game.
North Carolina has a couple of capable scorers in forwards Brice Johnson and Kennedy Meeks as outlets for his passes. Johnson has two double-doubles over the past five games, while Meeks has averaged 11.2 points per game. Johnson and Meeks should be even more productive on the defensive end. Johnson has five blocks in the past three games, while Meeks has two.
Will the Tar Heels get the job done against Coach K and the Blue Devils? Create a betting account now and make your pick in this game between the big dogs in the ACC.
Betting on the Duke Blue Devils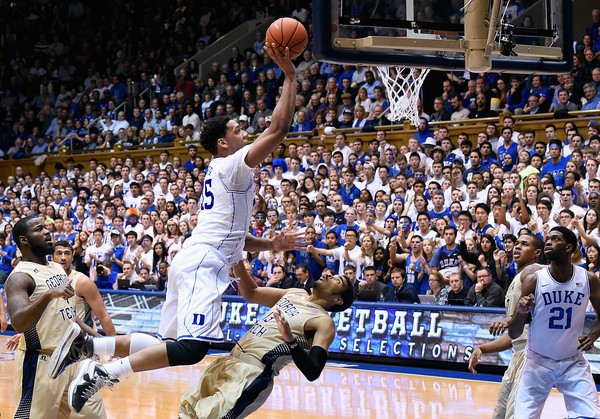 Jahlil Okafor stood proud and tall as Duke bested Syracuse, 80-72, on Saturday. The 6'11" freshman center scored 23 points and grabbed 13 rebounds for his ninth double-double of the season. He hit all seven shots he attempted in the second half to lift Duke to the win.
Okafor stands a good chance of once again dominating against North Carolina. He's averaging 18.2 points and 8.8 rebounds per conference home game this season. He's also averaged a double-double against ranked teams in the ACC with 17.5 points and 10.8 boards per game. In its last four games, North Carolina has allowed opposing starting centers to shoot a combined 67 percent from the field.
Quinn Cook and his outside shot should aid in opening up the paint against North Carolina. He has shot 42 percent from three-point range over his last three games. Cook may be help Duke build a lead by burying some timely threes against the Tar Heels. North Carolina was outdone by Pittsburgh's three-point shooting (53 percent) on Saturday.
Duke may even be more difficult to handle considering Tyus Jones' affinity for dishing out dimes in his last three games (25). Jones should be able to find the open passing lanes against North Carolina, who have allowed a whopping 20.3 assists per game over its last three.
The Blue Devils are 1-3 ATS in home games against North Carolina since 2011.
Writer's Prediction
The Blue Devils fire on all cylinders at home. Duke (-8.5) gets the win and the cover.
1,276 total views, 2 views today
Please follow and like us:
Comments
comments