The Oakland Raiders had a pretty emotional outing in possibly their last game at O.co Coliseum in Week 16, beating the San Diego Chargers on Christmas Eve. Now they'll properly end their season in a big road game against playoff-bound Kansas City. The Chiefs have already secured a playoff berth, but still have a shot at winning the division by extending their franchise-best nine-game win streak to 10 and with a little help by way of a Denver Broncos loss.
Get the most of the last week of the 2015 NFL Regular Season with our complete previews for the Saints vs. Falcons and Vikings vs. Packers.
[sc:Football ]
Oakland Raiders vs. Kansas City Chiefs Preview
Where: Arrowhead Stadium, Kansas City
When: Sunday, January 3, 1:00 PM ET
Line: Oakland Raiders at Kansas City Chiefs – view all NFL lines 
TV Broadcast: CBS
Betting on the Oakland Raiders (7-8)
The Oakland Raiders have a chance to record a non-losing season for the first time since 2011, but they'll need one hell of an outing to beat the red-hot Kansas City Chiefs, winners of nine-straight games. Goog thing that the Raiders may have gotten some momentum from a 23-20 overtime victory against the San Diego Chargers on Christmas Eve.
[sc:NFL240banner ]Quarterback Derek Carr led the game-winning drive in OT, which ended with a 31-yard field goal from Sebastian Janikowski. The game was finished when an incomplete pass from Philip Rivers on fourth down fell on the retiring Charles Woodson's feet. Getting Carr going should give the Raiders a shot for an upset in the regular season finale.
The second-year signal-caller was solid against the Chiefs in Week 12 with 283 yards and two touchdowns. But he also helped lead the Raiders to their demise with three interceptions, including a 38-yard pick-six, in a 34-20 loss. A solid outing from Carr should help give rookie receiver Amari Cooper a big game. Cooper was held to just two catches for 10 yards against San Diego, but had 120 yards and two scores a week ago against Green Bay.
Cooper showed some flare against the Chiefs in the first meeting, catching four passes for 69 yards as Carr's deep-threat option. However, a nagging foot injury may limit his production yet again. Then again, Oakland's ground game could have a big day as well courtesy of Latavius Murray. He was solid against Kansas City in Week 12 with 86 yards and a score, and he has run for 157 yards combined over the past two week. And unlike Cooper, Murray should be good to go without any doubt against the Chiefs.
The Raiders are 5-2 ATS in their last seven games.
Betting on the Kansas City Chiefs (10-5)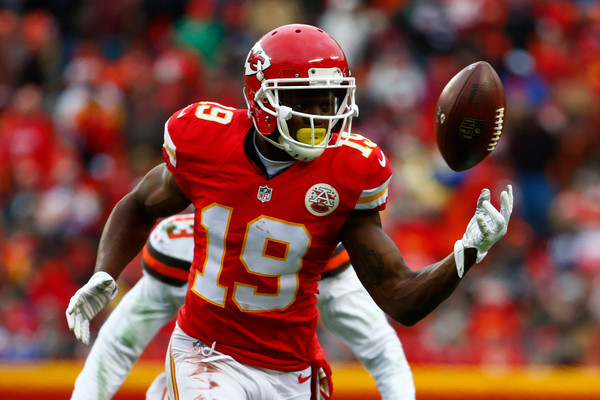 The Kansas City Chiefs had to sweat it out against Cleveland on Sunday. The Browns had a chance to win the game late in the fourth quarter due to some heroics from former Heisman Trophy winner Johnny Manziel. But the Browns quarterback ran out of time before he could get one final snap. The Chiefs ultimately won the game 17-13 as they inch closer to what's shaping up to be a deep playoff run.
The Chiefs still have a chance to win AFC West if they can win this game have Denver lose in any of its last two games of the season (the Broncos still have to face the Bengals on Monday Nnght). If the Chiefs are to win the division, they'll definitely need even more solid performances from quarterback Alex Smith in the postseason.
Smith was limited to just 125 yards on Sunday, but did still manage to throw two touchdowns. Jeremy Maclin and Travis Kelce each hauled in a scoring pass as they led the team with 49 and 43 yards receiving, respectively. At least the Kansas City backfield had a much better outing, rushing for 136 yards on 27 carries. Running back Charcandrick West led the way with 62 yards on 14 carries, while Smith scrambled for 54 yards himself.
Smith could have a much better day through the air against Oakland this coming Sunday. The Raiders have one of the worst passing defenses in the league, allowing 266 yards per game. Then again, Smith didn't get to do much against Oakland in a 34-20 Week 12 victory, throwing for just 162 yards with two touchdowns to Maclin.
The Kansas City defense was spectacular against the Raiders in Week 12, though. Frank Zombo had two sacks, while Derrick Johnson and Daniel Sorensen each had one as well against Oakland's Derek Carr. Meanwhile, defensive backs Tyvon Branch and Marcus Peters each picked off Carr, and even linebacker Josh Mauga managed to grab an INT as well (Branch's interception was a pick-six, by the way). Another solid outing from the defense can have the Chiefs set a new franchise record of 10 straight wins.
The Chiefs are 7-2 ATS on their nine-game win streak.
Writer's Prediction
The Raiders end Kansas City's win streak with a big road upset. Create a betting account now and cash in on exhilarating football action while it lasts.
[sc:NFL490banner ]
2,164 total views, 1 views today
Comments
comments