A highly-anticipated Big 12 showdown is bound to fully satisfy your basketball cravings as the No. 2 Oklahoma Sooners travel to Gallagher-Iba Arena for a date with their intrastate rivals in the Oklahoma State Cowboys.
The Sooners have taken the last five Bedlam meetings and will definitely be looking to extend that streak further. Will they be able to do so? Or will the Cowboys be the one going home with their hands held high this time around?
Read on below for a full breakdown of this must-not-miss matchup. And if you're craving for some NBA action as well, check our previews for the Indiana Pacers vs. Boston Celtics and Dallas Mavericks vs. Oklahoma City Thunder.
[sc:MarchMadness ]
Oklahoma Sooners vs. Oklahoma State Cowboys Preview
Where: Gallagher-Iba Arena, Stillwater
When: Wednesday, January 13, 9:00 PM ET
Line: Oklahoma Sooners (-8.5) vs. Oklahoma State Cowboys (+8.5)– view all NCAA Basketball lines
TV Broadcast: ESPN
Betting on the Oklahoma Sooners (13-1, 2-1 Big 12)
[sc:NCAAB240banner ] After a heart-breaking triple-overtime loss to the No. 1-ranked Kansas Jayhawks last Monday, the Oklahoma Sooners didn't let up and barged back into the winning column at the expense of the Kansas State Wildcats Saturday night, 86-76.
As expected, Buddy Hield was the star of the show in that contest. Hield, the Big 12 Player of the Week and the second-leading scorer (26.6 PPG) in the nation, continued his offensive onslaught by posting a game-high of 31 points with eight rebounds and five dimes. He is now averaging 31.0 PPG, 5.7 RPG and 2.6 APG while shooting 56% from the field and 54% from down town in the last eight games.
Hield and co. will now strive to take care of business once again when they pay the Oklahoma State Cowboys a visit for the first time this season. For the Sooners to succeed in doing so, Hield's got to stay hot and pile up the points for his squad. But he might have to work for his buckets in this one as he'll be facing a respectable Cowboys defense that's allowing just 64.4 points.
If Hield does struggle with his shots, the onus is on Jordan Woodard, Isaiah Cousins and Ryan Spangler to pick up the slack for their teammate. The three have been producing solid numbers in 14 games thus far this season and should be provide some trouble to the opposition.
Woodard, who is averaging 15.2 PPG, 3.9 RPG and 3.9 APG, has been on fire over the last four games, tallying 22.0 PPG. He's also gone 16-for-24 from three-point territory in that stretch. Cousins and Spangler, on the other hand, are contributing 24.3 points combined in the past three games. Spangler, in particular, has been more impressive with six double-doubles under his belt already.
Oklahoma is 9-1 SU and 5-5 ATS in its last 10 games.
Create a betting account now and cash in on all the NCAAB action.
Betting on the Oklahoma State Cowboys (9-6, 1-2 Big 12)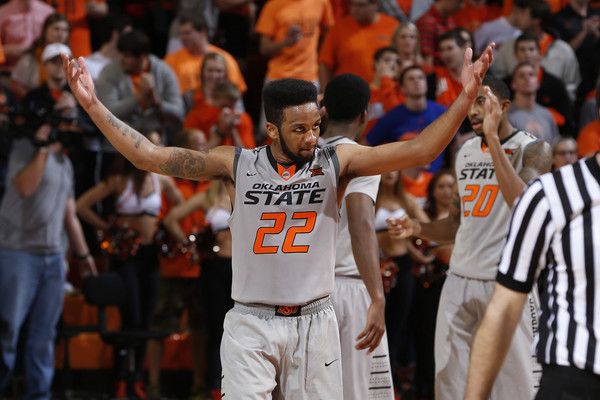 The Oklahoma State Cowboys' offense took a huge blow to their 2015-16 campaign when it lost its best player in Phil Forte to an elbow injury last November. Fortunately, though, the likes of Jeff Newberry, Jawun Evans and Jeffrey Caroll have put on their big-boy pants to help their team remain competitive in games and keep up in the conference race.
Newberry and Evans have carried much of the offensive load season with 11.9 PPG and 10.4 PPG respectively. Caroll, meanwhile, has been considerably improving in each game and is averaging 9.1 PPG. He's also finished in double-figures in his last four games and is fresh off his first double-double performance (10 points and 11 rebounds) against West Virginia.
Offense, however, won't assure the Cowboys the victory in this game. Their success will ultimately be determined on how well they can stop the Sooners' offense, which is posting a nation-best of 88.3 PPG, from piling up the points. And the best way to probably do so would be to hold Buddy Hield below his usual averages.
Moreover, the Cowboys cannot afford any miscommunications or lapses on their defensive assignments especially against an Oklahoma squad that has three of the best three-point shooters in the Big 12—Hield (52.0 %), Jordan Woodard (55.6%) and Isaiah Cousins (42.9%)—on its side.
Oklahoma State is 7-3 SU and 4-4 ATS in its last 10 home games.
Writer's Prediction
Sooners (-8.5) win by double-digits.
Create a betting account now and build a winning college basketball parlay.
[sc:NCAAB490Banner ]
1,910 total views, 1 views today
Comments
comments