The Philadelphia Flyers still need some work to do in order to make the playoffs. They're holding up their end of the bargain by winning, but they're still tied with the Detroit Red Wings for the final wild card berth in the East with just a handful of games remaining in the regular season.
The red-hot Pittsburgh Penguins have already clinched a spot in the 2016 Stanley Cup Playoffs, but they definitely won't be doing their bitter in-state rivals any favors when they face off on Sunday.
Read on below for our breakdown of the Battle of Pennsylvania Round III. And for more of Sunday's sports action, check out our NBA previews of the Blazers vs. Warriors and Hornets vs. Cavs.
NHL News and Predictions
Philadelphia Flyers vs. Pittsburgh Penguins Preview
Where: CONSOL Energy Center, Pittsburgh
When: Sunday, April 3, 5:00 PM ET
Line: Philadelphia Flyers at Pittsburgh Penguins – view all NHL lines
Betting on the Philadelphia Flyers (39-25-13)
The Philadelphia Flyers took care of business during their recent three-game home stand. They won all three games – two of which needed overtime – to keep pace with the Detroit Red Wings in the race for the final Eastern Conference wild card spot.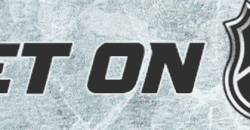 Wayne Simmonds has been stellar during their recent surge. The 27-year-old winger has five points in the last three games, including two goals and an assist in the Flyers' most recent 3-2 home win over Ottawa.
Philly has been pretty up-and-down on the road. They've gone just 5-5 in their last 10 games away from home. However, they've made the CONSOL Energy Center their home away from home. They've gone 5-1 in their last six against the Pens at Pittsburgh.
Goalie Steve Mason (22-17, 2.48 GAA and .920 SV%), who has started the last eight games in a row, has lost his last two starts on the second game of a back-to-back. However, he's been in excellent form of late, giving up just two goals or fewer in six-straight starts. He'll need to be at his very best to contain the Penguins' prolific offense. Mason is 4-1 in five career starts at Pittsburgh.
Create a betting account now and cash in on all the top NHL action.
Betting on the Pittsburgh Penguins (45-25-8)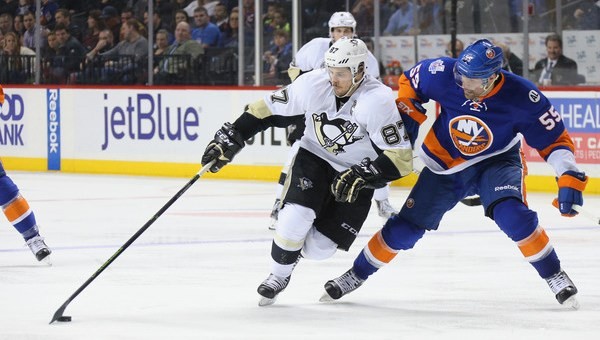 The Pittsburgh Penguins may have already clinched a playoff berth, but they're not putting their foot off the gas at all. With Saturday's 5-0 thrashing of the New York Islanders, they've now won five-straight games and 11 of their last 12.
Despite being without Evgeni Malkin due to an upper body injury since March 12, the Pens offense has still played phenomenal well during the past few weeks. They're averaging close to four goals per game in their last 12 games, with superstar Sidney Crosby scoring at least a point in 11 of those 12 games.
Backup goalie Matt Murray stopped all 24 shots he faced against the Isles to record his first shutout of the season. Murray has won his last four starts and will once again be in goal against Philly with Marc-Andre Fleury (concussion) out indefinitely. The 21-year-old is 6-2-1 with a 1.86 GAA and a .933 save percentage this season.
The Pens have put an end to their recent struggles against their state rivals. They've won their first two meetings of the season, scoring four goals on both occasions. Sid the Kid has been in the middle of all that success, with a goal and three assists in those two games.
Writer's Prediction
The Pens continue their excellent run with a 4-2 home win over the Flyers.

Comments
comments