Week 1 of the 2015-16 NFL season did not disappoint at all. The most popular league in the country delivered some terrific action, as well as some notable upsets by the Buffalo Bills and St. Louis Rams at the expense of two Super Bowl contenders – the Indianapolis Colts and Seattle Seahawks.
Now as we head for Week 2, it's that time again for us to find out what effect the Week 1 action has had on our top 10 power rankings. Read on below to see these teams who made it and why they deserve to be part of this list.
Want to get yourself even more ready for Week 2? You can check out some of our in-depth previews for the approaching week: Seattle Seahawks vs. Green Bay Packers, Atlanta Falcons vs. New York Giants and Miami Dolphins vs. Jacksonville Jaguars. Enjoy.
[sc:Football ]
NFL Week 2 Power Rankings
1. New England Patriots (1-0)
Next Game: at Buffalo Bills
[sc:NFL240banner ]So much for missing Tom Brady for the first four games of the season. The New England Patriots successfully launched their season with a 28-21 triumph over the Pittsburgh Steelers, who were missing Le'Veon Bell and Martavis Byant, last Thursday night.
Brady had his name written all over this matchup, as he carved up the Steelers secondary for 288 yards and four touchdowns—three to Rob Gronkowski—while completing 19 straight passes at one point in the game. This outstanding performance from the defending champions immediately elevates them on top of the power rankings as they aim for a sixth consecutive win in their Week 2 clash with the Buffalo Bills at Ralph Wilson Stadium.
Writer's Prediction: New England escapes with a 28-24 road victory.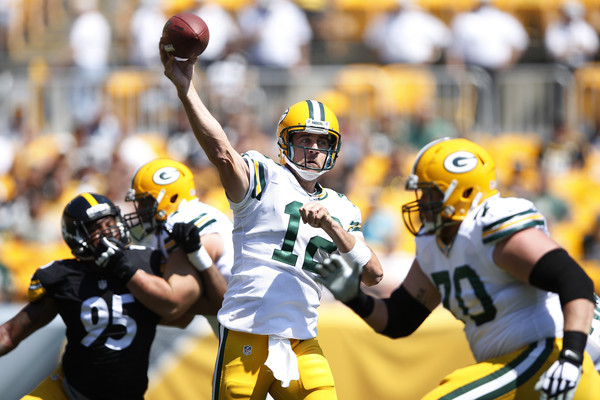 2. Green Bay Packers (1-0)
Next Game: vs. Seattle Seahawks
Even without one of his most reliable wide receiver in Jordy Nelson, who is out for the season, Aaron Rodgers still put on quite a show in their 31-23 season opening triumph over the Chicago Bears. The 2014 MVP finished the game completing 18 of his 23 passes for a total of 189 yard, while registering three touchdowns—two to James Jones—and did not take a single sack throughout the game.
Their No. 1 running back in Eddie Lacy also impressed in his season debut, running for 85 yards with a touchdown added to his name.
But the defending NFC North champions are going to be heavily tested versus a fearsome offense of the Seattle Seahawks, who are priced at +800 to win the 2016 Super Bowl, this coming Monday night in their much-anticipated Week 2 showdown.
Writer's Prediction: Green Bay takes advantage of the Kam Chancellor-less secondary of the Seahawks to improve their record to 2-0 this season.
3. Denver Broncos (1-0)
Next Game: at Kansas City Chiefs
It wasn't a pretty showing for Peyton Manning in his season debut, but still he managed to lead his Denver Broncos to a 19-13 win at the expense of the Baltimore Ravens last week. Manning ended the game with just 175 passing yards, zero touchdowns on 40 pass attempts. He was clearly smothered by the pesky Ravens' defense which that had the second-most sacks (49) in 2014.
That uncharacteristic performance left many asking how much more the 39-year-0ld quarterback has left in the tank. Manning will have another shot to show he's still got it when he and the rest of the Broncos go on the road and take on the Kansas City Chiefs—a team that ranked seventh-worst in the league last year with 330.5 total yards allowed per contest.
Writer's Prediction: Broncos take care of business on the road.
4. Buffalo Bills (1-0)
Next Game: vs. New England Patriots
Tyrod Taylor is the real deal. He proved just that by going mano-a-mano with Andrew Luck and the rest of the Indianapolis Colts in their season-opener last week and coming out on top.  The 26-year-old quarterback did everything well, completing 14-of-19 passes for 195 yards with one touchdown for the eventual 27-14 win.
The Bills' outstanding defense had a lot to do with the win as well, as it constantly got pressure on Luck, who threw two interceptions and was shut out for the first half.
Having been able to fare surprisingly well opposite Luck in just his first career start, it'll be very interesting how he'll matchup with the New England Patriot's Tom Brady when they faceoff in  Week 2. That is going to be a must-see.
Writer's Prediction: Bills fall short to the Patriots despite another solid output from Taylor.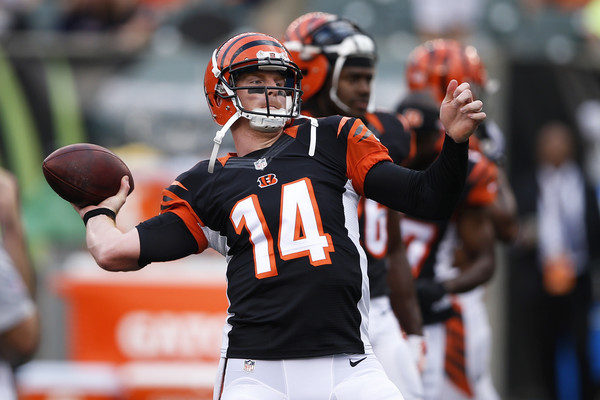 5. Cincinnati Bengals (1-0)
Next Game: vs. San Diego Chargers
Cincinnati Bengals running back Jeremy Hill quickly reminded the league of just how good he really is in their Week 1 trouncing of the Oakland Raiders last Sunday afternoon. Hill finished the game for 63 yards on 19 attempts, while scoring two touchdowns in the process.
Meanwhile, Andy Dalton was also a vital reason to the Bengals' success. The 27-year-old starting quarterback completed 25-of-34 passes with two touchdowns, no interceptions, no sacks and had a quarterback rating of 115.9.
But Cincinnati will need to have their A-game on again for Week 2, especially against the San Diego Chargers, who were among the top 10 defensive teams in the NFL last season, allowing just 338.3 total yards per game.
Writer's Prediction: Bengals take advantage of the home crowd with a win.
Create a betting account now and cash in on the NFL's weekly dose of upsets.
6. Arizona Cardinals (1-0)
Next Game: at Chicago Bears
The Arizona Cardinals got their season off on the right foot after a strong 31-19 win over the New Orleans Saints last week. Quarterback Carson Palmer is one of the main reasons for this as he led the charge for the Cardinals offense. Palmer, who was making his first regular season start since tearing his ACL last season, threw for 305 yards with three touchdowns, including two in the final period to give them a 1-0 start to their 2015 campaign.
Looking at their Week 2 matchup with the Chicago Bears—a team that ranked third-worst in the league 2014 with 377.1 yards allowed per outing—Palmer and company are bound to take advantage of this defensive deficiency.
Writer's Prediction: Cardinals make it two-straight wins with a solid beating on the Bears.
7. Dallas Cowboys (1-0)
Next Game: at Philadelphia Eagles
The Dallas Cowboys were able to start their 2015 campaign with a win but at the expense of Dez Bryant. The Cowboys' star receiver will be out for the next few weeks after suffering broken foot in their thrilling 27-26 win versus the New York Giants on Monday night.
That is a huge blow for the Cowboys' quest of making their second-straight postseason appearance this year. But all hope is not lost for them as long as Tony Romo, who threw 356 yards in their season-opener, has the likes of Terrance Williams and Cole Beasley to pick up the slack while Bryant remains sidelined in their next couple of games.
Both Williams and Beasley are bound for a strong outing in Week 2 opposite a Philadelphia Eagles team that allowed 375.6 total yards per contest last season which was the fifth-worst in the league.
Writer's Prediction: Eagles win and take advantage of Dez Bryant's absence.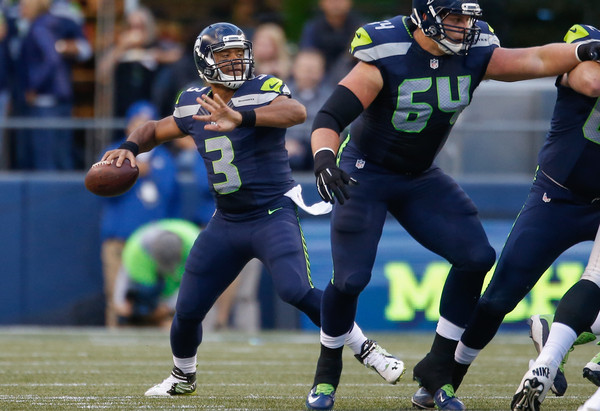 8. Seattle Seahawks (0-1)
Next Game: at Green Bay Packers
Defense proved to be the biggest problem for the Seattle Seahawks in their 34-31Week 1 loss to the St. Louis Rams. That result was almost inevitable as the reigning NFC champions had a diminished secondary without their solid safety in Kam Chancellor.
If that remains to be the situation for Seattle come their Week 2 bout with the Packers, they better make up for it through their incredible rushing game that averaged a league-best 172.6 yards per contest in 2014. However, the Seahawks' offense was uncharacteristically outscored by the Rams last week, 27-17.
Writer's Prediction: Seahawks find their groove on offense but still fall on the road against the Packers.
9. Kansas City Chiefs (1-0)
Next Game: vs. Denver Broncos
It was the Alex Smith show during the Kansas City Chief's 27-20 road victory opposite the Houston Texas in Week 1. Smith barely showed any offseason rust as he was dominant right from the very start of the game, finishing 15-of-20 for 193 yards and three touchdowns in just the first half alone.
Over on defense, Derrick Johnson, who played his first game back from an Achilles injury, carried the load by notching eight tackles and a sack to help lead the Chiefs to a win. Johnson is now seven tackles away from 1,000 in his career, which would surpass Gary Spani for the franchise record.
That said, expect both Smith and Johnson to build on their impressive season-opening performances when they take on the Denver Broncos for Week 2.
Writer's Prediction: Broncos rely heavily on Peyton Manning to capture the thrilling road win over the Chiefs.
10. San Diego Chargers (1-0)
Next Game: at Cincinnati Bengals
Quarterback Philip Rivers proved to the San Diego Chargers that he was indeed worth $84 million by leading them to a 33-28 comeback win over the Lions in their season opener. He completed 35-of-42 passes with two touchdowns, while also earning his seventh 400-yard game in his career.
Rivers, though, had a lot of support in that game from the pair of receiver Keenan Allen and veteran running back Danny Woodhead.
Allen finished with 166 yards on 15 catches, including a crucial 20-yard catch and run on third-and-19 in the final minutes of the game. Woodhead, meanwhile, made his own noise as he ran for 42 yards and two touchdowns on 12 carries.
But it's going to be easier said than done to repeat this kind of performance in their Week 2 showdown with the Cincinnati Bengals, who boast an efficient offensive and defensive game.
Writer's Prediction: Bengals win in a close one.
[sc:NFL490Banner ]
1,648 total views, 1 views today
Comments
comments