The Green Bay Packers must've had many sleepless nights after their last visit to Seattle. The Packers threw away a huge fourth quarter lead in the NFC championship game as the Seahawks grabbed a trip to the Super Bowl at Green Bay's expense. Aaron Rodgers and co. will have a chance to exorcise some of those demons at Lambeau Field as they host the Seahawks, who are coming off a shock Week 1 loss.
Read on for our complete preview of this NFC championship rematch. Meanwhile, check out more big Week 2 matchups with our previews of the Patriots vs. Bills and the Jets vs. Colts.
[sc:Football ]
Seattle Seahawks vs. Green Bay Packers Preview
Where: Lambeau Field, Green Bay
When: Sunday, September 20, 8:30 PM ET
Line: Seattle Seahawks (+3.5) at Green Bay Packers (-3.5); total: 49.0 – view all NFL lines
TV Broadcast: NBC
Betting on the Seattle Seahawks
The Seattle Seahawks' season couldn't have started in a more stunning fashion. After staging yet another furious fourth quarter comeback which saw them take a seven-point lead with under five minutes remaining, the Seahawks defense couldn't stop the St. Louis Rams from marching down the field to tie the game. The Rams eventually won, 34-31, in overtime.
[sc:NFL240banner ]The Seahawks' biggest strength – their pass defense – wasn't quite up to snuff. With safety Kam Chancellor sitting out due to his contract holdout, the Legion of Boom gave up eight pass plays of over 20 yards and 297 passing yards overall. His replacement, Dion Bailey, stumbled to allow the crucial game-tying touchdown.
Meanwhile, the revamped O-line struggled against the Rams' formidable front, particularly in pass protection as Russell Wilson was sacked six times.
On the plus side, the run defense stayed strong, giving up under three yards per carry. Wilson also displayed terrific efficiency passing the football, particularly when they went up-tempo during the second half. He completed 32-of-41 passes (78 percent) for 251 yards and a touchdown to his newest target, Jimmy Graham (six catches, 51 yards). Wilson should be able to do the same against a relatively inexperienced Packers secondary.
Seattle should also move the ball on the ground with relative ease against a Packers run defense that still has its issues. Green Bay gave up 189 rushing yards to the Bears. In two meetings last season, Marshawn Lynch racked up 267 rushing yards on nearly six yards per carry with three rushing touchdowns.
Since Pete Carroll took over in Seattle, the Seahawks are 3-0 (2-1 against the spread) against the Packers, and have limited Aaron Rodgers' offense to just 16.7 points per game. However, all three of those games were at home.
Create a betting account now and get in on the exciting NFL action, beginning with one of its marquee matchups.
Betting on the Green Bay Packers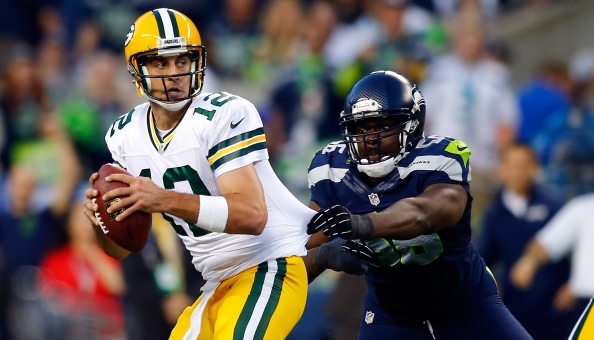 The Green Bay Packers took care of business in Chicago yet again with a very convincing 31-23 win. Aaron Rodgers had just 189 passing yards, but was a ruthlessly efficient 18-of-23 with three touchdowns to finish with a sterling 140.5 passer rating. Meanwhile, Rodgers also added 35 of the Packers' 133 yards on the ground.
That aspect of Rodgers' game – his mobility and ability to scramble – was sorely missing in their gut-wrenching playoff loss to Seattle. Rodgers, who was playing with an injured calf muscle, was only 19-of-34 for 178 passing yards with a touchdown and two picks in the loss.
He's healthy now, though, and should provide a much bigger threat on the ground. The Packers as a team accumulated 135 rushing yards on 4.5 yards per carry in the conference title game against Seattle.
Rodgers also showed that the loss of Jordy Nelson was hardly going to be a problem. He spread his 18 completions across five receivers, four of which caught at least three passes. James Jones, a former Packer who was signed just last week, didn't miss a beat as he had four catches for 51 yards and two touchdowns. Leave it to Rodgers to make his receivers look like Pro Bowlers.
With Rodgers healthy and the Seahawks secondary missing a major piece, the Packers should be able to move the ball well through the air, especially at home.
Green Bay was a juggernaut at Lambeau last season, going 8-0 (6-1-1 against the spread) while averaging 38.2 points per game (almost four points more than the second-place Patriots).
Writer's Prediction
A healthy Rodgers powers the Packers to a 31-28 win over the Seahawks.
[sc:NFL490Banner ]
2,809 total views, 2 views today
Comments
comments