San Francisco earned its right to face their Week 10 tormentor Carolina after barely escaping the Packers in an NFC wild card match-up. This time, they will aim to return the favor to the Panthers after being dealt a home loss in their first encounter. Expect an exciting, pressure-packed  defensive affair on Sunday.
NFL Football Betting Preview: 49ers vs. Panthers
Game Details:
When: 1:05 PM ET, January, 12 2014 [sc:NFL240banner ]
Where: Bank of America Stadium, Charlotte, North Carolina
Odds:
*As of January 7, 2014.
Money: 49ers (-135) vs. Panthers (+115)
Spread: 49ers (-2) vs. Panthers (+2)
Totals: 42.5
| | San Francisco 49ers | Carolina Panthers |
| --- | --- | --- |
| SU-ATS | 12-4/10-5-1 | 12-4/9-6-1 |
| O-U | 8-8 | 5-11 |
| Last Game | vs. Green Bay Packers (W 23-20) | vs. Atlanta Falcons (W 21-20) |
| Player to Watch | QB Colin Kaepernick (227 YDS, 1 TD, 1 INT in wild card game vs. Packers) | QB Cam Newton (Reg. Season: 585 rushing yards, 6 rushing TDs) |
Betting on the San Francisco 49ers:
The 49ers escaped the wild card game against Green Bay by the skin of their teeth, thanks to Phil Dawson's 33-yard field goal that led to a 23-20 win. The field goal also resulted in a push against the spread as the 49ers were favored by three points in that game.
For their next game, they will head to Charlotte for an NFC Divisional round showdown with the Panthers, a team that narrowly beat them back in Week 10. That game was a low-scoring affair (10-9), but that was expected from the two defensively stout teams.
Both are among the NFL's best in passing and rushing defense. The 49ers are No.7 and No. 4 overall in the league in passing yards allowed (221.0 per game) and rushing yards allowed (95.9 per game) respectively.
Offensively, the return of WR Michael Crabtree from injury has ramped up the attack of the 49ers. In the wild card match, Crabtree had eight receptions for 125 yards.
Though it appears Carolina might be a carbon copy of San Francisco in a lot of areas, one of which is having an agile, athletic QB like Colin Kaepernick in Cam Newton, experience is one thing the 49ers can claim as a clear-cut advantage over the Panthers. San Francisco has been here before — just last year — while the Panthers are playing their first playoff game since 2008.
The 49ers are 7-0 SU in their last seven games and 3-0-1 ATS in their last four road games.
Bet now on the San Francisco 49ers.
Betting on the Carolina Panthers: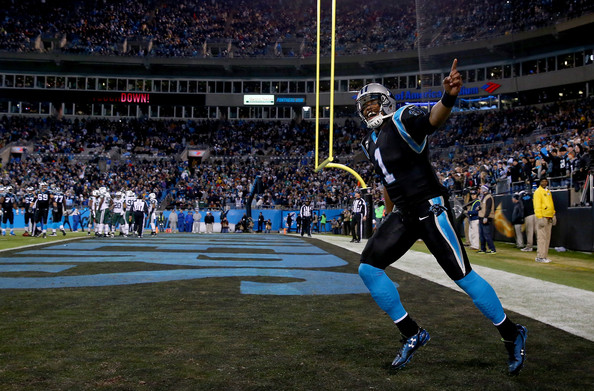 After a 1-3 SU record to begin the season, the Panthers went on a tear, winning all but one of their next 12 games, including a 10-9 triumph against the 49ers in Week 10. They'll need to do it again on Saturday to push their team to its first conference championship appearance since 2005. [sc:NFL240banner ]
Cam Newton's superb quarterbacking of the Panthers had his name being thrown around in MVP discussions. If you look at his passing numbers (3,379, 24 TDs), he has a long way to go before joining the likes of Peyton Manning and Drew Brees. But it's in the running aspect of the game where he's clearly excelled. Newton registered 585 rushing yards and six TDs (the most for Carolina), which largely explains his merit in MVP discussions.
However, the real MVP for the Panthers is their airtight defense. Carolina has been solid against the air and rush; the team is No.6 in passing yards allowed (214.3 yards allowed per game) and No.2 against the rush (86.9 allowed per game). They have three wins on the season in which they did not allow more than 10 points.
Against San Francisco in Week 10, the Panthers totally shutdown Colin Kaepernick, limiting the 49ers QB to a season-low 91 passing yards and a measly 16 rushing yards.
The Panthers enjoy 8-2 SU and 9-1 ATS records in their last 10 games against the 49ers. Their stout defense is likely the reason behind their 8-2 UNDER record in their last 10 games overall.
Bet now on the Carolina Panthers.
1,851 total views, 2 views today
Comments
comments