The Seattle Seahawks' Legion of Boom couldn't quite stop Peyton Manning from sending their Super Bowl rematch with the Denver Broncos into overtime, but Russell Wilson and the offense bailed them out in the end.
Fresh off their bye, the Seahawks secondary will look to make amends in the nation's capital against Kirk Cousins and the Washington Redskins, who are coming off a Thursday night thrashing at the hands of the New York Giants.
Since beating the Seahawks in Week 2, the San Diego Chargers have gone on to win three straight games. They'll be going for win number four against the Jets this week. See our preview of that game here, and read on for more on this Monday Night showdown.
[sc:Football ]
Seattle Seahawks vs. Washington Redskins Preview
When: Monday, October 6, 8:30 PM ET
Where: FedEx Field, Landover
Line: Seattle Seahawks vs. Washington Redskins – view all NFL lines
Betting on the Seattle Seahawks
The Seattle Seahawks are three games into their title defense and aside from a tough road loss to the San Diego Chargers in Week 2, it's been so far, so good. The Seahawks bounced back well from that defeat as they edged the Denver Broncos in their thrilling Week 3 Super Bowl rematch in overtime.
[sc:NFL240banner ]As evidenced by the Seahawks' expertly orchestrated game-winning, 80-yard overtime drive, quarterback Russell Wilson is looking better than ever in his third year. Wilson is completing 69 percent of his passes with six touchdowns against just one interception through the first three games.
Wilson's played well despite his offensive line struggling to protect him in the pocket. Wilson has been sacked or under duress on 37.1 percent of his dropbacks, second worst in the league. Head coach Peter Carroll will need to address this issue during their bye week, especially as they visit the dangerous pass rush of the Redskins.
The O-line has played much better in the running game, though, with Marshawn Lynch benefitting from their good play. Lynch is averaging over 4.5 yards per carry with three touchdowns this season, including the game-winning touchdown against the Broncos.
The vaunted Seahawks pass defense has given up 249 yards per game in its first three games, which isn't exactly out of this world. But considering those were against Aaron Rodgers, Philip Rivers and Peyton Manning, three of the best QBs in the league, it's still pretty good. Safety Kam Chancellor won defensive player of the week honors in Week 3 despite playing on one bad ankle, which should get better after an extra week's rest.
The Seahawks will now face Kirk Cousins, who struggled mightily in his last game. That secondary will get its share of opportunities to cause a few more turnovers from the Washington QB, especially if the Seahawks' defensive line, which is allowing just 72.3 yards per game (fourth-best in the NFL), ably shuts down the Redskins run game.
 Create a betting account now and cash in on the Super Bowl favorites.
Betting on the Washington Redskins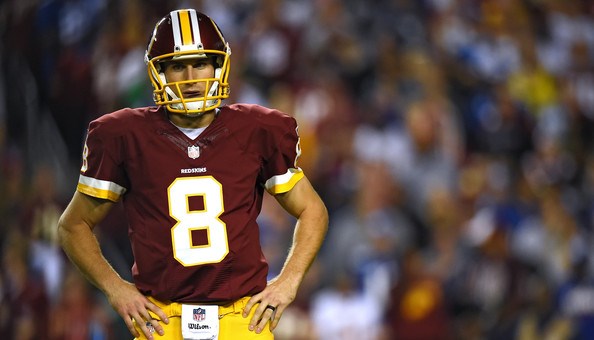 The last two weeks have seen both the good side and the bad side of young quarterback Kirk Cousins. After sparkling with 427 yards and three touchdowns in his first start against the Eagles, Cousins fell way back down to Earth with a horrendous four-interception fiasco on Thursday night against the Giants.
The question now becomes which is the real Kirk Cousins? It's probably somewhere in between. In 11 career NFL games, Cousins has now thrown 14 TDs against 15 INTs.
Even if the good Cousins does show up, it might not be enough against the Seahawks defense, which knows a thing or two about shutting passing games down. And to make things that much tougher, Cousins could also be without tight end Niles Paul, who suffered a concussion against the Giants. Niles had been one of Cousins' top receiving targets with 17 catches and 227 yards.
Nevertheless, Cousins still has a very decent receiving corps led by Pierre Garcon (24 catches, 255 yards) and DeSean Jackson (15 catches, 207 yards). The Seahawks' opponents have been picking on Byron Maxwell, the perceived weakness in that Seattle secondary, and the likes of Garcon and Jackson certainly have the ability to exploit the unlucky Seahawks cornerback with some big plays.
The Redskins' own secondary has been lit up in the past two weeks by Nick Foles (325 yards, three TDs) and Eli Manning (300 yards, four TDs) and the season-ending Achilles injury to top corner DeAngelo Hall hasn't helped.
But the strength of its defense lies in its pass rush, one which sacked Chad Henne a whopping 10 times. That was two weeks ago, though, and the Redskins have had just one sack in the two games since. In order to pull off the upset, the 'Skins' D-line will need to get Russell Wilson to spend more time on his back.
Writer's Prediction
The Seahawks D forces another bad game from Cousins, while Wilson and Lynch do their thing on offense. Take Seattle to cover comfortable in D.C.
[sc:NFL490Banner ]
2,216 total views, 2 views today
Comments
comments