At Top Bet we're making sure you're prepped for March Madness by breaking down the teams that will affect your bracket the most. We've looked at favorites like Duke, Wichita State, and Kansas, and are on to the teams that could turn some heads this March: the sleepers. We started with the SMU Mustangs and Oklahoma State, and are on to the New Mexico Lobos.
First-year head coach Craig Neal will lead New Mexico back to the NCAA tournament for a third-straight year this season. The challenge now is to do what his predecessor Steve Alford couldn't: get the Lobos past the third round.
New Mexico Lobos Preview
[sc:NCAAB240banner ]Key to Success – Frontcourt Play
The twin towers of Cameron Bairstow and Alex Kirk have been the towers of power for New Mexico this season. Although the 7-0 Kirk tends to drift toward the perimeter, Bairstow supplies enough inside scoring for the both of them.
The duo combine to hit the glass (16 rebounds/game) and defend the paint (four blocks/game) very effectively, so it's no coincidence the Lobos' opponents are hitting just 41% of two-point shots this season, good for top-five in the country.
Very few teams can boast such size and skill on the frontcourt, which should make the Lobos a handful for anyone in the tournament.
MVP – Cameron Bairstow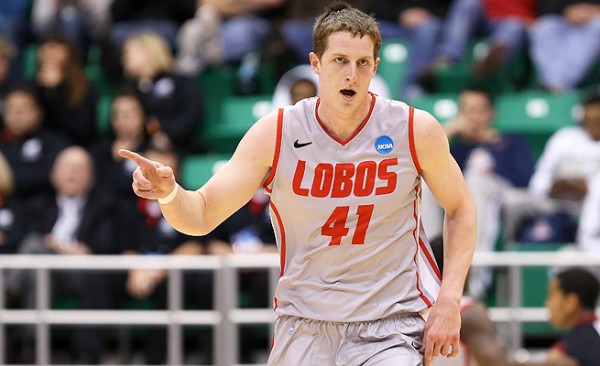 Cameron Bairstow has been simply outstanding in his senior season. The Aussie has more than doubled his scoring average to 20.3 PPG – top 20 in the country – as the focal point of the Lobos offense. Bairstow is incredibly efficient, shooting 56% from the field. He also gets to the line over eight times per game while shooting a decent 73%.
Achilles Heel – Forcing Turnovers
New Mexico is certainly no VCU in terms of take aways. The Lobos are a lowly 339th in the nation in forcing turnovers, and are just 293rd in steals. This inability to create more possessions and stay on offense could come back to bite the Lobos against teams that can capitalize on the extra opportunities.
Season Highlight – Win vs San Diego State
Prediction
The Bairstow-Kirk combo is a mismatch that will propel New Mexico to the third round once again, but without a more complete team that will be as far as the Lobos will go.
Bet your favorite for the NCAA national championship and as always find all your college basketball news, analysis, and odds at Top Bet, America's best online sportsbook.
[sc:NCAAB490Banner ]
2,304 total views, 1 views today
Comments
comments