At Top Bet we're making sure you're prepped for March Madness by breaking down the teams that will affect your bracket the most. We've looked at favorites like Duke, Florida, and Wichita State. Today we begin our look at the teams outside of the Top 10 in the AP rankings to teams that–while you won't find them near the top of our NCAA Championship futures–could nonetheless challenge for the Elite 8 and beyond: the sleepers. Kicking us off: the SMU Mustangs.
SMU has made great strides in their second season under Hall of Fame coach Larry Brown. The Mustangs have cracked the Top 25 AP rankings for the first time in 20 years, and could make a run in the wild west of the NCAA men's basketball championship. Here's a look at what makes the SMU Mustangs a strong March Madness sleeper.
Southern Methodist Mustangs Preview
[sc:NCAAB240banner ]Key to Success – Lockdown Defense
It's one thing to force opponents to miss their shots. It's another to prevent them from even registering attempts. The Mustangs are doing both with incredible consistency, holding their opponents to the worst shooting percentage (36.9%) and the third-fewest attempts per game (19.7) in Division I ball.
MVP – Nic Moore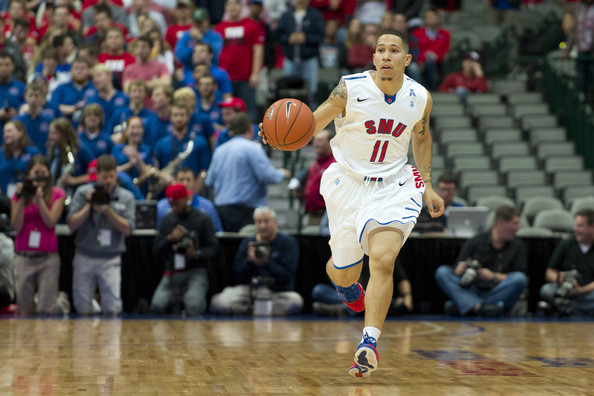 The Mustangs are headed to their first NCAA Tournament appearance since 1993, thanks to an invigorated program spurred by Larry Brown's presence on the bench. Brown's leader on the floor is Nic Moore, who–after sitting out all of last season while at Illinois State–is leading the team in points and assists (14.1 PPG, 4.7 APG). Moore is a patient, undersized guard who can engage his teammates if he's not getting the looks himself.
Achilles Heel – Scoring Support
Other than Nic Moore (14.1 PPG) and Markus Kennedy (11.9 PPG), no other Mustang is averaging in double-digit scoring. Once the tournament begins, the Mustangs will need another go-to-guy to emerge, especially if opposing teams find a way to rattle Moore and Kennedy.
Season Highlight – Upset Win Versus No.10 Cincinnati
The 76-55 upset win over No. 10 Cincinnati was arguably SMU's biggest win in more than a decade. The last time the Mustangs ponied up a win against a ranked opponent was in 2003.
Prediction
SMU could enter the tournament seeded anywhere from No. 7 to No. 10. With a high-numbered seed, the Mustangs could be perceived as a weaker team than they are. The Mustangs are a safe bet to get out of the first round, and with three Top-25 wins, a world-class coach, and outstanding team defense, SMU could surprise any team. Just ask No. 17 Connecticut, No. 22 Memphis, or No. 7 Cincinnati.
Bet your favorite for the NCAA national championship and as always find all the college basketball news, analysis, and odds at Top Bet, America's best online sportsbook.
[sc:NCAAB490Banner ]
2,021 total views, 1 views today
Comments
comments