The Red Sox and Cardinals come together for Game 5 of the World Series with the winner coming one step closer to October glory. Meanwhile, the Seahawks roll into St. Louis in search of their third win over division rivals.
Sports Betting Preview for October 28
Top Stories in Sports Today
Baseball: Gomes' Big Homer Keys Red Sox Win in Game 4
Jonny Gomes wasn't even in the original lineup but his insertion a mere 75 minutes before the game turned out to be a great one for the Red Sox as he launched a three-run homer in the sixth inning. It put Boston ahead for good, winning the game, 4-2, and tying the series, 2-2.
Football: Chiefs Edge Cleveland, Remain Unbeaten
Andy Reid's squad fended off the resilient Browns, 23-17, and remained unscathed through eight weeks of NFL action. The Chiefs are now 8-0 SU. They face Buffalo next week.
Hockey: Vanek Sent to Islanders In Exchange For Moulson, Draft Picks
Long time Sabres' hotshot Thomas Vanek was sent by Buffalo to New York for Matt Moulson, a 2014 first round pick, and a 2015 second round pick.
Top Bet Games to Bet On
Boston Red Sox vs. St. Louis Cardinals (8:07 PM ET)
PITCHING MATCHUP: Red Sox LH Jon Lester (3-1, 1.67 ERA) vs. Cardinals RH Adam Wainwright (2-2, 2.25)
After a bizarre Game 3 in which the Cards won thanks in part to a rare obstruction ruling called by umpire Jim Joyce, the game ending oddities continued in Game 4. This time, it was Boston that benefited from another rare ending when Kolten Wong was picked-off at first base to be the third out in the bottom of the ninth. With the 4-2 win, the Red Sox knotted the series, 2-2. [sc:MLB240banner ]
The win also means that Fenway Park will be the ground where the champion team will be crowned.
Jonny Gomes' time to play hero came at the top of the sixth inning. With the game tied 1-1, and Dustin Pedroia on second and David Ortiz on first, Gomes belted out a crushing homer to give Boston a 4-1 cushion.
Odds: Boston (+115) vs. St. Louis (-125), O/U: (6.5)
Game 5 will see a rematch of Jon Lester and Adam Wainwright, who last dueled in Game 1. In that game, Wainwright was tagged early en route to the Cards' 8-1 loss.
The Red Sox are hoping Lester can toss another gem tonight. They are 3-1 in his last four starts. As for the Cards, they are hopeful that Wainwright will continue dominating the opposition at home. St. Louis is 6-0 in his last six starts at Busch Stadium.
Seattle Seahawks vs. St. Louis Rams (8:40 PM ET)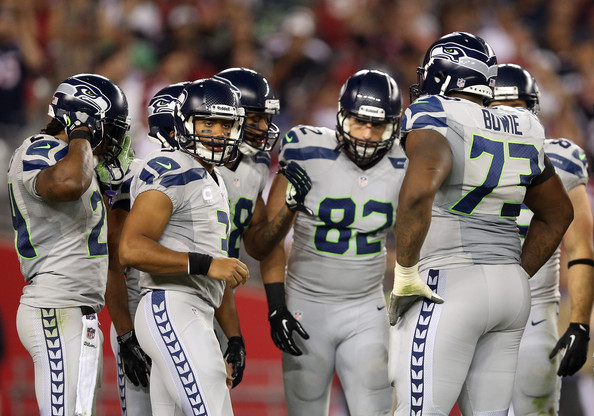 The Seahawks have been milking wins against NFC West rivals and only one team from that division is yet to experience a Seattle beat down: the St. Louis Rams.
Russell Wilson and Marshawn Lynch arrive in St. Louis with expectations that the duo will once again spearhead the Seahawks rushing game; Seattle is No. 1 in NFL in rushing yards per game with 154.4.
In Seattle last game, Lynch scorched the grass in Arizona after rushing for 91 yards to lift his season total to 578 –second best in the NFL after LeSean McCoy.
Odds: Seattle (-14) vs. St. Louis (+14), O/U: 44.5
That spells trouble for the Rams, who aside from losing franchise quarterback Sam Bradford to injury, are suffering from a weak defense against the rush; St. Louis allows opponents 126.4 yards a game on the ground – 30th in the NFL.
However, as slim as the Rams' hopes are, the linebacker duo of James Laurinaitis and Alec Ogletree could impress. The two are in the NFC's top 10 in total tackles with 41 and 42, respectively. Laurinaitis' combined 55 tackles are ninth best in the NFC. Moreover, St. Louis's 345 total solo tackles are third in the NFC.
The Seahawks are 6-1 SU in their last 7 games while the Rams are 4-0 ATS in their last four games when they are underdogs by eight points or more.
[sc:NFL490Banner ]
For the most comprehensive list of NFL, NCAAF, MLB, and NHL game odds and betting lines, visit Top Bet's Sportsbook.
1,430 total views, 1 views today
Comments
comments