It's now down to eight players in Wimbledon, and one recently crowned Grand Slam title winner aims to go for two majors in a row. 2015 French Open champion Stan Wawrinka continues his exceptional run at Wimbledon, and is set to face a fired up Richard Gasquet in the quarterfinals.
Read on as we volley some key points for this crucial matchup slated for Wednesday. Can't get enough of all the Wimbledon men's singles action? Check out our other quarterfinal previews for Roger Federer vs. Gilles Simon and Andy Murray vs. Vasek Pospisil.
[sc:TennisArticles ]
Stan Wawrinka vs. Richard Gasquet Betting Preview
Where: All England Lawn Tennis and Croquet Club, London
When: Wednesday, July 8, 4:00 AM ET
Line: Stan Wawrinka (-220) vs. Richard Gasquet (+170) – view all Wimbledon Men's Singles lines
Betting on Stan Wawrinka
It's never too late to jump onto that other Swiss bandwagon.
[sc:Other240banner ]Stan Wawrinka has put together a clinical display of tennis for the past two Grand Slam events. The World No. 4 has yet to lose a set in Wimbledon and has extended his Grand Slam winning streak to eleven matches, stretching back to his successful run toward the French Open title this past month.
The 30-year old faced his toughest challenge at this year's All England Club tournament this past Monday when he took on 16th-ranked David Goffin. Wawrinka was tested by the Belgian in a hotly-contested match that lasted two and a half hours, but the Swiss once again showed a lot of mettle to close it out in straight sets, 7-6(3), 7-6(7), 6-4.
Wawrinka prevailed in the battle of the aces against Goffin (13-4), and won 83 percent of his chances at points on first serve. The hard-hitting Swiss has 13 or more aces in each of his past three matches in Wimbledon. Wawrinka also had 44 winners in the match as opposed to Goffin's 27.
The flaws in Wawrinka's game that have to be worked on are his occasional mental lapses, as he committed 41 unforced errors in Monday's match against Goffin. He has now committed 20 or more unforced errors in each of the past three matches.
His next opponent, Richard Gasquet, also poses as a much more daunting matchup than how it looks on paper. Even by taking his current tear at this year's Wimbledon into consideration, Wawrinka only has a career record of 25-21 playing on grass. Gasquet, meanwhile, is 48-23 on the lawn in his 13-year professional career. Wednesday's match will be the first meeting between the two competitors on a grass court.
What are you waiting for? Create a betting account now before all the Wimbledon action winds down.
Betting on Richard Gasquet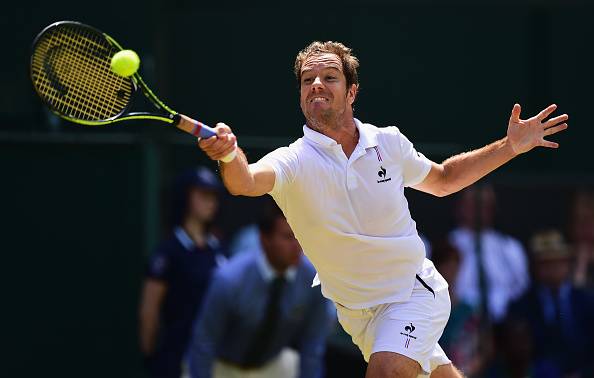 Wild emotions, a broken racquet, and another close bout with Aussie Nick Kyrgios were the byproducts of Richard Gasquet's inspiring 7-5, 6-1, 6-7(7), 7-6(6) win in advancing to the quarterfinal round of Wimbledon.
The World No. 20 was not about to succumb to another nail-biting five-set loss to Kyrgios like in their previous meeting at the All England Club last year. This time around, Gasquet showed great tenacity by connecting on 86 percent of his opportunities at points on first serve. He also got some help from his own opponent, as Kyrgios had a sloppy game where he committed 48 unforced errors and ten double faults.
In order for Gasquet to give Wawrinka a handful in their upcoming bout, the Frenchman must continue to excel in his service game. Thus far, Gasquet has won at least 80 percent of his first serve points in each of his last four Wimbledon matches.
Gasquet and Wawrinka have split their two career matches against each other, with Gasquet's win coming from way back in 2006 at the Paris Masters. However, the 29-year old Gasquet still held up really well by taking the new Swiss sensation to the limit in a fourth round loss during the 2013 French Open. Wawrinka had to grind out a 6-7(5), 4-6, 6-4, 7-5, 8-6 come-from-behind win over Gasquet in that match.
Writer's Prediction
Wawrinka (-220) loses his first set of the tournament, but advances to the final four of Wimbledon nonetheless.
[sc:Other490banner ]
2,088 total views, 2 views today
Comments
comments